French-based British singer/songwriter TONY CLAY has finally released his second album. Lins Honeyman investigates.
Tony Clay
The phrase "'that difficult second album"' is shorthand in the music industry to describe the challenge of producing a follow up to a band or artist's successful debut album. Some acts dive right in whilst others take their time to ensure that their next release is up to scratch but, unlike French-based singer/songwriter Tony Clay, very few wait over three decades to come up with the goods. With his accomplished debut 'When You're Down At The Bottom.You Can Only Look Up!' seeing the light of day back in 1983, this year - some 32 years later - saw the release of Tony Clay's long awaited second album 'Rain' and it's definitely been worth the wait.
Born in 1955 in Nottingham, Tony's interest in music began in the '60s when big names of the era such as The Searchers and Freddie And The Dreamers used to appear live at his father's pub and it wasn't long before the young Clay started picking up the guitar and writing his own material. Following a move to study tourism in Bournemouth which involved a period of helping to run the college folk club, Tony ventured out on a busking tour of Italy, France and Germany before joining evangelical organisation Youth For Christ as a musician and plying his trade the length and breadth of the UK as well as continuing to perform in other parts of Europe.
Riding on the crest of the new wave music scene of the time, Tony seized the offer of some free studio time to record his debut in 1979 which, due to record label difficulties, would not see the light of day until 1983. By then, Tony had married and, with a family on the way, turned to steadier income streams and began producing and writing for other acts before moving to the south of France in 1987.
Whilst raising a young family naturally took priority, Tony kept his hand in musically by joining a few local French bands whilst taking on anything from bee keeping to estate agency to keep the money coming in. With his family having grown up, it seems it's finally time to tackle that so-called difficult second album and I caught up with Tony to ask him why it has taken over three decades to do so.
"Has it really been that long?" he asks with genuine surprise before going on to explain how 'Rain' came about. "I've been playing music on and off in between times and I've been writing songs for October Road, the band I play in, but some of the songs didn't really fit the group's style. A friend of mine called Rod Roach, who used to be in '60s band the Nashville Teens and was latterly a member of Badfinger, runs a studio down here and told me I really had to get those songs down. I suppose recording 'Rain' was a way of recording them for posterity but, once I started to think about what songs I would put on a solo album, I had the idea to write a whole bunch of new material. I started to write songs that were more applicable to what's happening in the world today and they just started to flow. I wrote about 20 in two months and we picked 12 plus an instrumental. I think the new album's an eclectic piece of work."
Whilst Tony's debut 'When You're Down At The Bottom.You Can Only Look Up!' had something of the raw energy and brashness of the new wave scene of the late '70s, his followup is very much a more reflective piece of work and sees the seasoned artist expertly tackle heavier topics such as politics, injustice and conservation and I wondered if doing so was a conscious decision. "I think it's living in France," he suggests. "French people are quite outspoken politically. I'm not a member of any political party and I don't really have any political agenda except the idea of God wanting us to act justly, love mercy and walk humbly with him. There's not a lot of justice going on in the world these days and I think, in my songs, I'm drawn to throwing a few pebbles at those Goliaths out there."
I ask Tony which songs on his new album mean the most to him. "Each song on the album meant a lot to me when I wrote it," he offers. "Over a period of time, as things were happening or due to the things I was thinking about, I got to a point where I needed to write it all down and that's when the songs came together. One of my favourite tracks off the album is 'Noah' which I wrote in about half an hour one day before going down to my little home studio to record it and that's what you hear on the album. Noah's the name of my first grandson too which makes the song extra special for me. The other one I like is 'Elijah's Lament' because that one's a bit more personal. It's about doubts and things that are closer to me."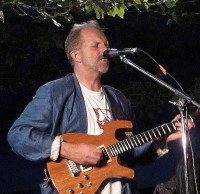 Both "Noah" and "Elijah's Lament" point towards Tony's Christian faith - an aspect of his life that he is keen to represent as naturally as possible in his work as opposed to shoe-horning Jesus into every song. "It should be a natural expression of who you are otherwise it could come across as contrived," Tony states. "You would end up using music to put forward a message - which I've been guilty of in the past - whereas the Christian message should adapt to everything in life. No matter what you write about, the fact that you see things from a Christian perspective should affect what comes out at the end - that can't be escaped."
I ask Tony to cast his mind back to when he recorded his first album 'When You're Down At The Bottom.You Can Only Look Up!' "Back in 1979 I made a single called 'This Ain't Paris' at ICC studios in Eastbourne and Keith Loring produced it," Tony elaborates. "I sold the single at gigs in schools and colleges and, at the time, I was looking for an album deal that was preferably in the mainstream. Nothing was happening and I wasted about 18 months knocking on doors but then Keith spoke to Helmut Kaufman of ICC who agreed to give us the studio time to record the rest of the songs we needed to make an album. In the autumn of 1982 we finished recording it and the album went to another record company's pressing plant to be reproduced for distribution. I received a phone call one day from the manager of the company saying that the receivers were coming in to assess them that afternoon and all works in progress would be frozen, including my album. I raced round to the offices the same morning and persuaded the manager to give me back the masters and about a thousand albums that had already been pressed. The company then went bust and, about three years later, I handed over the tapes to Dave Anfield of Anfield Music who pressed and distributed the album through Christian music channels. By then, my career had changed from singer/songwriter and recording artist to producer because I got married and we were having kids and we basically needed the money!"
Tony continues, "In two and a half years of working in studios, I produced, played on and wrote songs for 16 albums but then I got ill through spending all my time inside and not getting enough sunshine. We decided we'd move to warmer climes and we moved to the south of France and we've been here for 25 years now."
It seems that the intention was to continue producing following his family's relocation to France, as Tony confirms: "The idea was to set up a studio down here to do pre-production work but it wasn't really paying the rent so I turned to doing other kinds of work to support myself and my family. A few years back, I was very fortunate to bump into my good friend and record producer Rod Roach who ended up co-producing 'Rain' with me. He's played with all kinds of people including Tina Turner and was a member of the Nashville Teens in their heyday and he has a studio down here. I live in the middle of nowhere in a place called Auriac in the Corbiere part of South West France. In fact, it's the least populated part of Europe and there are not many musicians here so I was also very fortunate to find a guy call Denis Cottard who played in a fairly big French band in the '80s called Space. Denis had his own studio in Paris for over 30 years and is a great keyboard player and arranger. He retired and then got bored and agreed to work with me on 'Rain' and he's working with me on another album as we speak."
With a gap of over 30 years between albums, I suggest that an awful lot must have changed in terms of making music. "On the recording side, the thing that has changed the most is that you have so much more time," advises Tony. "You can do so much more work outside of the studio. Back then, you just went in and did it and you had a set period of time. When the time ran out, that was it. The other thing that's changed is that you don't need record companies now - you can just put things out on the internet and you get people all over the world listening to your stuff which before would have taken a lot of touring and masses of money. Just getting my mind round how it all works now has been a bit of a learning process."
Keen not to set too many expectations about when his third album will be released, Tony is happy to confirm that the songs for his next release have at least been written. "The recording process will take an eternity because I'm working with people who are perfectionists but we've started on three songs already," Tony confirms. "I would also like to draw on some of my old contacts and put together a little tour of Europe and the UK just to try my solo songs out in front of an audience.
"I've had a lot of positive feedback about 'Rain' which encourages me," Tony adds in closing. "When you've not released anything for a long time, it's good to hear what folks think and it encourages me to carry on."

The opinions expressed in this article are not necessarily those held by Cross Rhythms. Any expressed views were accurate at the time of publishing but may or may not reflect the views of the individuals concerned at a later date.
About Lins Honeyman

Lins Honeyman
is a Perthshire-based singer/songwriter and currently presents The Gospel Blues Train on Cross Rhythms Radio on Saturday nights from 11pm and on Listen Again.
We welcome your opinions but libellous and abusive comments are not allowed.