Wednesday 5th October 2011
Mike Rimmer quizzed Tim Hughes, Al Gordon and Les Moir to get the lowdown on worship training phenomenon WORSHIP CENTRAL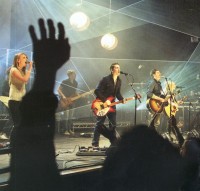 Worship Central at HMV Forum
Worship Central has just made music industry history. As I write this Worship Central's first ever live album 'Spirit Break Out' is at number nine in the iTunes Top 10 making it the first worship album ever to make that chart. It is only the latest achievement for the school of worship organised by Alpha International and led by Tim Hughes and Al Gordon that since its formation in 2006 has seen tens of thousands attend training events held on three continents and hundreds of thousands visit their website for practical resources.
'Spirit Break Out' was released by Kingsway on 12th September. It was recorded on 27th March at the HMV Forum in London with worship leaders Tim Hughes, Ben Cantelon, Nikki Fletcher, Luke Hellebronth and Al Gordon. Al is astonished by the album making the iTunes best sellers. "We never dreamed it'd be in the charts. We never dreamed or planned or marketed - it just happened. We were the most surprised people and it just shows that God is doing something and there's something brewing in the local church that's louder than the music. It's about a movement, something about people passionate about making Jesus famous in their communities. So we're the most surprised that it's gone into the mainstream. We're thrilled, it's what we're living for and we're passionate about making God glorious whatever it takes in every community and every local church because most people don't know about Jesus. Most people watching the iTunes Chart have never heard about Jesus other than using him as a swear word, so for us it's a huge, huge leap and we're very excited."
Kingsway's Les Moir, who with Tim Hughes was the executive producer of 'Spirit Break Out', is equally excited. "Like Al said, it's reflective of a movement and what God's doing in his Church. The songs have been around for a little while and during the summer people were singing them. When the album was released this week people were rushing to get hold of it. It's definitely been a movement and there's been a lot of momentum created through social networking and through word of mouth."
Tim Hughes spoke about how down the years the Worship Central movement has grown. "Worship Central is about training and equipping local worship leaders. We have a vision that in everything we do we want to encounter God, equip the worshipper and empower the local church. About six years ago Al and myself at Holy Trinity Brompton invited other worship leaders to come. We put on training events and established a resourcing and equipping website, worshipcentral.org - doing as much as we could to provide opportunities where people can encounter God because when we can see God for who he is we'll change, we're transformed, we're inspired. So many leaders and musicians are desperate to serve, to really get stuck into their local churches but have very limited resources - so how can we equip them and encourage them? Worship Central seeks to empower the local church and we want to see hundreds of thousands of worship leaders raised up to lead. It's about sharing an idea and a group of values in this dream to see Jesus glorified and the Church alive in worship. Really what we're doing, or trying to do, is say, 'Hey worship leaders, run with this vision. You're the leaders, go for it!' People seem to be really jumping on this idea and coming together in unity, learning from one another, learning from different denominations, different musical styles - working together to serve the local church."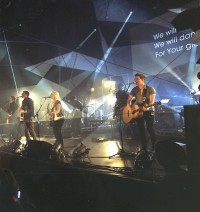 'Spirit Break Out''s unexpected appearance in the iTunes (and Amazon chart, where it is number 12) is raising eyebrows in the media. Says Tim, "A friend of mine, a guy we work with, Tom Smith, was at a gig on Wednesday night and was speaking to a radio DJ, Hugh Stevens from Radio 1, who said he'd been hearing about the album at Radio 1 and was interested in what it is. So people clearly are clocking it and are interested and intrigued in what 'Spirit Break Out' is and how it's ended up in the top 10."
Les Moir still has vivid memories of the recording of 'Spirit Break Out'. He recalls, "I was actually in the recording van. I remember feeling the freedom that was there and also how well everyone did. The band had been rehearsing for a few weeks before the event and we just had one go at it. We'd hired HMV Forum and I was thrilled to see it all come together."
As well as some fine new worship anthems like Ben Cantelon's "Saviour Of The World", Tim Hughes and Phil Wickham's "At Your Name", Nikki Fletcher and Luke Hellebronth's "Wait For You" and Al Gordon, Luke Hellebronth and Tom Smith's "Sing Alleluia" there is also some powerful spontaneous worship, dubbed "Heaven's Roar" which happened at the end of the title track. Comments Tim, "The song 'Spirit Break Out' has been a really key song. Stuff was just really happening and the crowd actually took it over, people were just singing it out. There was a bit of space and in the back of my mind I'm thinking 'don't take it somewhere different' because all the band are prepped and prepared. But at the same time I thought 'something's happening, this is actually everything we're about' which is about worshipping Jesus and following what he's doing. I thought 'let's go for it' and began to sing out this line and people took it on and the band picked it up. For the album we had to slightly edit it down, but it was a fantastic moment where people just went for it. It's just so exciting when God's people come together. A lot of them were worship leaders and musicians just hungry and the new songs they hadn't heard they just picked them up and went for them. A lot of the feedback we've received is from people picking up that raw sense of passion in the songs and on the album."
So what does the future hold for Worship Central? Responds Tim, "Who quite knows? It's been a great start. We felt for a while that as part of the ministry there were songs in us that were coming out that we thought could resource the local church. For me what's been so exciting is I've done lots of albums on my own but to be part of a team, to see these songs rise up and develop into something on the album which hopefully churches will pick up is so exciting. It's just the beginning. What we're seeing is teams in Hong Kong, we did an album out there in Mandarin 'Counting On Your Name' and some of the songs had people from Taiwan singing on it. Worship Central's in the Netherlands, Malaysia, the Philippines. It's beginning to spring up all over and our prayer is that songs will be coming up from all of these churches to globally resource the local church. So it's an exciting time and we've just got to keep on following what God is doing. We're doing our best and trusting."
The next Worship Central London Conference is set for 28th and 29th October. Enthuses Al Gordon, "We're expecting 2000 worship leaders from around the world to gather for that. We've got some amazing speakers - Martin Smith, Matt Redman, Alistair McGrath - an amazing bunch of guys and girls inputting. Vicky Beeching will be there, Rend Collective, so we're really encouraging everyone who's hearing about Worship Central to bring their worship teams down to that conference. We haven't quite worked out where we're going next but we're passionate about resourcing - we have the website where there'll be a new song up every month. Going forward we're continuing to write as a team. Just last week we were away in Scotland for three days sitting round a piano writing some songs so for us we feel passionate about this vision we've got, what God's called us to. Which, as Tim said, we're just getting going and there's really exciting things happening all over the world now."

The opinions expressed in this article are not necessarily those held by Cross Rhythms. Any expressed views were accurate at the time of publishing but may or may not reflect the views of the individuals concerned at a later date.
About Tony Cummings

Tony Cummings
is the music editor for Cross Rhythms website and attends Grace Church in Stoke-on-Trent.
We welcome your opinions but libellous and abusive comments are not allowed.