Keyword search Music News
Browse by Genre
Wednesday 27th September 2017
Indie duo Pen Pals release album 'I Disappear'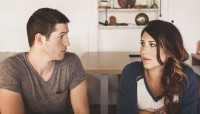 THE DUO Pen Pals, consisting of singer, songwriter and rapper Heath McNease and Michigan-based folk singer Jetty Rae, have released the album 'I Disappear'. Said Jetty Rae, "The songs that we wrote are centred around feelings of loss, heartbreak and disillusionment. There are songs that Heath wrote that could be my story and my words verbatim. There is a very tender ballad that makes me cry every time I sing it called 'I Will Be Your Sun'. To put it bluntly, I love this project. To support our first single 'I Disappear' we enlisted my amazingly talented sister, brother-in-law, family friend with a drone and my best friend to shoot a beautiful video on a rainy Monday this past July. I hope it moves you as much as it does me."

The opinions expressed in this article are not necessarily those held by Cross Rhythms. Any expressed views were accurate at the time of publishing but may or may not reflect the views of the individuals concerned at a later date.
We welcome your opinions but libellous and abusive comments are not allowed.