Keyword search Music News
Browse by Genre
Thursday 13th September 2018
Shoe-gaze rock team Weathered release full-length album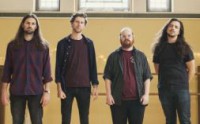 AMERICA'S long-established rock independent Facedown Records have released the album 'Stranger Here' by Weathered. Read a press release, "With three EP releases under their belt, Weathered have joined the Facedown Family adding a refined, superbly crafted debut LP to their discography. In their new album 'Stranger Here', Weathered reveals perfectly counterbalanced subtleties of shoe-gaze with ample alt rock allure. The sing-alongable choruses and cathartic vocal hooks, especially on songs like 'Forget About Me' and 'Lying In Wait,' give the album a relaxed, familiar feel."

The opinions expressed in this article are not necessarily those held by Cross Rhythms. Any expressed views were accurate at the time of publishing but may or may not reflect the views of the individuals concerned at a later date.
We welcome your opinions but libellous and abusive comments are not allowed.