Wednesday 1st December 1999
Tony Cummings selects 10 giants of Christian music past and present who, in different ways, personify the decades in which they worked.
Christian music is as old as the faith itself. Over the last hundred years though, as our world has seen scientific and technological breakthroughs of huge significance and unimagined rapidity, God has raised up musicians with the talent and the anointing to take advantage of these breakthroughs. Through songbooks, recordings,' TV, radio broadcasting and now, of course, the Internet, the Christian musician has been able to take music baring witness to the life transforming power of Jesus to countless millions. There are literally thousands of artists and songwriters who've made a significant contribution to Christian music's proud history. Here's a selection.
1900 - 1910 FANNY CROSBY

Fanny Crosby
Blind hymnwriter Fanny Crosby (1820-1915) personified the move from the glorious hymns and anthems of English hymnody to the simpler worship songs of American folk art. Educated in New York School For The Blind (one of Fanny's teachers was Graver Cleveland, later to become a US president), at age 27 Fanny returned to the school to become a teacher. She met and married fellow musician and teacher Alexander Van Alstyne and began to write poems and song lyrics, many of which were then set to music. "Pass Me Not 0 Gentle Saviour", "Saved By Grace" (a particular favourite of her friend, sacred soloist Ira Sankey, whose work with evangelist D L Moody did much to popularise Fanny's moving lyrics) and "Blessed Assurance" all became very popular. By the turn of the century Fanny was the world's most widely sung and religious songwriter. She wrote a staggering 9,000 lyrics and poems, and though a social guest of six US presidents, humbly accepted only about two dollars for each of her compositions.'
1910 - 1920 THE VAUGHAN QUARTET

The Vaughan Quartet
A regional style of male voice harmony singing, which came to be known as Southern gospel, took root at the turn of the century when a number of entrepreneur/Christian songbook publishers became active, in the southern states of the USA. One of the most important was James D Vaughan who in 1900 published his first songbook Gospel Chimes. Vaughan, based in Lawrenceburg, Tennessee, began to make an impact though it was in 1910 when he formed the country's first professional gospel singing group, the Vaughan Quartet, that a seminal prototype was established. In 1911 Vaughan started the famed Vaughan School Of Music teaching the new "shaped note" system of harmony singing. The Vaughan Quartet became hugely successful making numerous appearances on radio as well as making a string of recordings. One of the Quartet's composers was V O Stamps who in the '20s formed the Stamps Quartet, a group which decades later was to play a part in the musical development of a teenage Elvis Presley.
1920 - 1930 BLIND WILLIE JOHNSON

Blind Willie Johnson
Eric Clapton once famously described Blind Willie Johnson's "It's Nobody's Fault But Mine" as "probably the finest slide playing you'll ever hear." The fact that the primitive recordings of this blind street singer could attract accolades 70 years after they were made and that Johnson has been a huge influence on such diverse figures as Ry Cooder, Glenn Kaiser and Led Zepplin demonstrates the genius of this itinerant guitar-playing evangelist. Johnson was a Texas farm boy, blinded at seven by his step mother during a domestic fight, who, with a tin cup tied to the neck of a battered guitar, was to make some of the most arresting and impassioned gospel music ever heard. Johnson's recordings, 30 in all, are intense and moving testimonies sung in a tortured rasp over a visceral guitar style which was to influence later generations of slide guitarists. He died tragically in the late 40's after a fire in his shack led to him sleeping on a wet bed and catching pneumonia.
1930 - 1940 TOMMY DORSEY

Tommy Dorsey
Thomas Dorsey was a seminal gospel song composer whose works like "Precious Lord Take My Hand" and "If You See My Saviour" were profoundly influential in moving black gospel music from the older sounds of hymns and jubilee singing into the polyrhythmic cadences of modern gospel. In the 1920s Dorsey made a successful living with secular stars of the era including Ma Rainey and Tampa Red. By the early '30s, with the Depression at its height, Dorsey had switched to gospel and connecting up with the National Baptist Convention with singer Sally Martin performing his compositions began to see his songs circulating through the Church. Often I credited with bringing the sounds of jazz and blues to African American religious music, Dorsey was eventually also to prove extremely popular with the white Southern Church. A patriarch of post-war gospel, Dorsey remained alive until 1993 and was heavily featured in the gospel movie Say Amen Somebody. A book The Rise Of Gospel Blues by Michael W Harris documented Dorsey's huge contribution to gospel history.
1940 - 1950 FIVE BLIND BOYS OF ALABAMA

Five Blind Boys Of Alabama
Of all the hundreds of male black gospel quartets who in the '40s and '50s revolutionised the sound of gospel music as well as being a creative foundation stone for the emergent soul music, none were more influential than the Original Five Blind Boys Of Alabama. Originally known as the Happyland Jubilee Singers, they were formed by Velma Traylor at the Talladega Institute For The Deaf And Blind. Velma tragically died in a car crash in 1947. The group, featuring the soulful voice of Clarence Fountain, gained success in the '40s. With their wild stage act and screaming lead singer, the group were a huge influence on '50s R&B groups like James Brown & The Famous-Flames. The Blind Boys were a popular draw travelling the Gospel Highway (the black church/gospel programme circuit of the 1950s) and recording numerous singles for companies like Speciality. Sometimes confused with the Five Blind Boys Of Mississippi, the Alabama aggregation reformed in the 1980s, even contributing to a musical, Gospel At Colonus.
1950 - 1960 GEORGE BEVERLY SHEA

George Beverly Shea
The hugely influential crusades of Dr Billy Graham were to be one of the most significant movements on the 20th century Church and it was the music of Canadian born gospel crooner George Beverly Shea which was to be a key element in that influence. In many ways Shea and iGraham were a 20th century re-enactment of a 19th century partnership where evangelist D L Moody worked with popular singer of sacred solos Ira Sankey. Born in Winchester, Ontario, George's warm, bass-baritone voice was a perfect tool to hold a congregation when singing songs like "I'd Rather Have Jesus" (a song Shea co-composed), "The Wonder Of It All" and "I Love Thy Presence Lord". Touring with Graham for more than four decades, Shea became an international recording star while his radio broadcasts were known and loved by millions. In 1978 the Gospel Music Association elected the singer to the Gospel Music Hall Of Fame.
1960 - 1970 MAHALIA JACKSON

Mahalia Jackson
Considered by many the greatest gospel singer of any era, Mahalia Jackson rose from the poverty of her childhood in New Orleans to become a national icon, wooed by presidents and featured regularly on national television. Born in 1911, Mahalia moved to Chicago when she was 16 and made her first recording in 1934. However, it was Mahalia's 1945 recording of "Move On Up A Little Higher" which was to catapult her to stardom, selling well over a million copies. Other big hits included "He's Got The Whole World In His Hands", "I Can Put My Trust In Jesus" and "When I Wake Up In Glory". Signed to Columbia Records in the 1950s and featured in her own show on national American TV, the singer became adept at fusing the soulful fire of black church with the more sentimental requirements of a white religious audience. Later she became closely associated with the civil rights movement and sang at the funeral of Dr Martin Luther King. Mahalia died, mourned by millions, in Illinois in 1972.
1970 - 1980 LARRY NORMAN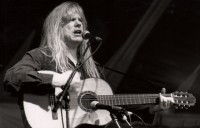 Larry Norman
Larry Norman was the key figure in taking the raucous rhythms of secular rock and roll into the sanctuary. Called by Time magazine "the poet laureate! of Jesus music," it was the singer's seminal songs and recordings in the '60s and '70s which were to lead the way in a movement which was eventually to lay the foundation stone for the contemporary Christian music industry. His songs like "I Wish We'd All Been Ready", "UFO" and "The Great American Novel" have been covered by such diverse talents as dc Talk, Jack Jones and Martyn Joseph while albums like 'Upon This Rock' (1969), 'Only Visiting This Planet' (1972) and 'So Long Ago The Garden' (1973) were hugely influential. Larry's short-lived Solid Rock record company produced some of the best music of the era. Dozens more albums were to follow as the singer, plagued by ill health and a somewhat stormy relationship with the Church, travelled the world, the personification of a rack gospel minstrel.
1980 - 1990 AMY GRANT

Amy Grant
The velvet tones of Amy Grant are for many the quintessential example of Nashville CCM. Daughter of a prosperous doctor, Amy was signed to Word Records at age 16 and her debut album, 'Father's Eyes', established the singer as a purveyor of catchy inspirational pop. In 1982 Amy's 'Age To Age' album, with its lush production and radio friendly songs, took Christian pop music to a new level of popularity and laid the foundations for a whole series of successful albums. Her renditions of songs like "El Shaddai", "Lead Me On" and "Thy Word" (which Amy wrote) are considered Christian music classics. By 1991 Amy courted controversy amongst the huge CCM-buying public by moving into mainstream pop with her 'Heart In Motion' album but has subsequently managed to find success as a conventional pop star while retaining most of her following in Christian community. Today, Amy stands at a new crossroads with a move into acting.
1990 - 2000 DELIRIOUS?

Delirious?
It's been a rock band from Littlehampton who have turned the international Christian music industry's attention to praise and worship music. In the '70s and '80s companies like Maranatha! Music and Integrity pioneered a new form of worship music more in tune with 20th century tastes than the hymnody of earlier generations. But their soft pop/easy listening musical approach had little appeal for today's youth culture and it has been Delirious? who have spearheaded worship music using a more a rock music (approach and have led the way to a wide range of more youth-orientated worship music. Now Delirious? have metamorphosized to a full scale stadium rock band with a talent and a vision to put Christian music into the mainstream pop charts and the biggest stadia in the world. Their learly Cutting Edge recordings were profoundly influential, their 'King Of Fools' album is acknowledged by all as a Christian music classic while 'Mezzamorphis' could yet be an album to produce a huge mainstream breakthrough.

The opinions expressed in this article are not necessarily those held by Cross Rhythms. Any expressed views were accurate at the time of publishing but may or may not reflect the views of the individuals concerned at a later date.
About Tony Cummings

Tony Cummings
is the music editor for Cross Rhythms website and attends Grace Church in Stoke-on-Trent.
Reader Comments
We welcome your opinions but libellous and abusive comments are not allowed.