Session musician extraordinaire AL PERKINS spoke to broadcaster Mike Rimmer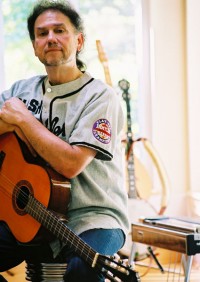 Al Perkins
Al Perkins is unquestionably one of the greatest behind-the-scenes figures in country, rock, bluegrass, folk and Christian music. The Texas-born musician and record producer has been called by the Gibson guitar company as "the world's most influential dobro player" while his work on electric and acoustic guitar, pedal steel and banjo has been heard on literally hundreds of albums. Once a member of the Flying Burrito Brothers, Perkins has played with Bob Dylan, James Taylor, the Rolling Stones, Solomon Burke, Cher, Buddy Miller, Garth Brooks, Tori Amos and many, many more. Last year broadcaster Mike Rimmer interviewed Al about his life in music and his strong Christian faith. Here's what was said.
Mike: You've played music with numerous stars but you've managed to stay in the shadows yourself. Is that by deliberate design?
Al: Not particularly but I've always been a little bit shy from going to grade school - doing book reports frightened me. I didn't consider myself a public speaker necessarily. When I began to sing I had something to say musically so it seemed to come a bit easier. It's only been the last few years that I've really stepped out and tried to do a little bit on my own, sing some and write a little bit more.
Mike: You're well known as a dobro player and pedal steel guitarist. How did you first discover those instruments? They are not obvious instruments to become proficient at.
Al: The beginning was when I was about nine years old in West Texas - some of the streets out there were still unpaved. But there was an Hawaiian music surge back in that era, the late '50s, and a lot of people enjoyed it being a very exotic type of sound. So we would hear this Hawaiian show coming across the subterranean lines they'd laid under the ocean. We also listened to a lot of country music - we could pick up the Louisiana Hayride from about 500 miles away if the atmosphere was right. So I was familiar with the sound of the steel guitar although I didn't know what it looked like. I hadn't seen one up close. A salesman came from Lubbock, Texas, 130 miles away - they sent out these travelling salesmen all over the South West - see if anyone was interested in learning Hawaiian steel guitar. He happened to knock on the door one Saturday when my Dad was home and my Dad turned and asked me would you like to learn to play the steel guitar? And I said I don't know much about it but I'd be willing to try. So he put me in a group of about 20 or 25 people playing rented acoustic guitars on their lap, with the raised nuts so the strings were high enough to have a bar across. So I started that way, playing Hawaiian music. The teacher was teaching through tablature and he would play the next lesson or the next song before we would leave the current lesson and I would listen to it and he would play it a few times and I'd sort of learn it by ear because I didn't like looking at the tablature. So I was learning these things by ear, practising them by ear. When I came back the next week one week he noticed that I wasn't playing it exactly like the other people were. So he called me out and said can I speak to you and your father after the lesson today? And I was oh, boy, I'm in trouble. It was fun while it lasted. But he asked my father in that hour would he be able to give me private lessons. If he could, he told my Dad, he could teach me much faster. So number one the teacher saw the possibility of teaching me by ear and was willing to do that. Secondly, and probably most importantly of all, my Dad consented to give me private lessons. I became one of the students they'd take out to public events and show off the school.
Mike: Pedal steel is not a popular instrument. You almost had to wait until country rock was invented before you could find a decent gig. But I would imagine that, because it's an unusual instrument, you could corner the market. Is that how it happened?
Al: The first things that I heard that I really liked on pedal steel - Web Pearce had a song called "Slowly" that was the first pedal steel on the record that most of us remember, and I remember hearing the sound of it and gradually other people started playing it on records. I guess the music in West Texas that moved me most was Web Pearce and Buck Owens and I really liked the style that Tom Brumley and Ralph Mooney had in that group. I didn't have a pedal steel at the time but soon after Fender started producing a pedal steel, double neck and the first one that landed in West Texas in our music store, my father bought for me. There was nobody to teach you. You had to get underneath and hook up all these cables and try to make the same sound as you were hearing on the radio. And I finally came up with a way to hook it up that seemed common to most people that were learning it at the same time. So I started learning little songs that I'd hear on the radio and when I came out to California years later with Shiloh they were really into the country rock scene before country rock was a music form. So here we are, long hairs playing sort of country music and they wanted steel guitar players so they enlisted me to come out there and that's how I got started.
Chris Hillman and Al Perkins
Mike: You mentioned the Flying Burrito Brothers and Manassas with Steven Still's band but you also played with Emmylou Harris and Gram Parsons, didn't you? How did that connection happen?
Al: When we were playing in Washington DC in 1971 with the Flying Burrito Brothers, we were playing at the Cellar Door, I think it was. And we were told that there was a young lady, Emmylou Harris, who was singing down the road at another little place so they went down to hear her. I don't think I went down at that point. And Chris Hillman really wanted to do an album with her. He told his manager and word got to Gram - Gram had already left the group - so maybe a year later, Gram had taken the idea that Chris wanted to act on and went ahead and did an album with Emmylou. I think the first album that Gram did with her was in '72 and I know Gram had met us while I was playing with them on the road and complimented my playing quite a bit and said he really enjoyed it. So I got the call to join with some of the other fellas from TCB Band that he had really admired so that's how we did both albums, actually.
Mike: So originally you were just like a musician in a band. Were you doing sessions at the same time? Did your session career happen concurrently?
Al: It actually began when I went to California with the group Shiloh. Kenny Rogers was the producer for Shiloh's record and he also used me on First Edition Records in 1971. Soon after I got a call from the Flying Burrito Brothers' manager and he asked me if I would be interested in coming out and auditioning for the Flying Burrito Brothers. I didn't know what they did but I went out and auditioned. I think they played a show Friday night and they still had their stuff set up for Saturday night's show so I sat in with them and they liked me enough to say you got the job. They gave me a bunch of records to listen to and the next Monday or Tuesday we were off.
Mike: And the rest is history. You've played with hundreds of people in your career. One of the most intriguing sessions must have been the Rolling Stones' 'Exile On Main Street'. Wasn't that album recorded in a chateau in France?
Al: I believe all the tracks were recorded over there. After we'd met the Stones through the Manassas connection, they called me to play on an overdub for the song "Torn And Frayed" at Sunset Sound in Hollywood so that's where I recorded for it. I didn't really know what to expect whenever I went down there to play for them but they were all nice. They said you can stretch out as much as you want but I'd just moved from an 8-string pedal steel, with a homemade knee lever or two to a ZB custom guitar with 11 strings, higher off the fret board and multiple knee levers. I'd had it for about two weeks and I'd already given my other one to a friend of mine in Texas and I thought to myself when they said you can stretch out, I am stretching out!
Mike: It's difficult to cover your whole career - tell me about your faith. At what stage in your life did you become a Christian?

Reader Comments
We welcome your opinions but libellous and abusive comments are not allowed.