Friday 30th November 2012
Tony Cummings quizzed one of YouTube's most prolific musicians, ANDREW HUANG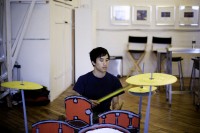 Andrew Huang
Of the thousands of musicians whose lives and music Cross Rhythms have chronicled down the years there can be few whose music takes in such a wide range of styles (electronica, rap, pop, folk, classical, jazz and others). And there can be few artists who have been as staggeringly prolific (100 musical works a year for almost a decade), seemingly able to compose a work and make a decent recording of it at the drop of a hat. Andrew first rose to prominence when he launched the Songs To Wear Pants To website where members of the public could suggest a subject for which they'd like to have Andrew compose a song. Andrew told Cross Rhythms how the renowned website operated. "Through Songs To Wear Pants To I wrote close to 600 songs in response to suggestions that strangers sent in online. There were no rules, they could suggest anything from a style of music to a lyrical theme and I would attempt to compose and perform everything exactly as they requested it, usually with a bit of a comedic twist."
Andrew admitted that once or twice he received rather unsavoury suggestions for songs. He recounted, "I would receive 50-100 song requests each day - more than I could ever fulfil - it was simple enough to ignore any that I found disagreeable."
This extraordinarily prolific musician has released six albums in the last two years alone. He said, "My approach has always been to keep people guessing - I have a rule that my current release cannot be in the same genre as my previous album. There's no easy way to provide a history - I've produced over 100 pieces a year for almost a decade and just throw it all online as I finish it."
Andrew spoke about a few of his recent projects. "'Autumn' (2010) is a poignant folk/rock album which contains some of what I believe are my most well-crafted and emotionally complex songs and arrangements. 'Pink Fluffy Unicorns Dancing On Rainbows' (2010) is a simple, silly, catchy song that I wrote for a laugh and never expected to be my best-known work. For some reason people love to share it; it gets several thousand views daily on YouTube and is currently at over three million total. 'Music With 1000 Pairs Of Jeans' (2011) is a piece I was commissioned to write by a Singapore-based jeans company. They wanted some music where all the sounds come from hitting, zipping and ripping a thousand pairs of jeans. 'Ma Bicyclette' (2012) is a light-hearted, summery, pun-filled rap song about bicycles that I wrote with my friends Lynn and Tanya. 'Love & Desolation' (2012) is my pop tribute to the '80s, which I was excited to release this year as a limited edition of 500 copies on clear vinyl and 'Droop' (2012) is my take on dubstep and my most recent album."
Andrew filled in some details about his background. "I was born in Ottawa, Canada's capital, in 1984, the oldest of two boys. My mother is a doctor and my father does things with computers that I've never really understood. I started rapping when I was three and learning piano when I was four. Music was just a fun hobby for me until my teens when I discovered a lot of the rock music my friends were listening to, and realized that all I wanted to do was write and record songs. I would do this in my basement with a boom box and cassette tapes, overdubbing guitars and vocals and terribly cheesy drum sounds from an old keyboard. When I was 16 my school got some recording equipment and I started spending as much time as I could with it, learning about mic techniques and digital recording. By the time I was 19 I had gotten a bit of equipment set up at home and was making new music all the time. It was at age 20, when I launched http://songstowearpantsto.com and started taking suggestions for song ideas online, that I started to build an audience. From there it's continued to grow, though at this point I do more of my own music than by-request songs and my main platform is now YouTube."
Andrew's Christian faith really became a cornerstone of his life when he was in his early 20s. "I grew up going to church with my family, but certainly in my early 20s after going through a particularly dark period I came to a much deeper understanding of reliance on and communication with God. Not all my songs directly address my faith, but the fact that my faith influences my outlook on life certainly affects what I choose to say and how I choose to say it."
Andrew sometimes finds the time to perform music live. He said, "I've toured twice, visiting cities in Canada, America, Malaysia, Singapore, New Zealand and Australia. However I tend to only play live when invited; my real passion is writing and recording. The church I attend is smaller, non-denominational and with a fairly young demographic. I used to lead worship there. A lot of the congregation is definitely aware of my YouTube antics."

The opinions expressed in this article are not necessarily those held by Cross Rhythms. Any expressed views were accurate at the time of publishing but may or may not reflect the views of the individuals concerned at a later date.
About Tony Cummings

Tony Cummings
is the music editor for Cross Rhythms website and attends Grace Church in Stoke-on-Trent.
We welcome your opinions but libellous and abusive comments are not allowed.