Mike Rimmer asked mother of three and acclaimed gospel singer ASHLEY CLEVELAND a few questions
Ashley Cleveland
The last time Cross Rhythms spoke to singer/songwriter Ashley Cleveland her 2004 album 'Men And Angels Say' was out. Since then the output for the bluesy voiced songstress from Knoxville, Tennessee has slowed down considerably yet what it lacked in quantity it's made up for in quality with both 2006's 'Before The Daylight's Shot' and 2009's 'God Don't Never Change' being nominated for Grammys. The latter album was named as a Cross Rhythms Album Of The Year and with its stunning recasting of blues gospel songs showed that she and her guitarist/producer husband Kenny Greenberg are still at the top of their game. I interviewed Ashley and asked about her decision to go in a blues gospel direction.
Mike: What was the thinking behind 'God Don't Ever Change'?
Ashley: Well, blues comes naturally to me and I feel the blues in just about everything I do. I grew up in the '70s so the music that I write is kind of a mix of the music I grew up to, which is a combination of rock and folk and blues, but I grew up partially in the south. My parents divorced when I was quite young and when my mother went to work I had these African American women that came into the house that really become my sisters and other mothers. They became a prominent role in raising us and fortunately they came equipped with their record players and they brought their incredible music to the house. Occasionally on the weekends we'd be able to go and spend the weekend with them; we'd get to go to church with them and for a kid growing up in the Presbyterian Church, it was quite an experience and it really changed my life and gave me such a deep love for that music and the beauty of it. It was a great experience to make a whole record of traditional black gospel songs.
Mike: Your husband plays guitar on some of your tracks and it's his guitar playing that seems to have really brought stuff out for you.
Ashley: Well, I consider him my not so secret musical weapon; he is pretty astoundingly gifted and he is really important, he is as much the artist as I am really, but he prefers to stay in the background. He really pours himself into the records and has produced all but one of them. I owe him a debt that I won't be able to repay, but that's as it should be.
Mike: The thing about doing the kind of music that you do is that it really does have to come out of a particular place in your life, doesn't it, to sing this stuff and sing it authentically. You've had your fair share of trials in your life that probably add to your voice. Do you feel that when you are singing it?
Ashley: Oh yeah, I would say that absolutely it is all mixed up in there, and I feel that if you are going to write about faith you better know something about it. I think that the emotional content has everything to do with where I feel like the Lord has met me in very dark places and has brought me to new places that are beyond my imagination.
Mike: Because your record of struggling with alcohol for a number of years?

Ashley: Oh absolutely. I'm an alcoholic and a drug addict. I've been in recovery for quite a while, but my recovery includes lengthy relapses. I certainly understand what that is. I feel like I did my level best to drink myself to death and it was just God's mercy and grace that kept me from doing it.
Mike: I think it's interesting talking to recovering alcoholics, because for some people it almost appears like God waves a magic wand and they're healed, and that's that, the struggle goes. But for other people, the struggle never goes and it's kind of always there in the background and it's a question of God's strength being made perfect in your weakness. It sounds like you are in the second category.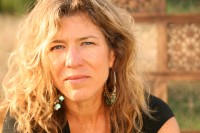 Ashley: Well, I have not struggled for a long time with alcohol, but I will say this, the programme of Alcoholics Anonymous has found me in my life. I bring it up, even though traditionally I'm not supposed to, but I bring it up because I think there is a huge misconception among Christians that since AA is not Christ-centred, it cannot be useful or helpful to Christians and I want to go on record as saying God used that programme to save me life, period. I have a permanent appointment there because I feel like it is a daily affair. Every day I commit to sobriety and ask for the Holy Spirit as opposed to the other spirits that I was using to get by on.
Mike: And how is it, in terms of you relating to other people? I assume that your own failures and your own struggles have given you more compassion for other people who are struggling with whatever area of their life?
Ashley: I hope so. I do think that there are very few depths I haven't been to and so I do understand the struggle. I also think that in a completely shattered place, that's really when the beauty of whatever God has invested in me shines. I used to really despise the fact that I was such a mess, such a broken person and it seemed that the most broken parts of me would show themselves in the most public ways. I was constantly humiliating myself in front of the largest group of people I could find and over the years I have learned not to despise that brokenness but to take it too God and to let him make something beautiful out of it. As you say, the greatest things that we can offer one another is compassion and apart from God I don't really have much compassion for myself or anybody else. But when I get next to that place that I can do nothing about, and can only accept his tender mercy, then it's interesting, I have a lot of compassion.
Mike: Talking about your career, it's been a lengthy one and you've recorded consistently. You went through a period of time where you had "the next best thing" status. There were a couple of albums, particularly on Reunion, where it looked like you were going to break out as a really big artist but it never quite happened. When you reflect about that, why do you think that was?
Ashley: I don't ever think it was any one thing, although it might be because the truest answer is, I don't know. But from my perspective it's a combination of things - for one thing I have a marriage and three children, all of which are incredibly important to me and which I feel are my first priorities. So I always made no bones about the fact that I was going to make them the priority and I took less of a career because I wasn't interested in having someone else raise my children, particularly because I went through that as a child, with divorced parents, and I just didn't want that for my kids. My willingness to go and do anything was limited, so there is that fact. The other fact is that I never was a perfect fit in the mainstream and I certainly wasn't a fit in CCM, because personally I think I have a little bit of an edge to me that is unsettling to some people and it just wasn't ever a really good fit. And then the other fact is that maybe I never really wrote the perfect song for either market. So it's any number of things.
Mike: You just weren't nice enough for the Christians.
Ashley: I don't know if it had anything to do with my niceness but no, I am not nice enough for the Christians, no doubt about that. But I think that it had more to do with, for my second record I had just recorded a song written by a friend of ours called "Skintight", a kind of a sexy love song. I didn't mean anything by it, I was just excited to be married and it expressed the way I felt about Kenny. You would have thought I had ushered in the reign of Satan because people just lost their minds over it; I had people writing editorials about it, about why I should not be allowed to be in that market. It was really upsetting to me because I had crossed a line that I didn't know was there. Now I kind of understand it, but now I think, I cannot exist as a human let alone as an artist with that kind of rigidity, I just can't do it, and I won't do it. So I think that really offended some people and made them suspicious of my motives, but in the long run I know that I am fully given to the Lord and I know that he uses me and I believe that he is pleased with me because of Jesus.
Mike: It appears that in the last few albums you've settled into your own skin and you are just making the music that you really want to make and you are finding an audience of people who love it. You've ended up in a good place, haven't you?
Ashley: Yeah, my career really bears no resemblance to how I thought it would be, but it's a lovely career. I built it slowly over the years and I joke that I know all my fans on a first name basis, but really I almost do.

The opinions expressed in this article are not necessarily those held by Cross Rhythms. Any expressed views were accurate at the time of publishing but may or may not reflect the views of the individuals concerned at a later date.
About Mike Rimmer

Mike Rimmer
is a broadcaster and journalist based in Birmingham.
Reader Comments
We welcome your opinions but libellous and abusive comments are not allowed.