Tony Cummings reports on the extraordinary singer/songwriter BLESSING OFFOR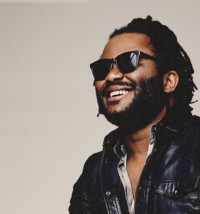 Blessing Offor
Anyone who's heard his current Cross Rhythms hit "Won't Be Long Now" from his dazzling 'My Tribe' album will know Blessing is a very special artist. What they'll have more difficulty in doing is pigeon holing his musical style. Is it Christian music pop, is it R&B gospel? And isn't there a bit of Afrobeat in there? Truth is, the Nigerian-born American now living in Nashville is a singer/multi-instrumentalist who is impossible to neatly classify. Being blind, lazy journalists have tried calling Blessing "the new Stevie Wonder" and indeed he was hugely influenced by the Motown star's music.
With five older siblings, Blessing left Nigeria at just six years of age to live with his uncle in Connecticut. Glaucoma left him blind in one eye and his mother and father felt he might find better medical care in the United States. He lost sight in the other eye at 10 years old due to a water gun accident. Despite that, Blessing threw himself into music. He immersed himself in the music of Sam Cooke, classics by Marvin Gaye and Stevie Wonder and while a teenager was playing in bars. He entered the TV talent search The Voice (Season 7) performing "Just The Two Of Us" but was eliminated.
However, it was his strong Christian faith which was dominating his musical direction. His remarkable ability to compose and arrange sparkling original music drew him to the attention of the Christian music industry. In 2022 he released "Brighter Days" along with an album of the same title. The song hit, reaching number 17 on the Billboard Top 20. The first two lines of the song go "I know there's gonna be some brighter days/I swear that love will find you in your pain." "Brighter Days" has been used during key moments in Grey's Anatomy, The Equalizer and other major TV productions. Said Blessing, "The chorus is very bright and positive, but you go through the darkness to get there. You've essentially worked for that moment - it isn't just given to you."
He continued, "I'm just a guy who's coming into his own and feeling the weight of it all. This record says it's okay to feel complicated. Life isn't cut-and-dry or paint-by-numbers. This album doesn't just take you from the beginning to the end, but it also takes you through everything in the middle. When you listen to it, I hope it enables you to understand yourself more."
The second artist signed to Chris Tomlin's Bowyer & Bow imprint, in partnership with Universal/Capitol Christian Music Group, Blessing has now released the stunning 'My Tribe' album. He commented, "I'm getting to work with people that make me a better writer and artist. I love cross-pollinating. I think some of the greatest fun in all of this is to sit in someone else's world. I'm always honoured when somebody wants to collaborate."
With such a dynamic background, he didn't have to look far for inspiration. "'My Tribe' is the sheer reality of my personal experience," he elaborated. "I wanted to make a record that was true and honest to me being born in Nigeria, growing up in Connecticut, attending Belmont University, living in Los Angeles for a bit, and all of the things that represent my life."
Scattered through the album are three recordings of an ancient traditional song "Akwa Uwa", including one where his uncle translates the lyrics. Blessing explained, "When I came to the States, there were a lot of memories from home. Naturally, you keep some of them, and others fall by the wayside. Since the album was so personal, I wanted to speak to my family right at the beginning. I sang 'Akwa Uwa', and my uncle got on the phone with me to translate it. 'Akwa Uwa' means 'Tears For The World'. I sprinkled the call through the album so there's no doubt of who I am, where I come from, and who I do all of this for."

The opinions expressed in this article are not necessarily those held by Cross Rhythms. Any expressed views were accurate at the time of publishing but may or may not reflect the views of the individuals concerned at a later date.
About Tony Cummings

Tony Cummings
is the music editor for Cross Rhythms website and attends Grace Church in Stoke-on-Trent.
We welcome your opinions but libellous and abusive comments are not allowed.