The Nashville-based 21 year old BYRON KEITH with a self-financed debut.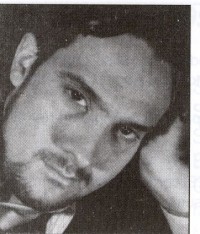 Byron Keith
The CCM capital of the world, Nashville. is the place to find hundreds of would-be artists plying their trade and trying to find the attention of one of the town's many Christian labels. Newly married 21 year old Byron Keith is one such musician but the difference here is that amongst the many wannabe musicians, Byron's debut self-financed CD, 'Here Inside My Heart", betrays an outstanding songwriting talent and a warm voice that will bridge that gap into listeners' hearts. Unsigned he may be but not for long!
He's certainly made all the right moves! Raised a pastor's kid, Byron studied at Greenville College which is now famous for kick starting the careers of Jars Of Clay and Sarah Jahn. Whilst there he worked with these artists, as he remembers, "I kept the books for the Jar boys during my freshman year when they formed the band. I made sure that they kept on track for their tax stuff that came up the next year, and that was fine. Also I did that for Sarah Jahn, during her time at Greenville College too."
Byron's servant heart is clear and the experience also gave him the opportunity for a musical collaboration with JOC on Byron's version of the classic "O Little Town Of Bethlehem". "I arranged it during my freshman year of college," Byron explains. "Steve Mason, from Jars, played guitar on the original track and Sarah Jahn sang backup white Steve and Dan did the engineering for it. So when Christmas came along the next year, and Jars were down in Nashville, they said, "Can we do your song because we enjoy it so much?', and from then on they did it for every Christmas programme!"
The outstanding song on Byron's debut is the title cut "Here Inside My Heart". Byron tells me about the song, "It's my favourite song to do live because it has so much power behind it. I know I deal with this every day, reminding myself that God is definitely in my heart every day. Whenever I sing it. It's just a prayer to God saying, 'Please say that you're here with me.'"
It's the vulnerability and honesty of his songwriting, which is going to propel Byron's songs into the hearts of those who hear him. What does he want people to receive? "I want them to be able to see the real me, to be able to see real life situations that happen and that not everything that happens in your life is always 100 per cent perfect. That's hopefully what people see through me, seeing that reality in me. When you're standing out in front of an audience you need to be able to let them know that you're going through the same things and not just say, well, I'm a Christian and life's always great."
And Byron Keith knows as he works in his temporary dead end office admin jobs in Nashville that the vision to make it as a musician is accompanied by struggles. In Music City, even talent is no guarantee, it's only God who opens the doors. But somehow, there's something in his humility which makes me think that this is one ministry that God will soon raise up.


The opinions expressed in this article are not necessarily those held by Cross Rhythms. Any expressed views were accurate at the time of publishing but may or may not reflect the views of the individuals concerned at a later date.
We welcome your opinions but libellous and abusive comments are not allowed.