The musical director of Kingdom Faith, CHAD MARRIOTT has released his debut album. Tony Cummings reports.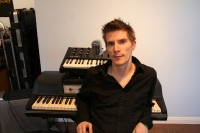 Chad Marriott
The release last year of the 'Paper Or Gold' album by Chad Marriott finally brought into the spotlight one of the finest keyboard players on the British scene, a young man who has played with such people as Bobby Ball and Mike Chance and who regularly leads worship at the Kingdom Faith event. When you add to Chad's talents guitar, production and a powerfully expressive singing voice it is amazing that it has taken until now for Chad to release his solo debut. Chad spoke about his recording debut. "I had really put this off for a long time, considering that I wanted to do this since I was five years old! But this was the first time that I was in a studio with a producer and session musicians doing my own songs. What a feeling! I was so used to doing it for others!"
Chad continued, "I remember being very frustrated because I'd never been produced before. As far as I was concerned, I had written and arranged all the songs, recorded complete demos, and written all the parts for the whole album. To then have them stripped back again and start over was, for me, an unnecessary thing to do! But I can see now how that has made some of the songs a lot better. This was an experience I was not used to, and I had to allow Andy Moxon (the producer) to do his job, even though I'm sure I made it very difficult! (Typical creative artist)! I had owned some of these songs for such a long time that to release them on to an album being professionally recorded and to hear other musicians play them was an overwhelming feeling! I remember my vocals taking a long time to do. I'd spent so many years singing like other people in covers bands, I had to learn what I sounded like! I remember doing the vocal for 'Holy' and getting a prophetic song which is at the end of the track: 'I can see a new beginning, I can see a brand new day/I can see a new horizon, I can see a brand new way'."
Chad spoke about two of the other outstanding songs on 'Paper Or Gold'. "'Not Too Late' was a song I wasn't sure about because it's quite a serious song, but it's proved to be very powerful, especially when sung live. It was inspired by two people I know who denied their faith and walked out on their families. I've not seem them since, but some of the lyrics reflect what they went through which I hope people can identify with. The message to them is that it's not too late to come back. It's a song inspired by the story of the Prodigal Son. Another song on the album, 'Walk With Me', seems to be people's favourite! It's based on Psalm 139 and I wrote it for a girl who was discovering God for the first time. This song was really written to express God's heart for all of us, that he knew us before creation, and that he's dealt with everything that we would ever face in life. He wants us to give him everything that holds us back or that we're ashamed of. In return, he wants to give us everything he has! And yet he asks us, 'Will you walk with me?'"
Chad was born in Epson, Surrey on 2nd November 1979. The Marriotts were a musical lot, dad being a drummer, and while Chad was growing up both his brother and sister had piano lessons. It was Chad though who showed the most precocious musical talent. He remembered, "I loved to sing and entertain people! When I was at school I would do my own little concerts in the playground singing Duran Duran songs into a stick for a microphone! I seem to remember being given the choice of what instrument to play when I was about five. I had the choice between the flute, the piano and possibly the violin. There was no doubt in my mind that it had to be the piano because I liked the idea of being able to play music with both hands! So I was given piano lessons, which must been have been a teacher's nightmare! Can you imagine trying to teach a hyperactive five year old who could barely sit still for two seconds, let alone 25 minutes?! I could play by ear really well and was also good at copying people, but it took a long time for me to read music as I would just copy the teacher when she played things to me! I did my grades and at the age of 13 took up the guitar as well - mostly inspired by David Gilmore - and went on to dabble with the bass and drums."
As a child Chad went regularly to church. As he said, "I thought it was just part of life that everybody goes to church and believes in God. The young Marriott's perspective changed in 1989 when he went to the New Wine event with his father and brother Paul. He said, "There we discovered the Holy Spirit and that being a Christian was one thing, but to have an active relationship with God was another thing entirely! I already had a strong belief in God, but I remember giving my life to God in 1991. I knew God was real and that he had a purpose and a calling on my life. I now attend Kingdom Faith Church in Horsham, West Sussex. I'm currently the musical director at Kingdom Faith. I'm responsible for heading up all the musical things of the church, from training musicians in worship, leading worship, playing music for different church events. We are about to record our live worship album, and then we have our annual family summer event Faith '09 which is held at the East of England Showground. I'll be leading worship on the main stage. I've been a part of Kingdom Faith for about 10 years now."
Although 'Paper Or Gold' is Chad's first solo full length album he's had quite a bit of recording experience. "I have made recordings, but it's mostly been for other people. My first recording experience was at ICC Studios in Eastbourne, in 1994. I played keyboard for singer/songwriter Martin Crowley. Since then I've recorded on other people's albums including composing music for Mike Chance. I have written much of the worship for Kingdom Faith which is recorded at Faith Camp. My first EP was 'Show Me Love' which was released in 2007."
Chad is now planning some concerts, performing the 'Paper Or Gold' songs. They're going to be rather unusual gigs as Chad explained. "I have already done a few shows in England and America, but we shall be doing a mini world tour of three dates across the globe to raise money for the charity Smile Train. This includes a world record attempt of being the first band to do the highest electric gig, on the peak of Mount Kilimanjaro! This came about when a businessman associated with Smile Train asked me if I would make one of the tracks off the album ('Chasing Rainbows') a charity single. In order to give it maximum publicity, we would form a band and perform the track in Heathrow Airport and Dubai Airport, with a couple of other gigs in Sri Lanka and Hong Kong. It's now turned into us climbing Kilimanjaro and performing the song at the top of the mountain as well as T5 and Dubai! It's all for charity."
As if his mountain climbing, his concerts, his work with his covers band and his Kingdom Faith live album wasn't enough, this ultra-busy singer/songwriter is already planning more recording projects. "I hope to produce several different albums over the next few years. I will always write songs. Having done this album, I'm quite open for other styles of music to influence me. We'll see what happens! The song 'Paper Or Gold' is the lesson I have been learning over the last few years. What am I going to do with what I've been given, and am I going to use it for God or myself? Ultimately, whatever is of God will last forever, what I try to do in my own strength will not last at all! Is this paper or is this gold? It's a lesson I'll be learning all my life, but as go on, I recognise more what is inspired by God, and what is inspired by me!"

The opinions expressed in this article are not necessarily those held by Cross Rhythms. Any expressed views were accurate at the time of publishing but may or may not reflect the views of the individuals concerned at a later date.
About Tony Cummings

Tony Cummings
is the music editor for Cross Rhythms website and attends Grace Church in Stoke-on-Trent.
Reader Comments
We welcome your opinions but libellous and abusive comments are not allowed.