The Manchester-based rapper and singer CHIP KENDALL tells us about his new album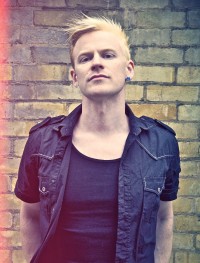 Chip Kendall
Since thebandwithnoname called it a day in 2010, American-born, Manchester-based singer, rapper, broadcaster and author Chip Kendall has continued to grow an international reputation. Chip's first full length album since his tbwnn days is eagerly awaited. Here Chip gives us a blow-by-blow account of each song on 'Holy Freaks'.
"Freak Show"
We felt this would be a great song to open the album with since it sets up the idea of what we mean by the term "freak". Many people are used to the phrase "Jesus freak" made popular in the 1970s, but there is a whole new generation of holy freaks rising up. This song is an anthem for anyone who has stood by their convictions and said "no" when the crowd was urging them to say "yes". Lights always shine brightest in the dark.
"Holy Freaks"
This song started in the imagination of Philippa Hanna. She had this little hook that to me sounded like a cross between a militant march and a circus. The song sprang to life relatively quickly once I'd got hold of it. Then Joel Atkins really outdid himself in the production, giving it a very quirky sound. The message is clear. In a war that is raging for peoples' souls, we are God's freedom fighters, and we know who wins.
"Evolution"
"If anyone is in Christ, he is a new creation. The old is gone and the new has come." For over a year now I've had the opportunity of going into high schools with a deejay and a scientist as part of something called Test Of FAITH: Live!. We present our faith through music, science experiments, videos and short talks, then we finish with a Q&A session like you wouldn't believe. This song dives into God's scientific imagination and wonders at how Christ is born in the hearts of every new believer.
"Solve It On The Dancefloor"
At our Chip Kendall Band concerts, this song has always been a favourite. It's a celebration of diversity and a chance to prove to everyone that we don't take ourselves too seriously. The underlying message, though, is to make sure your actions back up your words. The proof is in the pudding. Don't just talk big. If the joy of the Lord is your strength, then let's literally "dance the NIGHT away!"
"Answers"
In schools we get asked the question all the time, "If God is good, then why do bad things happen to good people?" This is a question that has no easy answer. I've always held the strong conviction that sometimes God tells his best stories through our most difficult times. But what is our response? Do we allow these experiences to harden our hearts, or do we listen harder to hear his voice in the middle of our pain?
"Sunshine"
This has been another favourite for us to play live. However, having done the majority of our gigs in the UK, we've learned to love the irony of singing "Step into the sunshine" to crowds of festival-goers drenched in rain. There's nothing like it in the world! Hopefully they come away understanding that we're talking about the light of Jesus, and the brilliant news of his never-ending salvation.
"Old Rugged Cross"
When we wrote this song, in all honesty it was an attempt to recapture the magic of thebandwithnoname's "Amazing Grace" - bringing life to a very old hymn. However, we never expected to come up with the middle 8 we did. "All riches, all treasure, I count as loss. Compared to knowing you, the power of your cross." It's actually a really nice little worship moment in the heart of the song and album as a whole. And what a privilege to collaborate with some great worshipping evangelist friends of mine - Twelve24, MPFREE and Matt Hill, the worship leader at !Audacious, our home church in Manchester.
"Praise Him"
Some praise and worship songs deserve airplay in stadiums and clubs. This is our attempt at what that might sound like. Church is where the real party is. Jesus couldn't shut up about the Kingdom of Heaven, and neither should we. We're called to model Heaven on earth. "Let everything that has breath praise him!"
"Call My Name"
This album version of the song (as with Underground Army) is significantly different to the one on my EP 'K Is For Kendall'. But the message is still the same. Prodigal sons and daughters must hear that their Father has never stopped loving them. He's calling them by name to come home to him. His grace knows no limits, and he is waiting with healing and forgiveness.
"Underground Army"
Having performed the EP (extended) version of this song many times over the past couple years, it's safe to say that we quickly realised there were a few major transformations that needed to take place. What you hear now is the result of some seriously massive upgrades, and the song has infinitely improved in my opinion. It tells the story of Ezekiel 37 from the inside out, as a modern day "soldier" wrestles with concepts of war, death, forgiveness and ultimately resurrection life. The track finishes with what can only be described as a no-holds-barred prophetic rant, speaking life, hope, peace, joy and purity over this generation.

The opinions expressed in this article are not necessarily those held by Cross Rhythms. Any expressed views were accurate at the time of publishing but may or may not reflect the views of the individuals concerned at a later date.
Reader Comments
We welcome your opinions but libellous and abusive comments are not allowed.