Sunday 20th November 2011
Tony Cummings digs through mounds of yuletide recordings to find the gems among the dross
1972
JOHNNY CASH - "King Of Love"
From the album 'The Johnny Cash Family Christmas', Columbia
The Man In Black had one of the most distinctive and expressive voices in popular music and although some of his Christmas recordings didn't make the best of it, this song, from Harold Reid, is a memorable depiction of what happened in that Bethlehem stable. Johnny brings out all its pathos.
1973
LARRY NORMAN - "Christmas Time"
From the album 'So Long Ago The Garden', Solid Rock
With its classic opening line "Santa Claus is comin' and the kids are gettin' greedy" and its rollicking rock rhythm interspersed with the sound of cash tills, this is a gem of a track from the Father of Christian rock. Its denunciation of the commercialized Christmas still rings true.
1974
ELLIS AND LYNCH - "Simple Christmas Song"
From the album 'There's A Time There's A Moment', Ra-O
Ellis and Lynch were two couples, Ron and Nancy Ellis and Michael and Collene Lynch, and this wistful song emanating from the Catholic Folk Mass movement is a delightful piece of early Jesus music.
1975
SISTER LUCILLE POPE & THE PEARLY GATES - "Merry Christmas"
From the single "Merry Christmas", Nashboro
Atlanta's Lucille Pope and her male compatriots made a series of blistering old school gospel recordings in the '70s and '80s and this yuletide track shows that the righteous sister is up there, in terms of vocal talent, with the big gospel names.
1976
RANDY STONEHILL - "Christmas Song For All Year 'Round"
From the album 'Welcome To Paradise', Solid Rock
Randy's creative and spiritual association with Larry Norman brought forth some timeless Jesus music and this witty and poignant song, with its undulating acoustic rock groove, is a million miles from the Christian muzak to which we are so often subjected.
1977
CHOIR OF KING'S COLLEGE - "Christmas Oratorio"
From the album 'Bach: Christmas Oratorio', HMV
It's not without reason that academia's renowned choir has a worldwide reputation and giving them Johann Sebastian Bach's sublime "Christmas Oratorio" and taking advantage of the splendours of the King's College acoustics makes this is a timeless celebration of the wonders of the incarnation.
1978
STEWART & KYLE - "When Love Came Down"
From the album 'Isn't It Strange', Grapevine
Alistair Stewart and Chris Kyle from Northern Ireland were, for a season, the UK Church's answer to Simon & Garfunkel. Though never quite reaching the popularity of the earlier Malcolm & Alwyn they made some charming music. The obscure track from a long deleted album is an acoustic gem.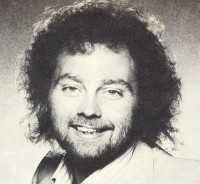 1979
ROBERT RIGBY - "Under The Star"
From the album 'Rock Star', Fusion
In 1979 Robert Rigby and Stan Hewitt wrote a British rock musical based on the story of Christ's birth. It duly received a big budget recording released on a mainstream label and it's this credible pastiche of funky Southern rock that still sounds good today.
1980
THE IMPERIALS - "Child Of Love"
From the album 'Christmas With The Imperials', Word
By 1980 The Imperials were moving away from their Southern gospel roots to a more youth orientated pop sound. By that time they had on board an exceptional lead singer, Russ Taff, and it's his gritty vocals which make this track a standout.
1981
ADRIAN SNELL with NORMAN BARRATT - "The Warning/Kill All The Children/Return"
From the album 'The Virgin', Marshalls
It would be hard to think of a song further from the usual Christmas sentimentality than this searing medley from Britain's best selling writer of Christian rock operas. But the team of Adrian Snell (music), Phil Thomson (lyrics), Jon Miller (production) and rock gospel's late great Norman Barratt (vocals) produced a memorable piece of musical drama though one is unlikely to hear "Kill All The Children" sung by too many carollers.
1982
SHEILA WALSH - "Star Song"
From the single "Star Song", DJM
Scotland's Sheila Walsh started off singing new wave-tinged electro pop but then linked up with pop maestro Cliff Richard and his then keyboard-playing songwriting compatriot Craig Pruess brought her an excellent Christmas song and a stab at the pop charts.
1983
AMY GRANT - "Love Has Come"
From the album 'A Christmas Album', Myrrh
The first of several hugely successful Christmas albums for CCM's first superstar, 'A Christmas Album' came a year after her groundbreaking 'Age To Age'. It's not in the same class though this charming song, penned by Amy, Shane Keister and Michael W Smith, is still worth a listen today.
1984
CONTINENTAL SINGERS with SCOTT WESLEY BROWN - "Jesus Is Born"
From the album 'O Come All Ye Faithful: An International Christmas With The Continental Singers', Christian Artists
Cam Floria's endless succession of youth choirs did sterling work in musical evangelism though their recordings were dully unadventurous MOR. A rare exception was the 'O Come All Ye Faithful' album and with a soulful contribution from guest vocalist Brown and an effective African flavour, this is an unexpected pleasure.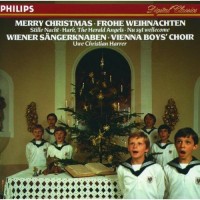 1985
VIENNA BOYS CHOIR - "The Twelve Days Of Christmas"
From the album 'Merry Christmas', Philips
Few sounds in music are as other-worldly as a boys choir in full flight and this Austrian aggregation deserve their reputation as being the finest of their ilk. Supported by the Vienna Volksoper Orchestra, those pure, incandescent voices are a thing of true beauty.

Reader Comments
We welcome your opinions but libellous and abusive comments are not allowed.