Tuesday 1st February 1994
Bolton metal band CRUCIFER are breaking barriers. To find out how Marie-Louise Flint spoke with their lead vocalist Dave Rowley.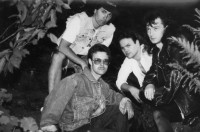 Crucifier
Metal doesn't come any rawer than Crucifer. Where many American bands are moving to AOR ("wimping out" if you're a metal head), Crucifer still revel in sledgehammer riffs and a lead vocalist who's bawled exhortations show not the slightest sign of learning the rules of music. Since 1989 Crucifer have been playing the pubs and clubs of Lancaster where they have made successful inroads into the darker side of the club/pub scene. Lead guitarist Brandon Pilling and Darren Stott, bass guitarist, along with the sound and light crew were formerly in Alliance, a group which disbanded in 1988. They made the nucleus for the new band with Dave Rowley lead vocalist, who was formerly in the band called Beyond The Shadow and joining when they disbanded. This though soon became a quartet when Chris Barker responded to an ad for a drummer and Crucifer was born.
Dave Rowley explained the aim of the band. "We are trying to break through boundaries and break down barriers that are put up in the metal scene about what Christianity is. We hope to show that metal doesn't have to be about dark things but it can also be about positive issues."
I asked Dave how the band had been received: "When we play we don't stand up and preach, we just let the lyrics do the speaking. If we were to preach some of the audience would be ready to jump up in arms! To begin with we had a lot of press response because we were Christian and people were wary of us. But now we are respected and our stage show is well liked. Image is really important in the metal scene, so when we're on stage we take this very seriously, to make sure we create the correct atmosphere and image. Not only through the songs but also through the light effects."
Crucifer have previously cut two tapes, Crucifer Unchained' and 'Stone Cold', and which sell well at gigs. In a move to promote the band they have now produced a 4-song CD 'In The World' which they hope will help them obtain a distribution deal. They are also in the middle of creating a video. David explained the idea behind this: "The video is narrative with live shots of us playing at gigs. The idea is to promote the band in a professional way in the Christian sector to get more gigs and to hopefully get into schools. In fact we're playing in a school in Liverpool soon during the lunch break."

The opinions expressed in this article are not necessarily those held by Cross Rhythms. Any expressed views were accurate at the time of publishing but may or may not reflect the views of the individuals concerned at a later date.
About Marie-Louise Flint
Marie-Louise Flint is a Cross Rhythms editorial assistant currently living in Tavistock, Devon.



We welcome your opinions but libellous and abusive comments are not allowed.