Visiting the Cross Rhythms studio recently was Nashville's CURT ANDERSON. He spoke to Tony Cummings
Curt Anderson
The career of Nashville-based singer, songwriter, pianist and guitarist Curt Anderson is definitely on the up. After years of having doors slammed in his face, his 'Every Moment' album on Dream Records is getting airplay on Christian radio stations around the world, broadcasters latching onto the first single "Keep It Beating" and now the dance-tinged title track. Curt's finely crafted pop songs of faith have been skilfully produced by ex-Grammatrain man Pete Stewart and seem tailor-made for Christian radio. Indeed, that fact attracted the ire of one hipster reviewer. Writing for the JesusFreakHideout website, Sarah Berdon dismissed "the beats [that] have been done multiple times by other artists" and lyrics that "don't cover any new territory or have little depth." The reviewer's putdown of Curt's radio friendly pop music has been accepted philosophically by the singer/songwriter.
During his visit to the Cross Rhythms studio, Curt spoke about the review. "Through my years in the music industry I've learnt that you can't please everyone. Everyone has a different taste in music. I'm not going to listen to such-and-such a band, because it doesn't do anything for me; but I'm going to gravitate toward top-40 radio and Christian radio. I had stumbled upon that review as well, and at first there was just the tiny little sting, but then I was like, 'You know what? It's almost a compliment, because the things they're saying are negative are exactly what I set out to do with this record. I get bored by album tracks - I don't really listen to them - I wanted to make a record where every song could have the potential to be a single."
There is also irony in the reviewer's criticism of lyrics on 'Every Moment' which speak of a life of faith without layers of arty metaphor and obscure imagery. Curt said somewhat ruefully, "I came from that mindset. The early albums, back in the day, when I was recording as No Greater Sky, I go back and read those lyrics and I'm like, 'What in the world was I saying?' I don't even know what I was talking about. But that's the indie-hipster-progressive experimental thing. I went through that phase; that's just not who I am. I want someone to be able to listen to a song of mine and get what it's about, be able to instantly apply it to what they're going through. Everyone's going to hear a line and they're going to think something different - they're not going to automatically hear what I was putting into it - but I want direct."
Curtis William "Curt" Anderson was born on 6th June 1984. He explained, "I was born in Iowa City, Iowa. I was there for about two weeks, then we moved to Pittsburgh, Pennsylvania - where my family's from - then most of my formative years in central Michigan, university in Indiana, and now Tennessee the last seven years. My mum got a teaching position at a university in Michigan, and it ended up being where God was taking us. My family spent 20 years there."
Growing up Curt was surrounded by strong Christians. He said, "From my great-grandparents all the way down it's always been a part of our family's culture. That love of Christ created the culture we have as a family, and the closeness; but you have to decide as a person, 'This is what I believe, not just what my family believes. This is the kind of person I want to be, not just what I've been taught to be.' I remember one day in high school where in my head I was starting to justify certain decisions that I knew to be poor. I wasn't making the decisions but in my head I was like, 'Yeah, that wouldn't so bad.' I realised that's not the person I wanted to be. I started playing in the worship band for the youth group at church, after some nudging by the youth pastor. That gave me belonging and purpose at youth group each Sunday, and put me around people who were my age or a little older - good musicians and great Christian people mentoring me."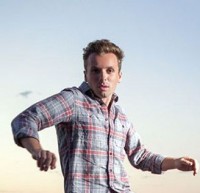 Curt began his recording career early. He recalled, "It was in school - my junior year. I set a mic up to a thing that recorded directly to a CD, and I just played it over and over. It probably took me 20, 30, 40 takes per song to get it done. I ended up selling it to all my friends in the high school and making enough money to pay for my prom tickets and dinner for my date. That was my first entrepreneurial endeavour. In college I recorded a five-song EP with a producer in Chicago. I was using a band name at that point called No Greater Sky, and I think the EP was called 'Of Sonnets And Snowflakes'. I liked the sound of Renaissancey, Shakespearey stuff. Eventually I did a full length CD with another producer in Nashville - towards the end of my college years - and that was what connected me to different people in Nashville, led to me moving. I think we called that one 'Hearts And Stars'. I sold a few hundred. It helped me as a toured around; I was playing shows with the band at that time - No Greater Sky. I used that name until about four years ago when I was getting opportunities to write for some other artists. I wanted people to be able to connect with what I was doing. Doing this facade of a band name - how can people connect with what they don't understand? I stripped back to go by my own name. That also has really helped connect the dots between what I do as an artist and what I do as a songwriter for other artists. That second EP I did about three years ago now with a friend of mine, Nick Baumhardt, who played for bands like Stellar Kart, Superchick, Thousand Foot Krutch. We did that together, and it helped me open some more doors. I toured on that, selling it shows, for a good two or three years. Every work of recorded music for me has been, 'What's going to take me to that next level - song-wise, production-wise, and just open those next doors?'"
Signing with Dream Records came after numerous rejections. Curt admitted "Over the last handful of years in Nashville I've met with everyone - tons of different labels. I've heard a million 'No's, 'Not right now'. That's just the nature of it. If you're going to do a creative thing you've got to have a thick skin because you're going to hear 'No'. Kanye West got turned down by 11 labels before he got signed; and that was only because they wanted his songs for other artists. It's the story of the music industry. I got connected to this label Dream through a friend of mine. Their band, Satellites & Sirens, had been signed; and I'd written a few songs on their record. It took a couple years to make it happen. The first iteration of the deal, I wasn't quite there yet. This last one, it worked, and everything went in the direction I wanted to go; so we went at it. It's something I'd been pushing at for a long time. You have to weigh the pros and cons. You want to make sure you're not surrounding yourself with just a team but the right people for the right time."
Judging from the vibrant, radio friendly sound of 'Every Moment', the choice of Pete Stewart for Curt's all-important Dream Records debut was an inspired one. Explained Curt, "There's a guy named Reid Shippen who is a big mixer, producer - multi-Grammy award winner. We've known each other for a long time. He sent my stuff to Pete who was doing some scouting for another label - a start-up; that didn't happen in time. I had been talking to a couple different people about producing, and I felt like I was going to get the record I wanted with Pete - that piano-pop synthy thing I wanted to do, mixed with some of those organic elements as well. We tracked live piano for the thing, lots of live drum-looping. It felt like Pete was going to be a strong asset in that."
With synths-dominated pop making a major comeback in radio land, Curt's music is clearly flavour of the month. "There's only so many notes we can do, only so many that sound pleasing together. It's 'What can I do with what I'm feeling right now that's going to bring a little freshness?' Synths, pianos have been my passion. I remember when I was growing up and internet radio first became a thing. I'd get on and listen to dance remixes; and now I don't have to do that, because that's what pop radio is. I love it. I play acoustic guitar - especially if I'm leading worship - but electric guitar-driven music's just not where I am right now."
Christian radio has definitely taken to Curt's music. "In the States my peak was #32 with the single 'Keep It Beating'. Right now I'm going into my 23rd week in the top-30 in Australia. Half of those were top-10; I peaked at #6 there. I was in Dublin, Ireland a couple months ago and went to some stations there who had been playing it six months since it came out. It's been crazy going country-to-country, visiting a station and hearing the impact it's had in an area, seeing my name next to TobyMac and Hillsong. At the end of this week I'll have flown 150,000 miles since January. I've done three trips to Australia, I've been to Asia, Ireland, all around the US - lots of church events, youth events, festivals, schools. I'll lead worship at various places. Lots and lots of shows."
Curt concluded our interview by explaining his years of music ministry. "I love people: I love music, but people are my goal. I'm not someone who gets the kick out of being in the studio. I love writing songs, but it's a means to an end. I write the songs, get into a studio, get them recorded, put them out; then that lets me go around and do shows and talk to people before and after the shows, get to know people, and hear the stories of how the songs have impacted them. It's all my vehicle to love on people. How can I show people this love of Christ that I've experienced? That's not overt: it's not shoving stuff down people's throats, it's St Francis of Assisi. 'Preach the gospel at all times; when necessary, use words.'"

The opinions expressed in this article are not necessarily those held by Cross Rhythms. Any expressed views were accurate at the time of publishing but may or may not reflect the views of the individuals concerned at a later date.
About Tony Cummings

Tony Cummings
is the music editor for Cross Rhythms website and attends Grace Church in Stoke-on-Trent.
We welcome your opinions but libellous and abusive comments are not allowed.