Tony Cummings spoke to a pastor from Buffalo, New York, D'MOTT
D'Mott
D'Mott, full name De'Jouaine Glen Motley, is a singing reverend. Gospel music abounds in such figures but there can be few with a more intriguing testimony of how this singer, songwriter, pastor and preacher stepped from darkness into light. D'Mott, from Buffalo, New York, was briefly in London after being asked to sing some songs from his debut album 'Romance In The Grey' but found time to talk to Cross Rhythms.
D'Mott was a child of the church. He explained, "My Dad was a pastor so I grew up in the church, my whole entire life. I was in church Monday through Monday. Just getting older you see some of the things that my family had to go through, it just kind of turned me off. When I was 10 or 11 my parents began to go through a divorce and that kind of rattled me as a believer. I always like to say I loved God but I began to look at people as liars or whatever the case. Sometimes when we go through things we like to blame people around us cos we can't blame God. That divorce shook me, man. I was really good at sports back home in Buffalo and when you live in the inner city and you're good at sports you're gonna attract all the people who fulfil the indulgence of their own lusts. So I was attracted to the drug dealer friend and people who were doing things on the street and so those things kind of caught my attention. So I went through that rebellious period from about age 11 to about 21. Being good at sports meant I was awarded a scholarship to play basketball and I began selling marijuana, chasing women; just everything that I knew I shouldn't have done."
The singing reverend continued, "I was very promiscuous so having that kind of lifestyle you put yourself at risk. God got my attention when I learned that someone who I was intimate with was HIV positive. So I began to wonder if I was going die of AIDS. Thank God for his grace and mercy that I was able to escape that. I don't have HIV, I don't have AIDS. It was so many crises one after the other in my life. Finally, when I started playing drums, God set it up, I believe that me playing drums was a set up for me to re-establish my relationship with him. So I started playing late in my life when I was on a basketball scholarship. A friend of mine looked out for me and maybe five or six months after I was playing for real I went on a tour with some major artists and even began to be the drummer at the church. Playing the drums kind of kept me in church but I was making some money playing with Shawn McQ from Kool And The Gang. I was doing a fill-in date with him and he was very elated by my playing. After one particular gig he came up to my room (he had me in a suite) and knocks on the door and he gives me some of his money. So I'm feeling good. I feel like man, this is a good place; I'm playing in church and though I'm fighting my flesh I feel like God is blessing me. But then, suddenly, I hear the Holy Spirit. The Holy Spirit says turn your television off so I turn the TV off and I'm hearing this voice in my heart. The voice says 'If you don't teach the Gospel then I'm going to allow you to perish.' I immediately called my wife and she said to me that she already knew that and she was waiting on me. Interesting enough my wife is a prophetess and God placed her in my life so I wouldn't self-destruct. I knew that I had to go through the process of learning how to surrender. I had to learn to do things different. So I was learning how to really love God without needing music or sports or women or any of those things."
D'Mott needed training in ministry and God told him where to seek it. "The Lord tells me that this specific pastor is going to train me, teach me and release me. I didn't know at the time that this pastor was getting ready to start a school for theology, you know, teaching ministers. So I called him. But before I called him I called my wife because I was just like wow, I mean, why would the Spirit tell me to. . . My Dad is a pastor, my wife's father is a bishop and I was under a bishop. So I was just kinda confused. But I did what the Lord told me to do so I was trained and taught under Alan R Core, he's a pastor of a church in Buffalo, New York. So I was catechised and went through my ordination in 2011."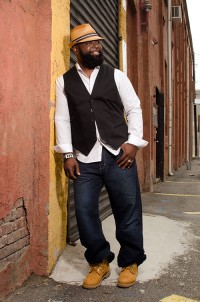 He continued, "We planted a church. We started with what we like to call Ground Zero. God gave us the plan. He says to me 'Here's the plan, here's the name, Remnant House Outreach Church,' he gave me a blueprint. We're a multi-cultural church, we are no denomination, we teach in the love and the mercy and the teachings of Jesus Christ. This will be our sixth year as pastor and first lady of the ministry but I think we all have a process that we have to go through and get through so that God can make us and I don't think that we are ever made until this thing is said and done and we get to glory."
D'Mott's family had been musically very talented and in his youth he played electric guitar and then drums. But he'd never thought about singing until his church had started. But music was initially something that was to be Remnant Church's point of focus. D'Mott recounted, "We started our church and for the first month it is jam-packed based on 'D'Mott has started a church.' A couple of Sundays later the Holy Spirit says to me on Saturday night, 'Call the band, tell the band to just come to the service and no music.' And so I'm stunned because I want to be so disobedient with this one right here I'm like no, who can fathom being in a church with no music? I couldn't at that point. I had to be obedient. I told my wife and my wife said if the Holy Spirit told you to do it then you need to listen to him. And so I reluctantly called the band members and if I can remember correctly some of them came and most of them didn't. And then the following week the same thing, they tapered off. So the first four years of our church we all led worship. We sang songs that everyone could sing. We had no keyboard, no anything. We're going on our second year right now of having a band and the interesting part is all of these people came on their own. I didn't go out or seek them - I didn't have a meeting hey, I need you to do this. The band came, the worship leader happens to be my goddaughter but she is married to the keyboard player and they just wanted to come over. So this is what I think: I believe that God wants us to have these giftings, he wants us to be talented, he wants us to be people who attract other people. But he wants our gift to be unto him."
Eventually, music was to play a key part in Remnant Church's ministry. D'Mott began to sing in church and then in 2012 had an unexpected opportunity to record an album. The stirring R&B-gospel set 'Romance In The Grey' was recorded in lightning quick time. D'Mott commented, "I'm kind of a perfectionist so I over think things but the producer was like oh no, man, that's good." I am happy with the album as it pertains to ministry because I know that was what the Lord wanted me to say. We always strive as professionals to try to make sure that we're giving God our best and that's how I look at it. I look at it like, you know, I'm not going to look at any other example of what's out here being recorded or what it sounds like to say hey, man, this is professional. No, to me being professional is like having a spirit of excellence. 'Romance In The Gray' was recorded 2012, released 2013 and I've never really promoted it. What I do is I allow God to promote it. I was prophesied [over] by three different women about what the Lord wanted from that CD. It's out there and it's touching people. I couldn't ask for more."

The opinions expressed in this article are not necessarily those held by Cross Rhythms. Any expressed views were accurate at the time of publishing but may or may not reflect the views of the individuals concerned at a later date.
About Tony Cummings

Tony Cummings
is the music editor for Cross Rhythms website and attends Grace Church in Stoke-on-Trent.
We welcome your opinions but libellous and abusive comments are not allowed.