He's been leading worship for years in Bible weeks like Dales and Revival, writing worship classics like "Living Under The Shadow Of His Wing" and pioneering British congregational praise. DAVID HADDEN was quizzed by Mike Rimmer.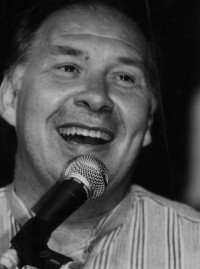 David Hadden
David Hadden, or David J Hadden, or plain and simple Dave Hadden has a hearty laugh. It echoes around the small studio at United Christian Broadcasters' Stoke studio where we're having a chat. Dave had plenty to be happy about. The 'A Sound Of Heaven' album released through ICC shows the worship leader/composer at his creative best in collaboration with sometime Kendrick producer Steve Thompson. To some, particularly those unfamiliar with the Restoration (now Covenant Ministries) stream of new churches this past decade, Dave's name in all its guises may be an unfamiliar one. Despite writing classics like "Living Under The Shadow Of His Wing" and "We Are A Chosen People" the insularity of his denomination, sorry, church stream, kept him under-exposed to the broader church. In fact, Mr Hadden is one of the seminal figures in the development of charismatic praise and worship in Britain and has been churning out albums and leading throngs in worship for a decade and a half. So it was overdue for Cross Rhythms to get chapter and verse on the life and ministry of this Geordie son of a schoolteacher.
Having gone to church since he was a child, Dave rebelled against it all when he was a teenager but eventually became a Christian when he was 21 years old. "It was right at the end of my teacher training course. When I'd been back to the northeast I'd been badgered by my parents to visit this church. I didn't want to really but I eventually went and saw something which I'd never seen in a church before which was life and joy and happiness and young people. I'd never seen young people in a church before. So I thought I'd better investigate this a little bit." Going back on the train to Walsall after a church retreat, Dave gave his heart to Jesus and everything slowly began to change.
Dave's earliest experiences of music began when he started learning the piano when he was seven or eight years old. His first piano teacher used to send the young Master Hadden to the local shops to buy her cigarettes and not many ivories were tinkled. The next teacher worked him hard but it was only in his early teens that music fell into place for him. "I think I started to enjoy playing when I found I could play without music. I could hear something on the radio and work it out from my head on the piano. It was a whole new horizon for me."
The combination of his faith and music changed his musical horizons. "When I became a Christian I found that I had something inside me I wanted to express. Before that I hadn't written any lyrics, just music. So I started trying to put things down the best way that I could, no one had taught me to do it. It was more like testimony songs not worship songs at all, challenging songs for other people. Becoming a Christian opened up a new vista for me, it was exciting."
In the northeast, he looked after the music for the church and he also spent time putting together musicals and training choirs but everything wasn't rosy. He had begun to have contact with Bryn and Keri Jones who were beginning to work with a group of churches nationwide, now known as Covenant Ministries International. It was a conversation with Keri Jones that sparked dramatic changes in Hadden's life. He remembers, "At the time, things were hard for me. Things weren't going easy. I was desperate to move away, get a new job and a new challenge etc. I lost my zeal and love for God. I was going through the motions again. I applied for jobs all over the country. Nothing came. Then Keri came to the church in Ashington and came for dinner with my parents and he really challenged me. It was like for the first time ever I felt like this was God speaking to me very clearly. He challenged me that I needed to move or die a spiritual death so I decided to go. I handed my notice in and applied for jobs in Bradford but no interviews happened. The church in Bradford started a Bible training school and I was invited to study there in 1980."
The move to Bradford opened up a number of new opportunities. He took over the organisation of the music for the Dales Bible weeks. Heading up music for Covenant Ministries has given Dave a tremendous platform for writing and recording music. "Each year we used to do a live worship tape from Bible Week. Then I had the opportunity to do a number of solo projects and instrumental albums and a few albums with kids. In 1991, I was able to do the 'For Such A Time As This' album because Kingsway approached me and that was the first time that it had ever happened. Someone outside my own set of churches had approached me to do an album."
1995 has seen Dave record his best album yet and he acknowledges his debt to arranger and producer Steve Thompson. When he first began planning the album Dave was really determined to work with Thompson. He describes his feelings: "I'd never worked with him before, I just had a gut feeling. I liked Steve, I'd met him at Grapevine, I liked his attitude and heart and we seemed to hit it off when we got together." Thompson is a fine singer, keyboard player, arranger and producer whose reputation has been sealed by his work with Graham Kendrick.
Dave had a very clear idea of what he wanted to achieve with his latest album. "I told Steve I didn't want this album to be middle of the road. I wanted it to be on the edge. If it was going to be contemporary then to go for it big time! I told Steve I didn't want a neutered album. I didn't want a bland album. I told him if a song's fast then I want it to really zip. So he's done a great job!" 'A Sound Of Heaven' is completely different from anything that Dave has previously recorded and he's quick to point out why. "It's because I've not produced it!" Dave laughs heartily. "If I'd produced and arranged it then it would be like everything else that I've done."
The album's contemporary feel simply reflects the way in which praise music has grown closer to CCM in recent years. Dave has noticed the change and comments, "Music must develop, a songwriter's craft must develop. What I've tried to do myself on some of the songs here, is to give them a much more contemporary feel. I've got three kids and they don't tell lies when it comes to music. I play them songs and it's either great or it's boring."
The song that passed the Hadden kids' Juke Box Jury with flying colours was "Once We Were Not A People", but there could be a bit of a vested interest in their choice. Dave chuckles as he explains, "It's definitely my eldest son's favourite. I had my keyboard at home during the Christmas holidays last year and he was playing this little rhythm using the drum sounds and we recorded it on the sequencer and I had some ideas for the words for this song. When I got the words three quarters finished, I thought that the beat that he did on the keyboards would fit the words so we dovetailed them together." Sadly, Sam Hadden's budding drum career didn't begin with a writer's credit but he likes it!
One writer who got a credit was American Mark Altrogge whose work is not really that well known outside Covenant Ministries or Terry Virgo's New Frontiers churches despite a couple of excellent People Of Destiny worship albums released by Nelson Word. Altrogge contributed the most outstanding song on Hadden's album, "Though The Earth Should Tremble", an atmospheric worshipful experience that speaks of God's eternal presence.
Altrogge will be coming to the UK next year to host a songwriter's seminar as part of a training programme which Hadden is establishing. But what is the thinking behind the weekend seminars? "Churches need good musicians to be able to play and release the people into worship," says Hadden. "To be skilful enough and sensitive enough to flow with what God is doing in the meeting. I've been very struck by 1 Chronicles 25v6, 'And they were trained and skilled in the ministry of music in the temple of the Lord.' We've set up a training programme beginning in February and ending in November. The weekend programmes include training for bass guitarist, guitarist, drums and percussion, brass and woodwind, keyboards, songwriters, music group leaders, worship leaders and singers. The price for the weekend is 50.00 residential and £35.00 non-residential."
The move of the Holy Spirit that has swept through charismatic churches over the last couple of years has changed the nature of worship in the local church. What has it meant for Dave? "It's taken me out of a song leader role. It's caused me to sharpen my focus on what God wants to do, to stay sensitive and to flow with what we believe God wants to break open in a meeting. I've learnt not to get fixed into a routine or an agenda. I don't go into a meeting with an idea of a list of songs in any specific order. I may have a shortlist of songs but as for an order, I won't do it. I won't do it for myself because it restricts me and I won't do it for my musicians because it restricts them. What they do is when one song is coming to an end they look at the next song on the list and know that's what's going to come next so they prepare and think that's what's going to happen next in the meeting but what if God breaks in?"
Trying to play music when God is on the move is always going to be challenging. Dave describes some of his experiences: "When it started to break in the church in Loughborough, a couple of times two of my singers disappeared before the meeting started. Nobody had prayed for them. We were worshipping before the meeting and God came upon them and that was it, they were there for the rest of the meeting crumpled in a heap on the floor. What it does is it provokes faith in the people, I don't think it detracts from the worship. It would detract from the worship if the worship was going to be a performance and you needed singers to perform but I am not talking about performance worship. I don't believe that worship can be a performance. It's either worship or it's a performance. Worship is an interactive thing where everybody is involved. A performance is where a crowd is sung to. I am not into that! I am not against an item in a meeting which is a presentational thing but which would provoke further worship but I've been in meetings where it's all performance stuff and nothing would change if there was nobody in the hall. It's awful. There's no rapport between what's happening at the front and what's happening in the congregation."
A lot of the inspiration for the songs on 'A Sound Of Heaven' have come out of Dave's work in the local church. But as he talks, it's evident that he has no set formula for songwriting. One example is "He's Given Me A Garment Of Praise". Dave describes a meeting he attended in 1993: "I was reading the Scriptures, Isaiah 61, and I felt God say to me, 'Don't read it, sing it.' I paused and said, 'Did I hear this right, Lord?'" Hadden laughs at the memory of God putting him on the spot. "In the end I sang it and then sang it again and the whole thing developed from there." It must be easy writing all your songs that way, I suggest ironically! Dave laughs and goes on, "Recently I have found myself in meetings singing spontaneously and having the congregation singing along with me. It's happening more and more to me but it's interesting because God has provoked me into that and told me it would happen so I am just running with it."

The opinions expressed in this article are not necessarily those held by Cross Rhythms. Any expressed views were accurate at the time of publishing but may or may not reflect the views of the individuals concerned at a later date.
Reader Comments
We welcome your opinions but libellous and abusive comments are not allowed.