Tuesday 7th November 2017
Lins Honeyman spoke at length to the multi-talented musician and educationalist DUANE FORREST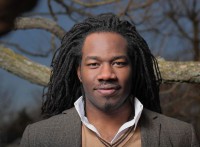 Duane Forrest
They say that travel broadens the mind and, in the case of Toronto-born singer/songwriter Duane Forrest, it can also broaden artistic boundaries. Having lived and worked in a variety of different countries including Honduras, Mexico and Puerto Rico over the years and with an underlying Jamaican heritage, Duane has experienced a range of different cultures which have ultimately influenced his musical output as evidenced in his latest album, the almost universally well-received 'The Climb' which sees the well-travelled troubadour offer up a laidback mix of styles that tell of the ups and downs of relationships.
Born and bred in an impoverished government housing complex in Toronto, Duane found that music prevented him from getting into trouble and, from a young age, his interest in a number of different types of genres from classical to reggae as well a love of painting allowed him to explore his creative self and lay the cornerstone for what would become a career in music. His spell as a church drummer and some experimentation with a number of wind instruments would lead Duane to start playing guitar and performing his own songs - a move that would be galvanised through a chance meeting with his musical hero Jack Johnson a few years later.
The first in what will become loosely known as the 'Apple In The Tree' trilogy, Duane released his debut album 'Chercher' in 2010 following a trip to Mexico where he was working as a missionary before signing for multi-national label Traaxx Records and releasing the second part 'The Climb' earlier this year. In addition, he recently formed a non-profit charity called Genesis Community of the Arts which, funded and influenced by his music, exists to equip and send teachers in the arts to marginalised areas of the world in order for people to discover, largely for the first time, the life-changing effect that artistic creativity can help bring about.
With his charity work, the release of the new album and plans to turn 'The Climb' into a musical, Duane took some time out of his busy schedule to chat about his musical journey. Over a Skype call I ask Duane, sat in front of some acoustic guitars hung on the wall, if he's pleased with the reaction to the new album. "So far so good," he confirms. "People have said a lot of nice things about the album and the overall sound. I'm always a little nervous because I like different genres which I try to include in my work. I just hope that it all comes together and works for people."
With its blend of bossa nova, reggae, jazz and much more, 'The Climb' showcases Duane's ability to straddle different styles whilst maintaining a sound that is all his own. I ask him how the album came about and what his thinking behind it was. "I had a previous release called 'Chercher' which means 'The Search' in French and I'm making a third album that will come out soon," he explains. "Those albums, including 'The Climb', are all part of story a woman told me when I lived in Mexico. I was there as a volunteering missionary and I had basically no money. I liked this lady a lot but I didn't even have enough money to take her out for a coffee. One day, she told me in Spanish that she was an apple high up on a tree and, on this tree, there were many apples and there were even some on the ground but, if I wanted to be with her, I would have to climb. That was about 12 years ago and I've never forgotten what she said. About five years later, I decided to start writing music around the 'Apple In The Tree' theme in order to discover what that 'climb' means to me as a person. Both my albums to date are about the ups and downs of making a relationship work. They're also about my growth as a person - dealing with heartbreak and figuring myself out and becoming better."
One particular track on 'The Climb' stands out on account of Duane's decision to juxtapose lyrics that deal with living in a war zone against a musical backdrop that continues in his trademark laidback sunny style. The track in question is the sublime 'End Of The World' and Duane elaborates on the song's origins: "I used to live in Honduras and it was about the time when they said that, according to the Mayan calendar, the world was going to end - around about 2012, I think. I was near a Mayan site and it got me thinking about the world ending and then my thoughts moved onto the subject of war. I started thinking about people in war-torn countries and wondered if people can still fall in love in that scenario and that's how 'End Of The World' was born."
Duane's Christian faith is woven throughout his work and I wonder if it's a deliberate decision to include tracks like 'Warrior 1' - an adaptation of the Lord's prayer - in what is essentially a mainstream release. "Well, I don't do it in a missionary-type way or anything," he affirms. "I'm not trying to convert people through my music but my faith is part of me. I just try to be honest and true to myself and it just comes out in my music. Take 'The Walk' for example - when it gets to the reggae part, I'm playing some nice chords but singing about a hard time. I was writing it because I was in a place where I didn't think things were going to work out. I wrote it to remind myself that, no matter what I'm going through, God's always by my side and everything works out in time."
I suggest that the best songs come from harder times and Duane agrees. "It's definitely easier to write from a bad place. When you go there, you're able to access deeper parts of yourself. I'm also learning to write from the good places but my songs do tend to come from times when I'm finding things hard."
Read any review of Duane's work and there is most likely to be a comparison drawn to the sound and overall sanguine style of US surfer-cum-musician Jack Johnson. Whilst the two certainly share musical similarities, the quality of Duane's output allows him to stand as an artist in his own right. I ask Duane if he ever gets fed up being compared to the Hawaii-born singer. "No, never - Jack's a big hero of mine," Duane confirms before offering up a confession. "Once, I snuck into one of his concerts over here in Toronto and I got to meet Jack. Obviously, I wanted to pay to get into the gig but it was sold out. I decided that I wasn't going to miss this one so I just figured out a way to get into the concert. There I was sitting in the auditorium, waiting for the concert to begin, and I went downstairs to use the washroom. When I got to the foyer, Jack was there and he saw me and he waved and signalled me over and we started chatting!
"Jack is the reason I started playing this kind of music. Growing up in church, I used to play drums and I kind of liked humming things to myself but I never thought of myself as a singer because I hadn't heard anyone who sounded like me. Then I heard Jack Johnson and found out that he was super famous but he could still use his own voice. It was then that I released I could just be myself and sing the way that came naturally to me and people might actually like it. After that, I started to play open mic sessions and began writing my own songs and the rest is history. The really cool thing is, at that concert, I was able to tell him that it all started for me because of him. Jack and his wife also do a lot of charitable work and that's super-inspiring to me and I now use the proceeds from my music to help fund Genesis Community of the Arts."
I ask Duane how Genesis Community of the Arts, a charitable organisation that helps impoverished communities get involved in the arts, came about. "I used to live in Honduras," he begins. "I was there to help run a summer camp and I realised quickly that most of the local people that I spoke to didn't know how to play a musical instrument or didn't know what colours to mix in order to paint or had never tried any forms of dance. I was so surprised and staggered that I wanted to start something up to change that. You see, I grew up in Toronto in a rough neighbourhood and it was an easy place to get into trouble and get off the straight and narrow which all my friends were doing. My friends would come round to the house and say 'Hey Duane, let's go out and do bad stuff' and I was like 'I can't, I'm doing drum patterns' or 'I'm listening to classical radio' because I used to listen to classical music whilst I was drawing. I tell people that you can't draw something and then go out and rob or hurt someone. Those two worlds just don't match and discovering the arts was a huge thing for me. If it wasn't for the arts, I would have dropped out of school. That's what the arts gave to me when I was growing up and I wanted to give the same thing to the people of Honduras.
"First of all, Genesis Community of the Arts started with just me," Duane continues. "I rented a house that had multiple rooms and I went to the neighbourhood school and told them I was offering free music lessons from my house. A bunch of kids showed up and registered and that's how it all started. Now we've grown and we're in two sites in different Honduran cities and we're also in one site in Guatemala. Some of the folks I was training over the years have become teachers and they teach art and music in their respective places. I basically train and mobilise teachers and place them in schools and orphanages."
I suggest that, whilst his work with Genesis Community of the Arts is most certainly challenging, there must be many rewards. "Absolutely," he agrees. "One of the girls I was teaching six or seven years ago in Copan Ruinas has become a songwriter and has been invited to perform all around the country. She's 17 now and plays guitar and she's singing and composing her own songs. We're hoping that she'll start teaching with us when she turns 18.
"I'm hoping that Genesis gets bigger," Duane enthuses. "I strongly believe that, in a lot of the roughest places in the world, if there was a focus on the arts and if people were exposed to the arts, then things would change a lot for the better. There's also a link between creativity and successful businesses. You'll notice if you go to some third world countries that, if people's education is limited to the basics like reading and arithmetic without exposure to the arts, there generally won't be creative business ideas. The next place I'd like to put Genesis is Nicaragua and the Ivory Coast. I'm also thinking about India but first I'll need to get as big as Jack Johnson to enable me to fund what I want to do!"
Arguably, Genesis Community of the Arts would never have come about if Duane hadn't decided to sample foreign climes and I ask him how a city boy came to travel the globe. "Growing up in Toronto, I hadn't even been camping or hung out in the woods or done anything that was remotely uncomfortable until I was in my 20s. I took a risk one time and made the trip to Mexico where I lived for a year as a missionary without much of anything and, after that, I guess the bug bit me. I couldn't just go back to regular life. I mean, I'm back in Toronto - and I love it here, I've an amazing job running a studio a couple of days a week like a mini Genesis for a community centre where I teach kids how to write songs, record and put together music - but I've been here for three years and I feel like I need to go to another country. I love the challenge of it all when you have to move and adapt to a new community and learn a new language and a new way of doing things. It expands your brain and every time I do it I feel like a healthier person."
One of the benefits of his involvement with communities in different countries is the opportunity to experience a variety of musical landscapes which ultimately go into a melting pot of other influences including Duane's Jamaican roots. "I was born in Toronto but my parents were born in Kingston, Jamaica", he confirms. "My mum used to have these really awesome basement parties at our house when I was growing up. She'd invite all of her friends and put coloured paper around the light bulb to make it feel like it was a club and they would be blasting out those great old reggae tunes all night. As a kid, I wasn't allowed into the basement but I could feel the bass coming through the house. That must have started something in me, I guess."
Earlier on in our chat, Duane mentioned that the overarching 'Apple In The Tree' theme will cover a trilogy of releases. With 'Chercher' and 'The Climb' forming parts one and two, I wonder what form the remaining chapter will take. "I'll probably call the last part 'The Find' but that won't be released for quite a while," he states. "I'm about to release an album that's not part of that trilogy though. It doesn't have a name yet but it should be ready for release in early 2018. That album, which I wrote mostly in Italy, will be a little darker musically and lyrically which I'm kind of excited about. I was going through a bit of a bad time and I went to the Tuscany area for about six weeks just to travel, learn the language, eat good food and meet people. I had to get some stuff off my chest so I wrote about 30 songs and I'm choosing a small amount to go on the album. Italy is such an amazing place and there's such a creative energy there and I'm going to be back in Italy later this year as part of a tour that will also take in Norway and Germany before I head to Nicaragua to play over Christmas."
As if two potential albums in the pipeline weren't enough to be getting on with, Duane is also in the throes of staging a musical based on his most recent release. "I wrote a musical based on 'The Climb' which will be performed from November 25th to the 27th here in Toronto. Each song on the album is expressed through artistic vignettes that happen on stage and it's been a lot of work. I have some really talented people involved in the project so it looks like it'll be a success and the plan is to remount the musical next year and stage it across Canada. I'm about to start conversations with theatres later this month to see if we can lock some summer dates in."
In closing, I ask him what keeps him going and his answer is clear. "In terms of music, I started songwriting and making a career out of it because I thought it would be a great way to use my talents to make money and gain influence for me to do charitable work. For me, my music and charity work go hand in hand. I don't think I would do music on its own if I wasn't able to help others in some way. Somehow, the two are tied together in my mind and my heart. When you see a kid who has never played an instrument before or never painted with acrylics and you introduce them to those things, it really motivates you.
"Personally, I've got a love of life but life does get difficult at times. Hopefully, through writing and singing about these experiences, I'm able to encourage people not to give up and that they'll see the light of life and how beautiful it all is. Life is like an ocean - there are so many possibilities and we need to keep going."

The opinions expressed in this article are not necessarily those held by Cross Rhythms. Any expressed views were accurate at the time of publishing but may or may not reflect the views of the individuals concerned at a later date.
About Lins Honeyman

Lins Honeyman
is a Perthshire-based singer/songwriter and currently presents The Gospel Blues Train on Cross Rhythms Radio on Saturday nights from 11pm and on Listen Again.
We welcome your opinions but libellous and abusive comments are not allowed.