Friday 28th February 2020
Tony Cummings spoke to Sam Blake, the National Director of the Elim movement's worship collective ELIM SOUND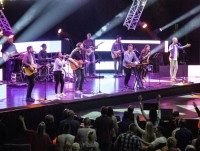 Elim Sound
Anyone who has been to the annual Spring Harvest celebrations in recent years is likely to have been impacted by a modern worship ministry which has now gained a growing reputation in the world wide Church. Elim Sound started in 2009 as an aggregation of four worship leaders who, not surprisingly considering their name, all ministered at Elim churches throughout the UK. Since then, they have expanded and their current line-up consists of Sam Blake, Ian Yates, Helen Yousaf, Joel Pridmore, Suzanne Hanna, Stephen Gibson, Moyo Ayena and Tim Williams. Many of these gifted people, of course, are very well-known worship leaders in their own right with solo albums released. But those who have seen Elim Sound at the live events they play, or indeed heard the stream of ES releases since their inception will know that there is something very special about this powerfully anointed collective. I spoke to Sam Blake, Elim Sound's National Director, about the aggregation's rise and rise in the worship community.
Tony: Give me some potted history.
Sam: "We started working for Elim Sound because we were passionate about worship. Four guys initially but it's slowly growing - myself, Ian Yates, Stephen Gibson, Joel Pridmore. Since then we've added some extra people - the incredible Helen Yousaf, Suzanne Hanna from Northern Ireland, Moyo Ayena, and Tim Williams, who was formerly part of the Southville project."
Tony: That's a lot of members. Does it mean you always have eight people on stage?
Sam: "Sometimes there's more than eight people. But it doesn't mean all those people come together at every event. In some ways we're not a band, we're a collection of worship leaders."
Tony: So most Sundays every one of you is leading worship at a local church somewhere?
Sam: "Absolutely. All of us would lead locally. That's what joined us together. We were all in Elim churches, we all led locally, but we wanted to serve the wider Elim church. There's 550 Elim churches in the UK and 9,000 churches worldwide."
Tony: Even beyond Elim, many people are being impacted by the collective through events such as Spring Harvest. Are you still doing lots of national events?
Sam: "Yeah, as and when they come up. We love working with the Spring Harvest team. I've just come off doing their local tour last week, which was three events in the evening. Different places."
Tony: Was that all of you?
Sam: "No. That was just myself on that one, with a five-piece band - a much smaller team than you would usually see doing Minehead or Harrogate. By the way, we're going to be back at Minehead Two this year."
Tony: Elim Sound are a spiritually powerful worship outfit. Do you think it's the numbers you have or the spiritual experience behind you which brings that power?
Sam: "Wow, that's a really good question. John Glass is always saying about the Elim Sound team, 'Any one of these guys or girls could lead this conference on their own but they choose to do it together.' It's always nice when someone else says it and then you think, 'Actually, that's true!' We know that God commands a blessing whenever we choose to do the journey together, choose to do ministry together, choose to work in partnership. We know that God commands a blessing over unity."
Tony: When you've got eight worship leaders on a platform together, all moving under the promptings of the Holy Spirit, isn't there potential for conflict or at least misunderstandings?

We welcome your opinions but libellous and abusive comments are not allowed.