Wednesday 17th September 2008
Tony Cummings quizzed Tim Sanders of the GATHERING BAND about their musical and spiritual journey.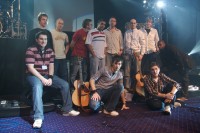 Gathering Band
In a scene overflowing with worship albums it takes something special for a new release to stand out from the crowd, though that's just what has happened with the 'Redeemed From Emptiness' album by the Gathering Band. Born out of Elim's first annual youth event, The Gathering, in 2004, the band started with a few people who were asked to lead worship for the camp. The Gathering Band's Tim Sanders, of the Oasis Christian Centre in Nottingham, was part of that group. Tim explained how the Gathering Band came into being. "In 2003 Elim's youth department became known as serious4god under the leadership of Mark Pugh. The following February they planned the first national youth event, The Gathering, in Birmingham. I was playing at a Bible camp called Infuse where I was chatting to Mark and he asked if I'd be involved with the worship over the weekend. I got a few guys together from church (most of whom are still involved in the band now) and lead over the weekend not quite knowing what to expect but it was a great time in God."
So apart from Tim, who precisely is a member of the Gathering Band? Said Tim, "The core of the band is pretty similar to when we started out back in 2004. We've brought in loads of great guys from churches in Elim to expand the sound especially at the larger events. I met Ryan (based at Carrick Elim, Nthn Ireland) in 2006. We got on really well straight off and started writing together and bouncing off each other. The songs we were writing and singing at our local churches started to form the style and focus of the band as we dared to use them at the larger events. The touring band line up is me (vocals, guitar), Ryan Griffith (vocals, guitar), Tom Hicking (drums), Colin Swinbourne (bass), Mike Swinbourne (lead guitar), Andy Cogdon (keys) and Matt Sanders (sax)."
I asked Tim to tell me a bit about the Gathering events. "There have been five so far, each one has had great bands like Yfriday, thebandwithnoname, Four Kornerz, Andy Hunter, etc, and great speakers like Jeff Lucas, Andy Hawthorne and J John. But the passion and expectation of the young people who come is amazing, they really do make these events really special. The Gathering is a great weekend of teaching, worship and chilling out with other young people. It's always encouraging to hear some of the stories of people who have gone home and made a real difference in their world after being impacted at The Gathering. As the event has grown and developed year on year the band has also and I guess provided a bit of a soundtrack to what God's doing."
The first recording by the Gathering Band was cut live at The Gathering 2007. 'Rise Up' turned out to be a powerful piece of pop rock worship though the conditions for recording were far from ideal. Remembered Tim, "There was snow and lots of it! I remember watching Mark's phone constantly ringing on the first day of the 2007 Gathering with calls from youth leaders abandoning their mini buses in motorway gridlock or just turning back. Also I remember Paul Burton, who spent the weekend recording the event in his van, parked outside in the bleak snow, I think that's his lasting memory of the album! But even against that backdrop it was a really special weekend, people had travelled to get through in all sorts of circumstances so they were keen to make the most of it. We had set aside an afternoon session during the event to teach and record the new songs but most of the tracks which featured on the album were captured during the normal flow of the meetings so what you hear is basically a snapshot of the worship over that weekend."
Tim has done a two year course in sound production so he had a bit of experience in a studio environment which probably came in useful as the Gathering Band's second album, 'Redeemed From Emptiness', was a studio project made at Burton's g2studios, Nutbourne. Said Tim, "The whole studio process had a real impact on our live sound and really sharpened and developed us as individual musicians as well as a band. We all booked a week off work and headed down to the south coast with a heap of songs, let's say some more finished than others! Our producer Paul was great with us, we played each song through together a few times then he'd offer suggestions, altering a verse, phrase arrangement, etc, till we settled on something we were all happy with. The first song on the album 'The First The Last' was probably the song that took the longest to bring together; after a whole lot of pruning and agonising over a new chorus in the local carvery we arrived at a much leaner and punchier song."
Because of the journey in developing it, "The First The Last" is now Tim's favourite track on 'Redeemed From Emptiness'. But he also admits to being particularly fond of "Found Me Freed Me" which he co-wrote with Ryan Griffith. Said Tim, "We did a seminar on songwriting earlier this year and listened back to some of the early efforts we'd recorded on our phones. It was so funny (and very terrible) we thought we'd share them at the seminar for a bit of public humiliation! Recording the 'I have a hope I have a future' Muppet show gang vocal with Paul for this song was particularly memorable, that man has a beautiful falsetto!"
Tim is convinced that worship is absolutely essential for Christians today. "God doesn't just demand our praise but he loves to hear it and reveal more of himself in it. It's that dynamic which makes the difference, whether at church or sat at your desk at work, the assurance affirmed in the Bible many times that when we come to him in worship, he is there with us. I think songs in particular provide us with a great vehicle to help us express our worship. It's so important to load our songs with truth. A couple of years ago we moved our youth meetings from the church building to the coffee shop across the road. It's in a great position right next to a bus stop on a busy road. Anyway, as the worship band played the place would fill with young folk; some of them would wander in for a while and 'mosh' at the front then leave for a smoke under the bus shelter. I love this! I then thought; 'These guys aren't stopping in for the talk part of the meeting, how much of the Bible and the Gospel can we cram into our worship sets?' So in the end we pretty much ended up doing a gospel preach through the music! It's the truth that set's people free not just a well-presented show, my aim is to see un-distracting excellence in church but still full of biblical truth and an openness to the Spirit's leading. I don't think they have to be mutually exclusive."
Like most worship leaders, Tim has met his share of believers who insist that modern worship songs aren't as good as the ancient hymns. He said rather ruefully, "Recently someone in church noted that I hadn't used a hymn during the morning meeting and I'd used too many modern choruses! The Bible talks about singing 'a new song', it's important that we continue to write and learn new dynamic songs packed with truth but carried by today's musical language. That said I love many of the hymns and if they work with the flow of the set and perhaps we can add a fresh arrangement to them they work really well and definitely shouldn't be shelved. It's good to have a bit of balance: not to throw in old songs just for nostalgia's sake but also not just to rock out a heap of new songs just because they have a catchy hook.
"I'm very much learning this whole thing at the moment; leading is about serving and the main aim as a worship leader is to gather so everything we do should seek to include and involve in our times of worship. We need to consider people's tastes and feelings and seek to involve but also understand that the songs aren't the be all and end all to our worship, just vehicles that aid us. Just the other week I was stopped after a meeting and asked why we don't do 'Open The Eyes Of My Heart' anymore. I told him with the amount of times we used to play it even God was probably bored of it! It's funny really as at the time we introduced that song there were a few objections voiced. I guess that's just the challenge of music ministry, everyone has a differing taste in music."
Things are looking encouraging for the Gathering Band. 'Redeemed From Emptiness' is selling well, even outside Elim circles, while coming up soon is a date in Belfast when the band will be supporting CCM superstars Casting Crowns. Commented Tim about that opportunity, "We're really excited about it and look forward to learning lots from it. Beyond that we just want to keep serving at our churches, serving at The Gathering and wait on God for a new song to sing. The prophetic has played a big part in our lives and development as a band so I guess I'd love to see that grow and develop as we play. Really we're just loving God and loving the journey and excited about serving him in this way."

The opinions expressed in this article are not necessarily those held by Cross Rhythms. Any expressed views were accurate at the time of publishing but may or may not reflect the views of the individuals concerned at a later date.
About Tony Cummings

Tony Cummings
is the music editor for Cross Rhythms website and attends Grace Church in Stoke-on-Trent.
Reader Comments
We welcome your opinions but libellous and abusive comments are not allowed.