Marcus Davis and Jacob Lutrell are GODQUEST whose phat concept album 'The Journey' has picked up mucho airplay and even brought the duo to the UK for a visit. Marcus talked to Mike Rimmer.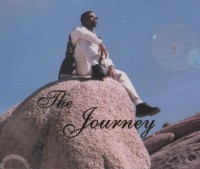 Godquest
The teenager had a promising sporting future on the ballpark. He enjoyed the respect of his peers. Showing off playing basketball one day, he leapt to dunk a basket and as he touched the ground, he landed awkwardly, excruciating pain jarred his knee. In that one moment the dreams of a sporting career for Marcus Davis were ended. Doctors said he would never walk again. They were wrong! God had another destiny for this pastor's son, now half of the exciting hip hop/R&B duo Godquest.
Our paths cross as he rehearses a live band for a gig at The Well in Birmingham. In a chilly pastor's office he tells me that following the accident people had begun to point him out as a has-been, a guy who might have been a contender. Frustrated and bitter towards God, Marcus had got into making music as an escape from the disappointment of his sporting injury. The beginnings were innocent enough: with friends he would sit round a table and perform rap circles. Keeping a beat on the table they would take turns to take lead. Marcus describes one significant day: "When it came to my turn I began to talk about God. Instead of my friends stopping, the beats got stronger and they were listening." Back at home he wrote his first rap song and began to puzzle out how he could go into music.
That desire to communicate with music was given a push forward because of Marcus's job. He explains, "I'm a youth worker and I've been doing that for about seven years. About three years ago, we noticed that the kids when they got saved would go to the Bible bookstores. They tried to relate to the music but had a hard time relating. My brother is the pastor and we got together and thought we'd try and create some music that the kids would love but also be into the message-. We started doing this locally for our youth."
Behind the scenes, it seems as though the whole project is surrounded by the miraculous provision of God. Former Motown producer and songwriter Colin England approached Marcus and offered to help record the album adding a quality they wouldn't have been otherwise able to achieve. He did the album for free which was fortunate because he normally charges around $20,000 per song. Suddenly after scrimping and saving, doing sponsored car washes to raise money, it was obvious that God was opening the doors. Local lawyers even offered Marcus free legal advice as he searched for a distribution deal.
'The Journey' is a concept album; a modern idea of Pilgrim's Progress lurks in the background of these phat tracks. A powerful message to encourage youth to take a long term view. Marcus explains, "There is a mission and everybody has a destiny for their life and it's up to you to go after that and discover the gifts that God has given you and bring glory to his Kingdom. You can have talents but without God that same talent can destroy you in the end."
Godquest is a living example of that.
Working alongside rapper Marcus is singer Jacob Lutrell. Only 18 years of age, he writes, produces and plays six different instruments. At the age of 16 Jacob was offered a contract of $2 million by Sony and after much heart searching he turned down the money because he wanted to sing for God rather than the sexually explicit material the record company were toting. Later when we meet, I ask him whether he had any regrets. He pauses, sighs and grins before honestly replying, "Man, it was hard to say goodbye to all that money!"
When Marcus heard about Jacob he decided that he had to meet him. He takes up the story: "We hooked up and I told him what my heart was. I'd sung with secular bands and opened up for them and I knew the disappointment of seeing the people still empty at the end of the evening. We talked about that and we just clicked and we started singing and that's how the Godquest thing came about. He has a solo project he's working on to show a different vibe he can bring. He's like my little brother. He's been through a lot of trials in his life."
It's clear that Marcus takes an active responsibility for discipling the musicians who work with him. It's also clear that his passion to reach youth is firmly planted in his heart. Marcus explains, "Ever since I can remember I've had something inside of me that has wanted to reach out to kids. We don't relate to kids on the level where they are and they miss out a lot and I felt this would be a way for me to reach out. This whole album was to show the heart of God. Christ's heart is love. I want everyone who hears the album to hear a love relationship going on. I want to give kids what they need."
The message of 'The Journey' is powerfully biblical, creatively expressed with a bit of humour thrown in. Just the thing to grab attention but for Marcus, the Word is the most important thing. As we get ready to part he says, "Before you can sing you have to first study God's word. All the songs are inspired by God's word. That's important when it comes to working with youth. The schools tell them they came from monkeys and there goes your self-esteem right there. It seems that the kids are just lost and they don't know what to do so they're out of control. But once they truly find God and find him in a relatable way, they will be able to have purpose in life. History shows us that young kids were running countries when they were 11 or 12. That's unheard of now. God can use kids and they need to find that out early."

The opinions expressed in this article are not necessarily those held by Cross Rhythms. Any expressed views were accurate at the time of publishing but may or may not reflect the views of the individuals concerned at a later date.
Reader Comments
We welcome your opinions but libellous and abusive comments are not allowed.