We've decided that each issue we'll bombard an artist recently debuting with a hot CD with 40 questions pertinent and impertinent. This issue it's the turn of exciting American grunge band GRAMMATRAIN.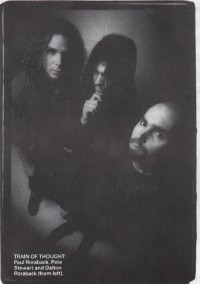 Grammatrain
1. When did you start the band?
"We started about two years ago in Paul's basement."
2. What's the story so far?
"We got to record an album and we're touring next year. Last year we recorded a demo and played clubs in Seattle."
3. What are the names of the members?
"Pete Stewart - vocals, guitar; Dalton Roraback - bass; Paul Roraback -drums."
4. Why did you choose this band name/ what does it mean?
"Paul wrote a poem about his grandma called 'Grandma's Train' and I thought it would be cool to name the band after it."
5. Why is Grammatrain the best band on earth?
"We're not."
6. Who are your best friends?
"Whoever started Taco Bell."
7. Who are your worst enemies?
"Bored police officers who like to give tickets."
8. Who has had the biggest influence on your career?
"Our bosses at our day jobs."
9. Which song on the album 'Lonely House' is your favourite?
'"Sick Of Will'."
10. What is the song about?
"Trying to stop doing stupid things."
11. What's the best thing ever happened to you?
Pete - "Being born into a family that taught me about God."
12. What's the worst thing ever happened to you?
"Going to Bible school."
13. What's your favourite pastime?
"Kindergarten."
14. What's your favourite food?
'Taco Bell."

Reader Comments
We welcome your opinions but libellous and abusive comments are not allowed.