Tony Cummings quizzed Big Job of the hip-hop group from Champaign, Illinois, HOSTYLE GOSPEL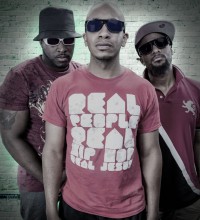 Hostyle Gospel
As anybody who follows Christian music will know, Christian hip-hop music has never been more popular. There are today tens of thousands of believers utilising their rapping skills. After decades of gospel rap being ignored, and even despised, by the mainstream hip-hop gatekeepers we today have the phenomena of Lecrae registering at number one on the US mainstream album charts and UK Christian emcees regularly winning MOBO Awards. With some parts of the Church awakening to the potential of rap to carry a powerful ministry message hundreds of albums are emerging via major companies, by small independent labels and from the vast quantity of independent grassroots hip-hop ministers.
A group that Cross Rhythms radio have recently picked up on is Hostyle Gospel. Their album 'Desperation' has three songs, "Praise", "Turn It Up" and "Rock", which have made it to the Cross Rhythms playlist. Hostyle Gospel actually emerged from an earlier band from Central Illinois called The Elite MOC (Men Of Christ). So how precisely did Hostyle Gospel get their name? I asked the group's Fontaine Pizza (rap name Big Job). He explained, "Group members King Solomon and Proverb started out in a secular rap group called Hostility. When Elite MOC talked about starting a new Christian rap group, King Solomon and Proverb decided to call the group Hostyle Gospel. The word Hostyle (hostile) derived from the feeling that we have towards Satan and his demons. The word Gospel means the good news that Jesus Christ died for our sins. So when you put the word Hostyle with the word Gospel you get a music movement motivated to tearing down Satan's kingdom while lifting up Jesus Christ."
So who make up Hostyle Gospel? "There are several members in the group, both frontline and backline members. Frontline people are in front of the media, congregations, churches and fans. Backline members do the behind the scene work. They do the graphics, videographer, producing beats, press releases and whatever else that needs to be done for the group. Frontline members are Demetrius Morton and his rap name is King Solomon, Raynard Glass and his rap name is Proverb and myself. The backline members are Joe Glass III (producer/rap name King Son), Omari Thomas (rap name Teckniek), Daniel Enomoto (rap name Kamikaze) and H David."
Since their formation in 2006 Hostyle Gospel have played a wide variety of shows. Said Big Job, "We don't discriminate against any type of show atmosphere. In the past we have played in churches, arenas, birthday parties, you name it. We've even performed in bars. We feel as long as we are doing it for the name of Jesus Christ, anything is fair game. Most of our shows in the past were performed in Illinois. However, over the past three years we've done some shows across the United States."
And now of course there is some international interest, thanks to the gutsy flows and strident spiritual militancy of their 'Desperation' album. 'Desperation' is, in fact, their third album. Their first release was 'Let Me At Em', issued on 31st May 2007. Commented the rapper, "It really was an experimental album. We did albums in the past that we didn't release to the public, because of different views of production and sound quality with other sound engineers. However we released 'Let Me At Em' because we felt that this album represented the way we wanted our music to sound. It was the first album on which we didn't have any other producers making beats for us or outside studios/agencies recording our music. Everything was done in-house. This gave us total freedom to experiment with new sounds and record and worship the way God intended for us. This brought us closer as a group and the result lead to the Hostyle Gospel sound, which is described as war or battle music. When planning this album we wanted to show Christians that Satan shouldn't be looked upon as a joke, but rather as an adversary out to destroy their lives. The single 'Let Me At Em' was recorded as a song to pump up Christians to move in striking distance of Satan and fight on the battlefield beside their Christian brothers and sisters. That was what this album was all about, spiritual warfare against Satan."
It was to be three and a half years before the band of rapping spiritual militants released another project, 'Immortal Combat'. Said Big Job, "When planning this album we tried to express our musical gifts as well as creating a music atmosphere that everyone could relate to. We included praise songs like 'Coming Back Again', 'Calling Out' and 'Glory' to meet the needs of our worshiping fans. We gave our supporters who stuck with us from the original album the battle music that they were accustomed to. Songs like 'Christian VIP', 'DHB' and 'Tell Satan Is On' proved to be the fix that all our hardcore fans were looking for. And finally we did some experimentation on our album with songs titled 'Letters'. These letters were one minute songs expressed by each frontline member. Similar to the Apostle Paul's letters, we tried to encourage our Christian brothers and sisters to take ownership of their situations and give them directions on how to solve them. 'Immortal Combat' also was our first album to produce a music video which made it to the first round of the Dove Awards nominations. Although we didn't win the award it gave inspiration for the years to come."
Later in 2011 the group released a tough-talking mixtape, 'Five Star Generals'. But it was the release of the 'Desperation' album on 13th August 2013 which really increased the reputation of the rappers. The BeforeItsNews website commented, "They are willing warriors declaring that 'Jesus Christ is coming here to fight.' The group encourages others to step up by shouting on 'Turn it Up' that 'if you're feeling unashamed, turn it up!' They don't just mean the volume but the intensity and energy to restore the world. A battery of guest artists, including Blessing, Lamorax, Chevatron-X and Sene', join Hostyle Gospel on the album's dozen tracks. It's not your grandmother's gospel music, but it seeks the same result."
Speaking about 'Desperation' Big Job said, "The idea behind this album was to show how broken this world we live in is and how we need a Savior to save us. On this album we include more family-based situations and more encouraging music for the weak at heart. We tried to remind people that we are only here temporarily and that there is a place where we will go after life on Earth. 'Desperation' produced two music videos, 'Monsters' and 'Break', which were selected to be on Vevo. 'Monsters' talked about how we have to conquer our enemies and how we should take control and stop Satan's plans, while 'Break' prepared Christians to worship and break free of all the bondage that weighs down their lives."
Despite the relentless increase in the popularity of Christian hip-hop, there still remain many pockets of resistance to the whole music form, even within the body of Christ. Many churches and even some radio stations refuse to have anything to do with gospel rap. Commented Big Job, "Unfortunately the Church is one of the most closed-minded and hard to change institutes in existence. We can sum up churches with one word, traditions. Their customs and views are passed down from generation to generation. This goes the same with their music. Some churches are not aware that change must occur in order to grow the church and also to keep the church afloat. Young people right now are into hip-hop. However, the older generation is telling the younger generation that hip-hop in the church is 100 per cent wrong. So we have confused young minds in church, who want to listen to hip-hop but are told that it is wrong to do so."
The rappers are now planning a new release. "Currently we are in talks of a mixtape and maybe a 2016 release. We are also talking about a collaboration with legendary PID's Fred Lynch, who's been mentoring us. We are also talking with other Christian mainstream artists to be on future projects with us."
Not that things are particularly easy for this band of spiritual militants. Said Big Job in closing, "A spiritual lesson we have learned in the last year is that no matter if you're Christian or not, life is tough. Becoming a Christian doesn't make your life easier, in some ways it could make it a little tougher. He called us to ministry not so we could be comfortable, but to be servants. And the only way you can please God's heart is to stop trying to please yourself and to start trying to please the people he put in front of you."

The opinions expressed in this article are not necessarily those held by Cross Rhythms. Any expressed views were accurate at the time of publishing but may or may not reflect the views of the individuals concerned at a later date.
About Tony Cummings

Tony Cummings
is the music editor for Cross Rhythms website and attends Grace Church in Stoke-on-Trent.
We welcome your opinions but libellous and abusive comments are not allowed.