He's cut seventeen albums, produced a best selling jazz album and been called the 'master of Christian New Age music'. Who precisely is JEFF JOHNSON? Bob Longman Jr. investigates.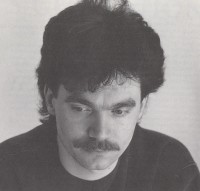 Jeff Johnson
Some people think of me as this C.S. Lewis-like intellectual, and I'm not like that at all." says Jeff Johnson. Hmmm. An image problem?
Unlikely...he's not well enough known to have an image that can be a problem. But among those who know of any of his 16 albums on his own label. Ark, why would that be?
Let's see. Johnson has a strong but small 'cult following', is rarely seen outside of his home area, lives on a mist-shrouded mountain near the eerily beautiful Oregon coast in a Portland suburb, plays music with affinities to mystical 'New Age' music, sings from his love of painting and sculpture as well as his awareness of the presence of mystery in life, writes of far away places such as Carcassonne and Mont St. Michel and philosophers such as Plato and Pascal, and writes songs that use words like (groan) 'juxtaposed'.
Johnsons's music has been dubbed 'intelligent pop', 'jazz lite' and even 'new age' - but he is quick to point out that his records have nothing to do with the New Age movement. "I was doing my style of music before anybody was talking about the New Age Movement." he says.
His latest vocal album, 'Pilgrimage', draws even more upon the imagery of dreams and dance and the search for Truth. Are you still wondering how he got the 'mysterious intellectual' tag?
It doesn't faze Johnson..."All I do is write abut the things that interest and inspire me and, thus, a lot of my references are literary allusions. Many of the songs that started with some idea from a literary work ended up being very biographical, but because of the literary references people don't realise it."
It helps to know that if someone called the number found on some Ark albums and promos, they'd find him at home and quite likely in the midst of carrying out the garbage or changing diapers for his young family. And he isn't put off by talking to those who call; it's made him many friends in places he's never been.
There are places on "Pilgrimage" where the abstractions become mere backdrop for the person. For example in 'South Toward Carcasonne':
"Earlier I made the big mistake of pulling out your photograph - is there nothing I can do to keep my heart from...
Funny how the things you write for someone else come back to you:
It's in His hands. Yes I know it's in His hands.
And I know that it can be no other way"
"It's really just a song about me being lonely in the village of Beaune, France," says Johnson. "I was driving by m yself down to a medieval castle village in the very far southwest of France called Carcasonne, to meet my friends David and Kathy Hastings (who are responsible for that wonderful artwork on all Ark albums) and their son Ryan, and we travelled for several days together before meeting up with my wife Susie.
"But all this time I had been away from Susie and my little daughter Hailey, and I didn't figure on how much I would miss them. It drew me back to a song that appeared on my first album, called 'It's In His Hands', which reiterates that truth that regardless of one's situation, God is still in control."
A Jeff Johnson album doesn't start with a set theme; one develops as he goes along. In this case, the emotions of his trip to Europe took hold of the developing album, "seasoning", as he puts it, the direction that had already started to take hold.
The songs on "Pilgrimage" contain hints, echoes of (and even quotes from) many of his previous records. "I'm very conscious of the albums I've already done," he says. "In the short paragraph that I wrote on 'Pilgrimage' I say that listening to my albums is like looking at old photograph albums. They each represent where I've been , ideas that I've had, things that the Lord has taught me, and people that He's brought into my life.

Reader Comments
We welcome your opinions but libellous and abusive comments are not allowed.