Wednesday 31st March 2010
Peter Timmis charts the fascinating career of one of Christendom's great guitarists, JEFF SCHEETZ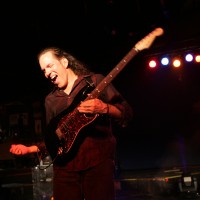 Jeff Scheetz
Jeff Scheetz is very much a musician's musician whose name may not be bandied about by the hoi polloi but whose dazzling guitar work has for years earned him the reputation among the cognoscente as one of the world's greatest rock guitarists. He has toured the world demonstrating his stunning technique for Yamaha guitars, he has contributed fine work on numerous albums down the years (most recently making an unexpected appearance on the hip-hop album 'Converted: The Biography' by Detroit rapper Elohin) and enjoyed praise for both his occasional solo instrumental albums and his two CDs with the Jeff Scheetz band. And if all that wasn't enough, Jeff has occasionally found the time to produce projects for others, his most recent being the debut album by British metal band Conduit, set for release in April.
Cross Rhythms' Tony Cummings met up with the axe hero last year and began by asking Jeff where faith came into his music. "When I did several instrumental albums, that was always a question. It's funny because it was never a question to me; Christ, hopefully, is in everything I do. Whether I'm making music or walking my dog - whatever it is - Christ should be there, and it should be evident to people around me. I like to think that I'm playing music that has God's handiwork somewhere in it. I don't necessarily always specifically say, 'Okay, I have to think about a religious angle for this', because then, to me, you're manufacturing it, as opposed to just doing what it is and who you are. In the new stuff we do, it's not what a lot of people call your normal Christian-type lyrics - it's not your 'praise the Lord' kind of lyrics. But I write all the lyrics, and the sentiments are from my perspective. I'm a Christian, so it's my world view, it's how I see things. It's not all peachy and happy, certainly not a praise and worship kind of thing, it's more the perspective of someone who has to live in the world and have dealings with other people who aren't Christians."
Jeff began to play guitar around 1980 after a failed attempt to play the cornet at school in the Midwestern US state of Iowa. "I was terrible at it and didn't like it much at all," Jeff told guitargearheads.com. "Most people would have said I didn't have much natural ability I suppose. But when I started the guitar it was like I had found my voice. And while it didn't come easily, I just poured myself into it and that was all I did. So just like with anything, if you put in the time, you get the reward."
The hard work soon paid off as Jeff's playing impressed guitar manufacturer Yamaha so much they offered him a high profile job as one of their clinicians. The role took Scheetz to guitar shows all over the States. "It was very helpful - once you have a foot in the door, it is much easier to get people to listen to you," the guitarist told Grace And Fury.
In 1988 Jeff set about recording a demo that was later released as the instrumental album 'Warp Speed'. He said, "I have always figured that you can either sit there and wait for someone to come along and 'make it happen' for you - which does happen on occasion - or, while you are waiting for that, you can be trying to 'make it happen' on your own, so I have always tried to push the process along."
The demo attracted enough attention for US label Re-Flexx to release his first official album in 1990. 'Woodpecker Stomp' contained a couple of rerecorded 'Warp Speed' tracks and the title track became the first instrumental ever to break into the top 10 of the CCM rock charts. Capitalising on this early success Jeff recorded the well received 'Dig!' LP, released in 1992. Like 'Woodpecker Stomp' the album was produced by the late Jon Mathias (who also worked with artists such as KISS and Mariah Carey) and contained the rock radio hit "Thrillseeker".
Jeff's first project with a vocalist came in the shape of the 1996 album 'Disengage' by Christian band Sign Of The Times which he produced, played guitar on, and composed most of the songs. "I have always written lots of songs with lyrics - but it is very hard to find the right singer for the job. So therefore I ended up doing lots of instrumental songs because I love those as well," commented Jeff. The collaboration with Sign Of The Times did not end well though - Mark Powell of the Encyclopedia Of Contemporary Christian Music quotes Jeff as saying, "The singer wigged out, stole two of my guitars and sold them at a pawn shop." After this experience it may come as little surprise that Scheetz's next album was a solo instrumental project released in 1997 entitled 'Pawn Shop'! The cover amusingly depicted Jeff standing outside a Pawn Shop with a guitar displayed in its window. More eclectic than his previous work the record featured acoustic track "Lakota", the only instrumental in the top winners of that year's John Lennon Songwriting Contest.
In 2000 came a somewhat unexpected Christmas album, 'Christmas. . . At Last'. "I've always wanted to do a Christmas album", Scheetz explained to Tony Cummings. "More than that, my wife always wanted me to do a Christmas album. She was always saying, 'You should do these Christmas songs'. It's hard, because there are only so many days in a year, so to speak, and you're working on this project, then you want to do this - you've got 27 irons in the fire. So it's hard to squeeze every project in. But I finally did the Christmas album. It was a lot of fun."
Some of the other irons Jeff had in the fire included a tips-for-guitarists column for HM magazine, composing music for television commercials, giving anti-drug seminars in schools where he delivers "a much needed message about positive life choices" and, strangest of all, a 2007 world record for the largest number of guitarists playing together at one time! The event was held at the Community America Ballpark in Jeff's adopted hometown of Kansas City. He remembered, "It was quite an event, we had 1700 guitar players standing out on this baseball field; I led them and we played [Deep Purple's] 'Smoke On The Water'. It was a great thing to hear. There was a really good atmosphere, a lot of families, there were moms and dads and little kids all playing together. I believe the record has now been broken. So we're going to have to get together our people again!"

When not striving for the Guinness Book Of Records Jeff has also found time to produce albums for bands including Lament, Idle Cure and most recently Conduit. So how did the Scheetz come to be involved with the Brit metallers? "Ian, the guitar player, had been in another band at a time when I played the Meltdown conference. I kind of knew him from there. Then Dave Williams [of Meltdown Ministries] suggested these guys get a hold of me to spend a little time with them while I was over here. Since I was here doing this it worked out fine."
Asked if his reputation as one of the world's greatest guitarists intimidated the young bands he worked with Jeff replied, "I suppose it could. It shouldn't. I was a young band myself once. I'm more about the art of whatever they're doing - whether they're playing guitar or whether they're not playing guitar at all. The music is what I try to focus on. And for me, the guitar has just been my thing, my voice; hopefully it doesn't intimidate anyone."
2003 saw the guitar genius ready to record with a vocalist once again. "My vocal is not what you would really want to hear too much of, so I needed a singer. We'd auditioned singers, and it was an adventure trying to find the right person. One night we were just sitting there playing BB King's 'The Thrill Is Gone' and said to the bass player (Matt Waddill), 'Just belt it out'. He said, 'I can't really do it'. [I repeated] 'Just belt out the first line'. And he did. We all just stopped and said, 'You're the singer, then'." The new project, 'Beggars, Rogues & Thieves' credited the Jeff Scheetz Band, also featured Kent Burnham on drums and Ted Gardner on organ. The approach this time round was more bluesy and melodic; reviewers noted a Stevie Ray Vaughn influence. "Oh it is definitely a SRV feel. . . The way I look at it is I, or anyone else, can never be Stevie because HE was Stevie - so you have to find yourself and follow your own path and be the best YOU that you can be," commented Scheetz.
The most recent offering by the Jeff Scheetz Band is possibly the guitar maestro's finest work to date. Released in 2009, 'Behind The Mask' again features the winning combination of Jeff's powerful guitar work and Matt Waddill's gritty vocals that made 'Beggars. . .' such an enjoyable listen. According to the band 'Behind The Mask' "is music that has the vibe of the great albums of the '70s, back when Hendrix and Zeppelin were pouring their hearts into it and playing for the sake of the music."
Asked if it is a challenge writing lyrics that make sense to a non-Christian in which believers can find the spiritual reference points Jeff replied, "Absolutely. Sometimes it's such a challenge it's almost impossible to do the two, without feeling like you're repeating yourself or being redundant. I want to write something that's meaningful to me at the time, but I like to have some thought in lyrics. It is nice when somebody else says, 'I really got that. I read your lyrics, and that made sense to me.' Because sometimes you can't; sometimes as an artist what you write is so personal that it's hard for other people to understand it, to pick up on it. Without being you, they don't know what exactly you mean. The first song on the record ['Behind The Mask'], 'Welcome Home', is a simple thing about being gone, being out on the road - anywhere, being on vacation, holiday - and going home. There's nothing like that. Somebody says, 'Welcome home', and it's an awesome feeling. That's not exclusively Christian, but it's a good thing, and it certainly can be interpreted as something that is spiritual."
So what's next for Jeff Scheetz? Tony asked the Christian guitar hero if there were ambitions he still needed to fulfill, maybe a Wes Montgomery type album? "That's interesting because I do like a lot of jazz. I like good country players. I love blues stuff. I think some of my records have hints of that. As far as doing a straightforward Moving West record, I'm not sure I could pull that off well enough to feel like that was me. While I love playing that way, I just don't know that that's really who I am, and I think the key with musicians is playing what's in your heart - what is it really that you do? Grind that down to, 'Here's who I am as a musician'."

The opinions expressed in this article are not necessarily those held by Cross Rhythms. Any expressed views were accurate at the time of publishing but may or may not reflect the views of the individuals concerned at a later date.
About Peter Timmis

Peter Timmis
is a regular contributer to Cross Rhythms and lives in Stoke-on-Trent.
We welcome your opinions but libellous and abusive comments are not allowed.