JONATHAN PIERCE is well known on US Christian radio though, despite his impressive vocal talent, he's still to make much impact in the UK. Tony Cummings reports.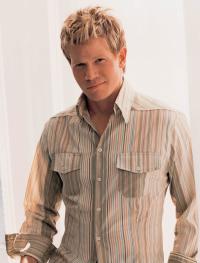 VOCAL POWERHOUSE: Jonathan Pierce
One of the peculiarities of the Nashville CCM scene is how some artists can gain major success with hit albums and Dove awards or nominations yet remain unknown in the international Christian marketplace. Such an artist is Jonathan Pierce. In the USA his muscular vocal approach, which draws on classic R&B and is not dissimilar to vocalists like Clay Crosse or Michael Bolton, has brought Jonathan many fans. Yet his albums 'One Love' (1995), 'Mission' (1997) and 'Sanctuary' (2000) never obtained UK release while his latest one 'For You' (2004) has hardly broken UK sales records despite catching the ear of the Cross Rhythms reviewer ("Undoubtedly, the best cut is the closing title track, an epic multi-layered, U2-esque ballad featuring the Jubilee Singers which captures the listener's attention from the stripped down, acoustic beginning to the uplifting climax."). Other standouts on 'For You' is a strong dance-tinged track "Life, Love & Happiness" and an infectious cover of Sting's "Let Your Soul Be Your Pilot."
Pierce chose Brian Rawling and Billy Mann as the producers of 'For You'. Rawling has worked with Enrique Iglesias, Rod Stewart, Cher and Whitney Houston. Mann has worked with Jessica Simpson, Kelly Rowland (of Destiny's Child) and Hall & Oates. Commented Jonathan, "They taught me that I can influence and infuse culture subtly, to make the most impact. And that's what this record deals with." "Still The Love Of My Life," a song Pierce co-wrote with Mann and pop icon Michael Bolton, is a classy cut.
Jonathan Pierce (nee Hildreth) grew up in Odessa, Texas. After moving to Nashville, he sang with the acclaimed Christ Church Choir, where he caught the attention of church member and country music star Naomi Judd, whose husband, Larry Strickland, would become his manager. Pierce got his big start in Christian music as a member of CCM pioneers The Imperials (1991-1994). He also sang briefly with The Gaither Vocal Band (1994-1995) before going solo. On 1995's 'One Love' he used a variety of producers including Michael Omartian, Jon and Dino Elefante and Guy Roche (known for his work with Michael Bolton and Celine Dion). The album included a US Christian radio hit song "Rise Up" (written by Brent Bourgeois), a Stevie Wonder cover, the upbeat "Carry Me Through" and a song contributed by Gary Chapman. In 1997 Pierce continued to work with a variety of producers and songwriters on the 'Mission' project though he co-wrote eight of the songs himself. Like the first project, that album offers an eclectic mix of styles, from the excellent ballad "Farther Than Your Grace Can Reach" to the disco-like "Hold Me In Your Arms". Pierce also covered Brown Bannister's song "Praise The Lord" (originally a hit for The Imperials) with Bannister producing. Jonathan's version went on to be nominated for a Dove Award.
In 1999 Pierce was given the opportunity to play the part of Angelus in the play Les Miserables on Broadway. He followed that with a turn as the lead character in a Nashville revival of Joseph And The Amazing Technicolor Dreamcoat (Andrew Lloyd Webber's first Bible-based epic before Jesus Christ Superstar). Back on the CCM scene in 2000 Jonathan recorded 'Sanctuary' working exclusively with producer Phil Naish. On it guests The Katinas contributed vocals to "I Hold In My Heart" while Jonathan's wife Denise co-wrote six of the songs with her husband. "Denise is a great lyricist," said Jonathan. "She's been really good fro me, because I'll have these thoughts and I'll write them down. Then she'll help me fine tune them. There is that disagreement every once in a while. After a few minutes you realise, 'you know, it really doesn't matter.'"
As well as having a much admired voice, Jonathan has creative talent in another area - interior design. He helped fellow singers Deana Carter and Brad Paisley design a house on Country Music Television's Ultimate Country Home series. Jonathan lives outside of Nashville, Tennessee with his wife in a home filled with Asian antiques and art from around the world. His home décor reflects his music: global, emotional and romantic. Despite his interior design gifts, music still remains Jonathan's first passion. As he once told Release magazine, "Music is the strongest communication there is. I've felt closest to God when I've heard music that pierced my heart, moved deep into the dark crevices of my life and made my dreams come alive again."

The opinions expressed in this article are not necessarily those held by Cross Rhythms. Any expressed views were accurate at the time of publishing but may or may not reflect the views of the individuals concerned at a later date.
Reader Comments
We welcome your opinions but libellous and abusive comments are not allowed.