Wednesday 12th March 2008
Tony Cummings quizzed veteran opera singer and Spring Harvest favourite JONATHAN VEIRA
Jonathan Veira
It's not every day that a singer hugely respected in the world of opera records an album where he performs covers of songs by Louis Armstrong ("Beautiful World"), Eric Bibb ("I Want Jesus To Walk With Me"), Stevie Wonder ("Have A Talk With God") and Bob Dylan ("Gotta Serve Somebody"). But then bass baritone singer Jonathan Veira holds an extraordinarily enlightened attitude to music, refusing to engage in High Art snobbery and even admitting that early in his singing career he made money performing Billy Joel covers. Jonathan's new ICC album 'Pilgrim' was produced by Neil Costello and features such top rate musicians as Bryn Haworth on slide guitar, Ben Castle (Sting, Jamie Cullum) on sax, Phil Crabbe (Aztec Camera) on drums and Mark Edwards (Paul Weller, Carleen Anderson) on keyboards. Yet the singer is anxious to explain that he is not leaving the world of opera. As he told Cross Rhythms, "My main source of income is opera which I perform in this country and all over the world (at present I am rehearsing an opera in Geneva, soon to go off to Stockholm) and of course my formal training at London Uni and subsequently at Trinity College Of Music and then the National Opera Studio prepared me for a life in the world of classical music.
"BUT there was the other side of my life that had started before I entered that strange world! My hero was Billy Joel who I copied in restaurants and bars when I was a student trying to earn some money in 1979 onwards. Ballads, rock and R&B was what I LOVED and wanted to make a go of but hey, I went bald and grey and I won some big national singing competitions and the opera became bigger and bigger. Also, at that time the more popular and Christian became a lot smaller for many years. Going back to singing a more ballady style and with the new album, old fashioned R&B and boogie has been something that has been SOOO enjoyable and a real break from the very highly structured opera that I spend 60 per cent of my life doing. The real thing is that when I sing my opera I sing it with the operatic voice but when I sing the other stuff it is with the voice that I began with all those years ago. I do not want to hear operatic singers using the same sound to sing different styles and when they try it I hate it!"
We asked Jonathan what was his criteria for selecting songs for 'Pilgrim'? "I have to say that I always look at a song on its merits; is the song a good song? If you take away the arrangement what is left? Does the lyric do it for me? Does it have a good 'hook'? There are many reasons for picking songs but if you are going to do a cover then it is good to pick a song and songwriter with a good track record. I also would say that I only pick songs that I enjoy listening to. You have to start there and then there is a chance that the listening public will enjoy them too. I wrote only one song on this album, with a mate Quin Davenport, but that has turned out to be fun and I hope near to the standard of the others."
So how did a classically trained singer find it working with musicians like Bryn Haworth, Ben Castle and Mark Edwards? "Of course working with these guys is just a hoot! Somebody once said to me (can't remember who but hey I am getting older!), 'Surround yourself with the best musically and they will make you look good!' That is what is happening when I do albums; over the last four I have had the pleasure of working with great talent AND great guys. I say the latter because to be a good muso is one thing but when you combine this ability with a solid gold heart and an ability to laugh and have a great time THEN you are talking as far as I'm concerned. These chaps are some of the finest in the business but at no point did anyone assert their 'position' in the market. That is always the sign of great musicians for me; they just do it and then share a packet of jelly babies! Now that's what I'm talking about!"
Jonathan was reluctant to name a favourite song on 'Pilgrim' though eventually plumped for a Louis Armstrong oldie. "I suppose I would have to say that one of my faves would be 'Wonderful World' because it is a positive song calling people to look beyond the real gloom and despair of the world we all inhabit and in it find wonderful things and wonderful people that God has put here for us to experience and enjoy. And I just adore the harmonica solo!"
Jonathan had been brought up in a Christian Brethren family but thought little of the "faith behind the rules" until he fell seriously ill while preparing for roles with the Glyndebourne Opera in 1989. He told Christian Herald newspaper, "I had driven home from work the day before with a bad headache and felt dreadful when I woke up the next morning. Apparently I had been delirious and a doctor had diagnosed it as flu and prescribed antibiotics to protect my throat. At 7pm, my wife Sue discovered me in a coma and called an ambulance." In hospital - while a prayer chain of friends and church members swung into action - a detailed examination showed the true problem to be viral encephalitis with the prognosis of serious memory loss. But three days later Jonathan was aware of a voice calling his name as a doctor tested his reflexes. "He returned with three others, they were amazed. They queried the original diagnosis but the senior consultant said that although seemingly impossible, a miracle had happened. Within three months, I was back to full strength and able to sing and perform once again. I had lost no memory at all for which I was grateful, as my brain is full of operas that take me ages to memorise."
Jonathan has asked himself many times why God chose to heal him. "I know loving people around the world were praying for me but even so, I know many people are not healed in the same way. To this and many other difficult questions, there is no easy answer and I will not attempt to offer one. However, what I do know is that I am here now and I shouldn't be - according to all the available evidence. That carries with it the responsibility to tell others that maybe, just maybe God is alive and well and interested in our lives. I claim no special hotline to God or to healing, such an episode has never occurred to me before or since, so I'm no special guy, just an ordinary one that has been touched by an extraordinary God - for which I am extremely grateful."
Jonathan made his first stab at recording for the Christian market with the 'Classic Hymns' cassette released by Eagle in 1991 but it is his long association with ICC which has brought him excellent sales in UK Christian retail. His albums 'Life & Soul' (2001), 'Rhythms Of The Heart' (2003), 'All That Matters' (2006) and the DVD 'An Audience With Jonathan Veira' (2005) have all sold well, no doubt helped by his regular appearances at Christian events like New Wine and Spring Harvest. Cross Rhythms asked Jonathan how that side to his ministry developed. He responded, "Frankly I have to thank Peter Martin from ICC for that. He heard me sing at an event about eight or nine years ago when I sung the song 'King Of Kings'. The truth was that I had and have a successful career in opera and someone asked if I would just go and sing at this conference with Rosemary Conley as a one off event in between my other work. I did and it took me back to the early '80s when I was working with Graham Kendrick as his pianist and indeed doing events with people like Luis Palau (Mission To London) and tours with the Evangelical Alliance and others. Honestly? I became very disillusioned with all of it back then and the industry it had become so going into the commercial side of music and doing the high end stuff was quite a relief. I did not do any big events for years and it was Peter who encouraged me to look again at what he thought I could offer in terms of ministry to the Church and then I suppose that led to doing the 'big' events in the Christian marketplace. I have to say that he had to be persistent as I did not reply to his letters for many months but glad that I did as it has opened new doors to touching people with the songs that I sing and the silliness that I bring."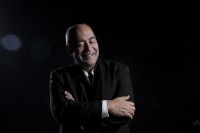 We asked the veteran singer to tell us who are his favourite classical and operatic performers. "Again you ask the favourite question! I mean, I have a fave wife (my first and only!) but everything else is a choice of hundreds - literally! If I mention a few you may not even have heard of them, but here goes. I simply love Felicity Palmer as she has such a rare talent for performing in most styles, and I suppose the baritone Tom Allen who is a wonderful stage animal with great musical instincts. The baritone Alan Opie is another who stood as a hero to me when I was just starting out because of the sheer beauty of his voice, and then there was a guy who is no longer singing who was such a nice guy and had one of the finest bass voices I have ever heard, John Connell. You will notice that I have not chosen the big star names, although I have worked with many of them, as people will know they are great singers just by listening but my point is that there are so many fab singers/performers in the business apart from the top five that people hear of on the radio it is difficult to find who are my favourites. Those mentioned are amongst some of the great people AND artists I have had the pleasure of working with over the last 24 years."
When asked what important lesson has he learned from God in the last year, Jonathan replied, "I think the biggest lesson is that of the importance of JESUS and who he is .The Jesus who was and is GOD WITH US and who is more than a good idea and a chap that delivered a few good thoughts and nice principles to live by. It was prompted by a discussion around the dinner table with my boys (well men actually). They said they had no problem with the idea of God but they did not understand where Jesus fits into it all. It was something I had heard a lot from so many young people and I understood what they meant. If this Jesus was to mean anything then it was the fact that he was GOD, not just a tag on to the Pauline epistles. The gospels were the source text and so I have dived into them again and found out SO much about the Jesus we come to and who comes to us. It is a very long journey and involves a lot of struggle but I feel I understand a little better where this Jesus fits in to my faith and into THE faith."
Jonathan has a busy schedule in the coming year. He will be promoting 'Pilgrim' with a couple of dates at Spring Harvest over the post Easter period and then will go straight off to Stockholm to perform the Rossini version of Cinderella. He said, "I play the wicked stepfather - a great role. Then in June/July/August I'll come back to some more one man shows and then back to Sweden and then a spell at the English National opera for six months or so with two operas into next March. But hey, enough about me! You can catch up with me and my itinerary at www.jonathanveira.co.uk."

The opinions expressed in this article are not necessarily those held by Cross Rhythms. Any expressed views were accurate at the time of publishing but may or may not reflect the views of the individuals concerned at a later date.
About Tony Cummings

Tony Cummings
is the music editor for Cross Rhythms website and attends Grace Church in Stoke-on-Trent.
Reader Comments
We welcome your opinions but libellous and abusive comments are not allowed.