Mike Rimmer and Tony Cummings asked one-time ZOEgirl KRISTIN SCHWEAIN some questions
Kristin Schweain
The release earlier this year of the independent album 'Days Of Eden' by Kristin Schweain brought a talented singer/songwriter back into the spotlight. As a member of the remarkably successful CCM group ZOEgirl, Kristin enjoyed the support of tens of thousands of young girls. But anyone expecting a similar teen pop sound on Kristin's debut solo release will be surprised. Piano-driven understatement is the order of the day and with a hint of jazz and a touch of Americana, Kristin shows that she's grown up musically. During a recent Rimmerama programme, Mike Rimmer and I asked Kristin a batch of questions.
Mike: You were best known as a member of ZOEgirl. Your bandmate Alisa left, and that was how it finished, wasn't it?
Kristin: We had all said, years back, that if one of us ever felt like we just needed to move on, we would just kind of lay it down. We all felt that God had done such a special thing bringing us together; we had worked so hard on developing what ZOEgirl was and what it stood for. She felt really called into solo ministry, so it semed like it was time, and to let her go and do the next phase of what she felt called into. I was itching to do a solo project myself, and was getting ready to have my first daughter. So it seemed like something we needed to lay down.
Mike: Is it the case with ministries like ZOEgirl that they inevitably only last a few years because they're target audience grows up?
Kristin: I do think there is truth in that, because when we first started we were all in our early 20s. It was so wonderful to have that audience - it was such a blessing to speak into young women's lives, and to offer whatever we could. That is something I'm so thankful for, having had the opportunity and the position to do that.
Mike: How have you refocused your ministry now as a solo artist?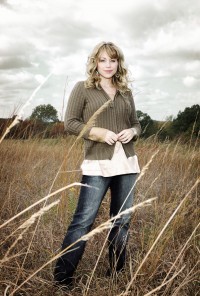 Kristin: Some of the songs on this CD I had written during the ZOEgirl days. My own personal style, which has always been very piano-driven - with maybe a bit of a jazz influence - just didn't quite fit our ZOEgirl sound. And that was okay because I knew there would be a time and a place for those songs. I feel like some of these songs might be able to relate more to my peers. One wonderful thing about ZOEgirl is we did really try to focus on those things we felt young girls were facing; now maybe there's not quite as much pressure on that. However, being a female myself, and having been through so many of those things, it did come pretty naturally. But it's a nice new area to be able to do something that is me through and through: as far as the music style and the sound of it, it's a little more mellow, kind of laid back compared to ZOEgirl. It's a really good thing to be able to explore that side of me and get to share that. I feel like this album is such a true reflection of me.
Mike: Tell me about what inspired a couple of the songs.
Kristin: The first song on the album, called "This Is Life", came at a point where I was expecting my daughter, Stella. I was having that reality set in that, 'Wow, my life is about to change'; realising that this is life, and life is full of ups and downs, and sometimes it feels like you're on a rollercoaster, because you go through those mountains and valleys. Sometimes you feel a little bit like there's not enough time: 'How can I fit everything in? I never have enough time for this or that.' But realising that it's a journey and it's a learning process; I really feel like if I'm learning from the mistakes I've made, and ultimately knowing I'm not in control, God's in control, then I can kind of look at it, say 'This is life, and I should enjoy it as I go'.
Mike: You had these songs that you'd written while you were in ZOEgirl, but you couldn't get a label interested in you. What was going on there?
Kristin: I don't know. The Christian industry here in the United States has changed so much. I kind of had hoped it would spark a little interest. It's a little different, and there are other singer/songwriter type piano players - Nichole Nordeman, for example - so maybe they weren't just sure if it would go over very well. But it's been a great learning experience for me all on my own: it's hard to do that because I'm not the most organised person, which is why I'm not good with lists. Obviously God had a plan. I met Kevin Wilson, from Media Ministries, who I'm working with now. I had done an interview with him quite a while ago about the album, and he really believed in it and has been helping me to put it out there. I'm so grateful for that.
Mike: Have you done a tour in the States since the album has been out?
Kristin: I have not done a tour. I've done some smaller things, at churches and a couple women's conferences. Right now my husband and I live in Jackson, Missouri, where we're both from - close to our family. I lived for years in Nashville during the whole ZOEgirl time, about eight years there, and then we decided to move closer to our families, settle down.
Tony: Do you find that you're getting itchy feet now? Are you longing to be singing these songs in big theatres?
Kristin: Oh, sure. Absolutely, that's part of what I love about this. I love the writing phase and the recording phase: we get to be so creative. But that moment you're actually sharing your heart with people - and that's kind of what I do, I'm the type of person who likes to sit at the piano and tell the story behind the song and then sing it. I really enjoy that, seeing those connections made. So sure - any opportunity to do that.
Tony: One of the best tracks on your album is "Days Of Eden". Tell me a bit about that one.
Kristin: You know, since we're talking about the history of making this album, the title track is one of my favourites. I wrote that song probably back in 2001, and I had on my heart so deeply this message that's in the song: just thinking about life and the Garden of Eden, and how that's shaped and changed life as we know it. I have been waiting years to be able to do that song, and so when I was putting this together I knew that had to be the theme of it. I feel like so much stems from that song, and life experience, and just knowing the impact of what happened in the Garden of Eden. There's a nice turn around at the end of this song, where it goes from being a little bit dark to talking about our way home through Christ at the very end. For me it's everything encapsulated into what my life is about.
Mike: I've noticed that you've kept it all in the ZOEgirl family, because the album was produced by Mike Childers (producer husband of ex-ZOEgirl Alisa Childers).
Kristin: Yes, I have. Mike did Alisa's solo project, and they're now working on number two. He travelled with us for years with our drummer and bandleader - they were married. I just had a really great connection with him and was looking for somebody to help me get these songs out and bring this vision to fruition. I feel like he did such an incredible job of making these songs so wonderful and exactly how I'd heard them. One thing we did is I would record my piano parts into GarageBand, and I would email them to him. Then I would make trips down to Nashville and we would work on everything. He just did a great job; I knew that he would be able to do that, I knew that he could to hear the songs and really help me shape them in a wonderful way. I'm so happy with how he did that.

The opinions expressed in this article are not necessarily those held by Cross Rhythms. Any expressed views were accurate at the time of publishing but may or may not reflect the views of the individuals concerned at a later date.
About Tony Cummings

Tony Cummings
is the music editor for Cross Rhythms website and attends Grace Church in Stoke-on-Trent.
Reader Comments
We welcome your opinions but libellous and abusive comments are not allowed.