How a student interview with Larry Norman led LISA WEYERHAEUSER into music ministry. Tony Cummings reports.
Lisa Weyerhaeuser
Lisa Weyerhaeuser (pronounced Warehouser) isn't the kind of artist you can neatly pigeonhole. In 2009 she recorded a children's album under her "summer camp name" La-La-Lisa but she is a Professor of Adolescent Psychology with Masters Degrees in both Religion and Counselling Psychology. She is a pastor's wife and mother of three boys, but also something of a rock 'n' roll chick who wears a leather jacket given to her by the late Christian rock legend Larry Norman. In fact, it was a tribute concert tour to icon Larry which brought Lisa to Britain last October. She spoke about the singer/songwriter prior to her tour.
"Larry Norman is one of the greatest influences in my musical life," said Lisa. "When he went home to be with Jesus in February 2008, it affected me deeply. Because of the musical journey we had been on together over the years and because of our friendship, friends and fans reached out to me after his passing as a way I think of trying to connect with someone who made such an impact in their lives. People kept asking me about the record that he produced of mine back in the '80s. I only had copies on cassette, so after some prompting, I decided to rerelease the project that he and I had worked on so many years ago. In my concerts, I am singing some songs from this project as well as many favourites written by Larry. Larry's music is as influential today as it was when he wrote it, and if I can even in a small way extend the ministry of his music, I would want to honour him by doing just that."
Lisa spoke about why she considered Larry is today held by Christian music fans in such high regard. "I think he had an amazing ability to express the truth: we connect when we're wanting to know the truth. A lot of times it does begin with that connection to his music and to the way he expresses things - sometimes a little more bluntly than we might be used to. Then when you meet him there's an honesty there that's unique to who he is. He either draws people or sometimes might cause people to be kind of taken aback. I remember that first concert when I was in college, 18 years old, and seeing this person be used by the Spirit. I was taken aback by one person, one guitar, yet such a power through the things he spoke about - my wanting to know the Lord more deeply because of the things he talked about, and wanting to make a difference in my world with any music that God would give me to share."
Larry's spiritual influence on Lisa was also profound. She recounted, "We had moments in time along the way over the years, and the conversation would always come up about our walks with the Lord. He tended to have a unique perspective about the questions he asked, the way that he would interact with other people. There was a real, genuine kindness and love that he expressed to the people that I would see him interacting with. The last time we were together we were sharing Jesus with a friend he had met in a record shop near where he lived. It was important for him to continue in all places to be that light, sharing who Jesus is through what he said and what he did - not perfectly, as I certainly don't do it perfectly. We all are broken people, but God was using him even in the midst of being a vessel. It really caused me, when I'd leave spending time with him, to want to continue walking in that presence of the Spirit, being a light in the world, to shine that light to the people around me through actions but also through words."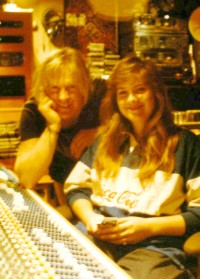 Lisa with Larry Norman
Larry's reputation has received something of a battering via the controversial documentary Fallen Angel: The Outlaw Larry Norman directed by David Di Sabatino. Lisa spoke about the DVD. "I think even before the documentary came out I was aware - people having a variety of opinions. He would sing about it - the 'Shot Down' song. I think he had a personality that did that. I was asked to be part of that documentary, and I wrote back and said, 'I need to take the log out of my own eye before I could take the speck of dust out of his'. Just thinking about the life of Jesus, he was interacting with the woman at the well, trying to be the Gospel to her. About the woman who was caught in adultery he said, 'Let he who has no sin cast the first stone'. I think we all are broken people - Larry was a broken person, I'm a broken person. I don't know the specifics, if those things were accurate - I didn't see the documentary - but I do know that God uses even the broken people. I was just reading a passage in Psalm 103 this morning; he says, 'As high as the heavens are above the Earth, so great is his love for those who fear him. As far as the east is from the west, so far has he removed our transgressions from us'. Right before that he says, 'He does not treat us as our sins deserve or repay us according to our iniquities'. I think God is a God of compassion and forgiveness, and I'm certain that Larry was aware that he was a broken person - he talked about that too. Some of his most powerful songs - 'I am a Servant', he talks about being unfaithful and yet wanting to be used by God. I think we all go through that struggle like Paul talked about: the very things we hate we end up doing sometimes - coming back to the Lord and saying, 'Make me pure, Lord; sanctify my life; make me usable'. Larry didn't always get it right - he struggled with things. I am too, and that gives me an example of someone who battled with things and continued till the very end to speak about Jesus and talk about his love and share that love with other people. That's what I hope people remember of him, and that's an encouragement to all of us because we all have brokenness in ourselves, we all have unhealthy things that rise to the surface under stressful conditions, when we're going through difficulty. God can even use those things to be stepping stones to help not only ourselves move to a greater place with the Lord, but to help other people as well who are also broken."
Lisa said that "music is a language I learned to speak while I was growing up." She was born and raised in Rockford, Illinois. "My dad played accordion, my mom sang and tinkled around on the piano. I remember watching my three older brothers play their instruments in the school band and perform in the musicals at school. It was all magical to me and I naturally followed along. In fourth grade my choir teacher offered to teach guitar to anyone willing to bring in an instrument once a week. I faithfully trotted into school with my brother's 10 dollar guitar over my shoulder and started to learn a few chords. Around that same time, I began a journey with God. Jesus became my best friend and my Saviour. I began to write songs about my new faith and sing them. I sang about God, love, family and relationships - all of the things that were important to me."
By the time Lisa attended Trinity International University in Deerfield, Illinois she was wondering if music would be just a hobby for her or if it would be something more. It was in her freshman year when Larry Norman came to perform at her school. It was her job to interview any of the artists that came to the school. She said, "I interviewed him in November of 1982, and we developed a friendship through that."
In the month following Lisa wrote almost 50 songs and the music kept coming. She admitted, "Larry came alongside me and pushed my creative edges and suggested working together on a record. I had the honour of opening for him and singing backup in many of his concerts. About five years after first hearing him in concert at my college, we recorded eight songs together with Larry producing, completely acoustic - just guitar and vocals. I never officially released that project, 'Caught In Time', but I would occasionally sell them at the concerts I did."
The eight original tracks plus another four "we've done over the years - some in the '90s and the first part of 2000" with mixing and additional recording by Randy Adams and Chris Freels -were finally released on Blue Myrtle Records on the 'Caught In Time & Space' album. As well as Lisa singing duets with Larry on his classic songs "Sweet Sweet Song Of Salvation" and "Great American Novel", one of the most intriguing tracks on the album is "Politically Correct". Explained Lisa, "I wrote that after watching a movie called Wag The Dog. I think we're all trying to get it right when it comes to political things - 'We are politically correct but we've got it all wrong'. It's a reminder that in the end of the day what we want to promote is Jesus, and the politics go by the wayside when it comes to him. We all have the one purpose if we're lovers of Jesus; we all come together under that one banner. It was fun because Larry was in town when I was recording this project with a friend of mine, Max Hsu, who's the person who put the band Superchick together. Larry was in town, he came in, and in his impromptu way he came in and sang the bridge. That was a really fun collaboration."
Over the next couple of decades Lisa juggled her various activities and functions. In the world of academia, as a licensed counsellor, a worship leader, wife and mother and singer/songwriter. She occasionally got to perform and, more rarely, record some of her songs - 2002's 'Faith Journey'; 2006's 'Life On Earth'; 2009's 'Big Green Alligator'; and the revised and expanded Larry Norman-produced album now called 'Caught In Time And Space'. Lisa is currently teaching at Trinity International University in Deerfield, Illinois as an adjunct professor in the Psychology Department. She said, "I am also part of a community dedicated to help other artists on their own musical pilgrimage, through an organization called StrongTree Productions. Over the years, I have enjoyed playing music alongside some amazing artists and musicians. It has been quite a ride, with ups and downs and everything in between. I have been blessed with a good man and three boys who keep me on my toes and who I love with all my heart."
When 'Life On Earth' was released, Larry Norman wrote in CCM Magazine that "Lisa's music simply declares the things that are good and pure and true. . . a place where I wish all contemporary music would reside."

The opinions expressed in this article are not necessarily those held by Cross Rhythms. Any expressed views were accurate at the time of publishing but may or may not reflect the views of the individuals concerned at a later date.
About Tony Cummings

Tony Cummings
is the music editor for Cross Rhythms website and attends Grace Church in Stoke-on-Trent.
Reader Comments
We welcome your opinions but libellous and abusive comments are not allowed.