Wednesday 4th September 2019
Tony Cummings spoke to veteran guitarist, singer, songwriter and now solo artist MARK LEE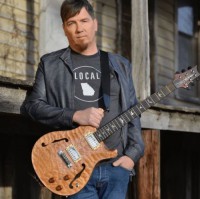 Mark Lee
One of the best pop rock records on the Cross Rhythms playlist is "Your Love Will Find Me" by Mark Lee. The last time Cross Rhythms talked to singer/songwriter Mark, he was in the middle of the final tour of the Platinum-selling southern rock band Third Day. At the time, there'd been no announcement about Mark's future musical plans once Third Day played their last ever concert together in Denver, Colorado, on 27th June 2018. Cross Rhythms' last interview with Mark focussed on his book, Hurt Road: The Music, The Memories And The Miles Between, which was a colourful reminiscence of the veteran muso's years with Third Day.
Considering the vast number of interviews Mark did at the time of his book's publication, I was surprised that he remembered talking to me. I began by asking him whether he enjoyed being interviewed.
Mark: You know, the process of writing songs, recording songs, and a lot of those things, when you're doing it you're not really thinking about it that much. It's kind of second nature. But then when you do an interview, you go and unpack it. I haven't been to a psychiatrist, but sharing your feelings about stuff, it's interesting.
Tony: Did you have any inkling that, once this book is finished, you were going to go after a solo career?
Mark: No, not at all. The publishing world is so slow to happen. I wrote the book back in 2014 and we were still going strong with Third Day at that point. I wrote the book envisaging it as a side-project, which I'd always wanted to do and always had in my heart that I wanted to share. So, I had a picture I'd put it out, and I'd have it for sale at Third Day shows or something. It was really like after I wrote the book, even when you and I last spoke we were really on a hiatus with Third Day, there were general plans we were going to get back together and do some things. If I'm getting the timeline right, I think I had recorded 'Revival', the last Third Day album, and it had either just come out or was about to come out, and we were trying to figure out are we going to tour the album? We kinda had a sense at that point that we may not be touring. We didn't know if we were going to be done at that point in time, but the big deciding factor in all that was when Dave, our drummer, decided that he wanted to get off the road. We were like, 'you know what, it's just Mac [Powell] and myself,' we were looking at each other like 'who wants to be Hall and who wants to be Oates?'. When you go from the full band down to just two guys, you know this really isn't even a band anymore. So this was honestly not long after you and I last spoke when we decided we were going to do the Farewell Tour and put the band down for a little while. You know, not saying we're done forever, but definitely saying that we're done for now, pursuing different projects. And so not long after that was when I decided to really start doing the solo music. As I said, I never really intended the book thing to be a career move, it was really supposed to be a side-project. I'll continue to write books but not as the main thing.
Tony: When you started songwriting for yourself, was the approach very different to writing songs that could have possibly been recorded by Third Day?
Mark: It was definitely different. Any time before maybe a year ago, if I was working on a song I was always thinking about someone else was going to be singing it, whether that was a Third Day song Mac would be singing it or if I was trying to write for a different artist. So it was almost like I was going into character as I was writing because I was trying to think of, 'okay, what's something that Mac's going to be comfortable singing.' Actually his range and mine are pretty similar, but then also I just wanted to write songs that would sound authentic him singing those lyrics. To go from that to me writing songs for myself, I would just write things that I liked, and when I was done writing a song, if I liked it, I would record it. So I did an EP ['Unshakable Heart'] that came out last year, went in the studio this year with Ian Eskelin, he's been doing really well with the producing the last several years. He and I reconnected a few months back, and we went into the studio and recorded a couple of songs. We put a single out about a month ago, and then I've got another one that's going to be coming out in a few weeks. That's really exciting, to work with him also. Yeah, it's been a really great transition. I've really enjoyed just writing songs and doing more of the singer/songwriter thing, where instead of me trying to write for someone else, I'm just writing, kinda sharing from my heart and letting that lead things.
Tony: Now, a bit of a surprise that you chose Ian Eskelin as your producer. His reputation is very much as a pop producer rather than a rock man. I know those are stereotypes in themselves, but his music in recent years has been more keyboard-driven than guitar-driven.
Mark: I totally agree with that. Honestly, he and I toured together when he was just starting out, 20 years ago. We'd spent a lot of time together back then, and I know that he and I have a lot of similar tastes, whether it be the '90s hip-hop kinda stuff, Oasis, Blur and all that kind of fun stuff. Even going back more to the '80s, synth-driven, pop stuff, and I feel like with Third Day that was not necessarily the synth stuff but I feel like there's a side of what Third Day did that we never explored too much. Obviously we're from the South, so the southern rock thing is kinda in the water. You think about southern rock, you think about Lynyrd Skynyrd and Allman Brothers, all that kind of thing, but I feel like there's this whole other side of it, you know, alternative college rock, whether it be REM, or Drive By Truckers, or different bands that had an alternative aesthetic. That's the thing that I love and really want to tap into a little more. Ian is definitely into a lot of that kinda stuff too, so I felt like he'd be a good match for producing. Plus, he's a great guy, he's hilarious, he's a lot of fun to hang out with. I was with a friend of mine in Nashville, and we were just catching up and asking about different people that we knew, what they were doing, and Ian came up and my friend was like 'you know, I don't really know what he's up to these days'. Maybe about two weeks later, I was with another friend in Atlanta, we were having lunch and the phone suddenly goes. He said, 'Oh, I've gotta take this, it's Ian', and I go, 'You're kidding, I've been trying to get a hold of him'. So he swapped contact info, and Ian called me, maybe the next day, and that was what got the ball rolling with us working together.
Tony: The whole music scene has changed. These days, you can be releasing singles, or even EPs, for a long time before an album is thought about. It's possible you could be releasing six or seven more singles, isn't it?
Mark: That's right. I've been making up the plan as I go along, this grand sweeping plan for what I'm doing, but I went in and recorded the songs with Ian. Due to our schedules we did two songs to start off with, thinking I'll go back in to finish off the rest of the record at some point. I've really enjoyed this process, and it's very different from what I'm used to doing, where you go in and record a bunch of songs in one time and then you figure out here's one or two songs that'll do for radio, will we put it on the record or do it live? Now it's just a thing where you can put out a song every couple of months. I've got one song out, got another one coming out, and now I'm in the process of figuring out what's the next thing. But I had enjoyed this, and will probably just do that, just do what you're saying, I'll put a few singles out and then probably early next year I'll figure out what I have and put all that out as a full-length project. But there's something I miss about having that concentrated block of time, where you go in and record a record. There's something about that I'm kinda used to doing and enjoy doing, but I also like the ability to just go and record a song, live with that and see what the response to it is, and then decide what else to do. It's different but I've enjoyed doing that.
Tony: Of the songs you've released so far, tell me about a few which have stood out for you.
Mark: There's a couple of songs that I put on my EP last year, one of them is called "Glorious One". I recorded that with Scotty Wilbanks, who played keys in Third Day; he produced a few songs for me last year. I actually wrote the song with the guys from The Choir. I'm a huge fan of those guys and just their whole approach to music, their melodic sensibilities, so I just love that song. Actually, we wrote that song many years ago and as I was pulling songs together for that project, I went back and listened to a few things, and that song in particular I was like, 'What? Why has nothing happened with this song?' It's really great, it's a worship lyric but the music to it is, for lack of a better word, a little darker sounding. It has a really interesting sound to it that's different, and it works great in a live setting, so I can definitely picture myself playing that song for a long time. The first single that I put out a few weeks ago, called "Your Love Will Find Me", I was really pleasantly surprised with how that one turned out. I was going to record with Ian, and because he'd done All Star United, he and I are both big fans of power pop music, so I had envisaged that we'd do a little bit more of that, kind of more guitar-driven. But this was a song that Axl Rose started with another guy in Atlanta named Bailey Waller, the son of John Waller who does Christian music, and he's in an alternative pop band called All The Rest, based in Atlanta, and they're actually really great. I've been collaborating with a couple of other guys in the band, who've been my backing band as I've gone out and done shows. And they kept saying 'Oh, man, you've got to write with Bailey who's really great.' And I was like 'okay'. So we did, and I just really love how that song came out. It definitely is a little bit more of a pop thing than I usually do, it's stepping a little bit out of my comfort zone, but I love the melody of it, I love the energy of that song. That's probably as far into that pop realm as I would go, but I can definitely see me wanting to explore that thing a little bit more. As I said, it was really a surprise, in a good way, how that turned out.
Tony: You've got a long history, now you've got all this exciting current stuff happening, so it doesn't sound like you've got retirement in your plans any time soon?
Mark: No, not at all. It's been so exciting for me, the last probably year and a half. I put the book out, and for a little while there my management and booking people, they all said, 'You've got a book out so you should go be a speaker'. So for a little while I was like 'Okay, let's do that' but it just never really felt right. I enjoyed doing it, but music has always been such a big part of what I do that it just felt like a natural thing for me to do, as I move into this new season. And I can always talk about my book on stage - I tell the story of the book in between songs. It's been an exciting time as I transition into this singer/songwriter mode, and I've gone out and done live shows whether it be me solo or taking the band out with me. I've really been enjoying it, I've been having fun on stage, more than I have in many years, so I can't see myself stopping any time soon. I'm just finally figuring out what I'm doing in this new season, so I'm excited about what the future holds.
Tony: Now that Third Day have said goodbye, how are you finding it performing to much smaller crowds?
Mark: Third Day played Houston, Texas and there were close to 10,000 people at the show. And to go from that and then play at a church with maybe a couple of hundred people there, I actually really enjoy that. It's a great setting. I love the intimate nature of those kind of shows, and not just the show but how the whole day can unfold. With Third Day, our touring schedule got, especially on that last tour, from maybe the sound check time to after the show, our schedule got almost down to the minute. To go from that to where I do a sound check at a church, and the sound guy or the pastor go 'hey, do you wanna go grab some lunch?', I'm like 'well sure, let's do that'. Just to have that flexibility is really refreshing.

The opinions expressed in this article are not necessarily those held by Cross Rhythms. Any expressed views were accurate at the time of publishing but may or may not reflect the views of the individuals concerned at a later date.
About Tony Cummings

Tony Cummings
is the music editor for Cross Rhythms website and attends Grace Church in Stoke-on-Trent.
We welcome your opinions but libellous and abusive comments are not allowed.