Tony Cummings brings us up to date on the mainstream hitmaking songsmith MAT KEARNEY
Mat Kearney
The last time Cross Rhythms reported on the singer/songwriter from Eugene, Oregon, Mat Kearney, his fine album for Columbia Records 'Nothing Left To Lose' was well on its way to selling an amazing 450,000 copies with the haunting melancholic title track becoming a major hit single in its own right. Since then the songsmith has enjoyed more hit albums with 'City Of Black And White' (2009) and 'Young Love' (2011). Now with his 'Just Kids' album Mat has released what many are suggesting is his best ever set. Absolute Punk website declared, "If 'Just Kids' proves anything, it is that Kearney is still crafting albums that are unrelenting in their charisma," while CCM magazine suggested "Kearney's new album is just as irresistibly hypnotic as previous releases... But Kearney's seasoned status gives 'Just Kids' a more substantive feel."
Kearney's wiley fusion of wistful acoustic folk pop with ricocheting urban beats has now reached a new level on 'Just Kids'. The project was recorded while Mat toured the world when he built a portable studio on his bus and cut songs all over the globe from Los Angeles and Sweden to his home studio in Nashville. Most of the album is self-produced though with some help from MDL (Maroon 5, Justin Bieber) as well as frequent collaborator Josh Crosby.
In an interview Kearney gave to Dominique Cruz in 2011 he explained how the seemingly disparate worlds of hip-hop and acoustic balladry seemed to converge for him. "Some days I love making you bob your head to beats in a car. Others I sit down in my living room with a guitar and try to rip your heart out while healing myself. The ballads are a special part of my identity as a writer. They come when they want. I have no control over them."
The first single from 'Just Kids' is "Heartbeat". The songsmith told James Wood, "My writing process varies a lot. There's a lot of depth and a lot of emotional songs on this record. 'Heartbeat' was one of those songs that I wrote in one sitting. I remember I was sitting and was tired when I picked up the guitar and started hearing that melody. It's basically about two people being close and the guy making a commitment to his love and saying, 'I'm not going anywhere. We're in this together.' It's a simple love song."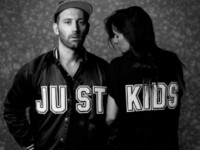 The opening track "Heartbreak Dreamer" is an autobiographical tale that is by turns poignant and uplifting. With its telling chorus of "For all the heartbreak dreamers waiting for the light/Looking for just one reason to get through the night/Every long lost believer caught in the fight/All the heartbreak dreamers gonna be alright" the song reaches its climax with the inclusion of a spoken word poem Shake The Dust by Anis Mojgani on which he dedicates his exhortation to "shake the dust" to "the fat girls. the schoolyard wimps. the childhood bullies. the night time cereal eaters. the 12 year olds afraid of taking public showers." and many more parts of our neglected, dislocated world of ours.
Mat met Anis Mojgani at a To Write Love On Her Arms event. Kearney explained, "My friend Jamie runs the organisation for suicide and self-injury prevention. Anis performed that poem and all I remember was trying to hold back tears. We all can relate to the truth that we aren't defined by our circumstances."
Another gem on the album is the title track. Explained Mat, "'Just Kids' is almost like a hip-hop track - where you come up with this beat first and then write lyrics to it. I love experimenting with visceral beats and then writing to them. I find it to be an interesting journey and not the normal singer/songwriter one. The concept is about where I come from. I thought about what it was like being in middle school. Back when the cement in your soul is still wet and you're being formed for later in life. And how things that are happening to you now are a product of what was going on earlier in your life. I was thinking about that and the idea of two people being in love and wishing that they could go back to that time. Before learning about all of the negative aspects of how to deal with each other. Back to when love was innocent and pure."
One surprise track is "The Conversation" co-written with his wife Annie. Said Mat, "She is always the first person that I share my songs with. I was starting a new song about a fight we had had the night before and she said, 'I wouldn't say that, I would say this' and it was way better than what I had wrote. She kept saying lines that were amazing and pretty soon we had written the song together."

The opinions expressed in this article are not necessarily those held by Cross Rhythms. Any expressed views were accurate at the time of publishing but may or may not reflect the views of the individuals concerned at a later date.
About Tony Cummings

Tony Cummings
is the music editor for Cross Rhythms website and attends Grace Church in Stoke-on-Trent.
We welcome your opinions but libellous and abusive comments are not allowed.