Tony Cummings looks at the career and ministry of four times Dove Award winner NATALIE GRANT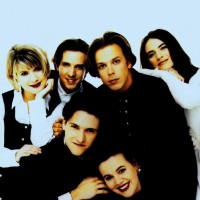 Truth, 1995
In America thousands of Christian music followers have ringed their calendars for 24th August 2010. For on that day Curb Records will be releasing 'Love Revolution', the eighth album from a singer who has taken over from Amy Grant as CCM's most popular female vocalist. By a strange coincidence she's called Grant too. Natalie Grant's rise to Christian music stardom has been dramatic and in some ways surprising as it was only with her fifth album that Natalie established herself as one of THE voices of US Christian radio. But with the Gospel Music Association's Female Vocalist Of The Year awards for 2006, 2007, 2008 and 2009 the blonde-haired beauty with the surprisingly soulful vocal technique is now unquestionably one of the Christian music stars of the era.
Natalie was born in Seattle, Washington on 21st December 1971. She grew up singing in church and by the age of 17 had started to arrange music for the youth choir. After attending the Northwest Bible College in Kirkland, Washington in 1993 she saw the group Truth in concert. Truth were something of an institution in US Christian music. They were founded in 1971 by Roger Breland in Mobile, Alabama as a youth choir but in the next couple of decades gradually reduced their numbers to become a pop vocal group. Truth's constant touring and recording made them a kind of training academy for would be Christian music artists and down the years Steve Green (1976-1978), Dick and Melodie Tunney (1978-1980), all four members of 4Him (1990-1993), Russ Lee of NewSong (1990-1993) plus many others were members of the group. Natalie auditioned for Truth and was offered a chance to join. From 1994 to 1996 Natalie toured with Truth and in 1995 recorded the album 'One', produced by Paul Mills and released on Integrity Music. As well as Natalie, other vocalists in 'One' included Jody McBrayer and Janna Potter (later Long) who were later to find CCM fame as founder members of Avalon.
After leaving Truth Natalie moved to Nashville in the hope of establishing herself as a solo artist. In Nashville she landed a deal with Benson Records who placed the singer with two wise studio heads, producers Brown Bannister and Brian Tankersley. The album 'Natalie Grant' featured songs penned by well known Christian music songsmiths like Regie Hamm and David Mullen, some co-written by Natalie with composers like Mark Hammond and Bernie Herms and even a song co-written by Utah State senator Orrin Hatch and Madeline Stowe. But the album didn't sell. Today, Natalie speaks ruefully about her recording debut. She told Christianity Today, "I wish I could make my first record go away, but at the same time, without that experience I would've never developed into a writer. So whether good or bad, it's here to stay. At first, I just wanted to make a record, because I couldn't believe I got a record deal. But I wasn't driving the ship and the people working with me wanted me to be a [Christian] version of Celine Dion - I've always loved Whitney Houston and Mariah Carey, but I never even listened to Celine! I think I was just so grateful to have that opportunity that I'd do whatever anyone would say in the studio and just show up and sing. I don't mean to blame anybody else for me being so dumb with my creative power, but when a young artist gives an inch to a record label, they'll go a mile. The reality is you're the artist and at the end of the day, you have to talk about what you want to be."
With the long-established Benson Records ceasing to be, by 2000 Natalie was looking for a new record label. But also on her mind was romance. She was dating composer and producer Bernie Herms. The songsmith's proposal was the kind of event only a true romantic could have orchestrated. Natalie told CCM magazine, "I was in Toronto for the international CBA [Christian Booksellers Association] convention. My boyfriend of six months, Bernie Herms, asked me out to dinner. We pulled up to this beautiful, old castle that had a restaurant on the bottom floor. Bernie had brought me a gift, and, after dinner, he wanted to find a place to open it. We stumbled upon this beautiful prayer chapel. Bernie knew of my love for old books, and I opened the gift to find this incredible, old-world Bible from the 18th century. He asked me to open it to where he had marked it, and I read, 'As for me and my house, we will serve the Lord.' Then he said, 'Turn the page.' I did, and there I found the most beautiful diamond ring I had ever seen. I turn to face him and found him on his knee, asking me to marry him."
Natalie Grant, 1999
Natalie signed with Pamplin Records who in 2001 released her album 'Stronger'. And indeed it was stronger than its predecessor with a bevy of producers - Reed Vertelney, Tedd T, Phil Silas, Dino Elefante and new husband Bernie - working on the album. But it also touched on a very wide range of musical bases ranging from Latin to soft pop and on "Whenever You Need Somebody" a soulful ballad with Natalie helped out by the boy band Plus One. In less than a year of the release of 'Stronger' Pamplin Records had gone bust and once again Natalie was left searching for a record deal. In 2003 she signed with Curb Records. The resulting album, 'Deeper Life', featured some fine songs like the title track co-composed by Christine Dente of Out Of The Grey; the Cross Rhythms turntable hit "Days Like These", and "No Sign Of It" featured in the Gwyneth Paltrow film A View From The Top. Natalie continues to be enthusiastic about Curb Records. She said, "Curb is one of the few labels left that actually believes in artists. If you don't sell a ton of records, they believe in you anyway and let you try again when every other label would likely drop you. When you sign to Curb, you're there for the rest of your life. They've been great since the beginning, starting with 'Deeper Life' in 2003. That album was actually the first time I was starting to write, and although it wasn't my favourite record, it was the first step in the right direction where they let me have a lot of say. Now every record we go in and they help accomplish the vision. So I can't say that the clout of the Doves had anything to do with it, but simply God blessing me with a great company!"
Taking a brief break from Curb, in 2004 Integrity Music released the album 'Worship With Natalie Grant And Friends'. The album had a distinctly black gospel sound and aided by such "friends" as Darwin Hobbs and Israel & New Breed was not dissimilar to the kind of album Martha Munizzi was to hit with a year or two later. She told Cross Rhythms' Mike Rimmer at the time of its release, "I actually recorded this record four years ago. It was made for a denomination that needed a tool, because they were really seeing a lot of integration in their churches. They needed a tool for the local church to integrate a more multicultural, interracial feel into their worship services. So my husband and I made this independent record to be a tool for the local church. Integrity heard it, fell in love with it and decided it was something they needed to get into the hands of more people. For me, I'd had no pressure making it, I didn't have to make it for a label, I didn't have any rules held over my head. So I was able to just go into the studio and do what comes naturally to me and what I love. Take some popular songs like 'Shout To The Lord' and 'Awesome In This Place' and give them gospel arrangements. It was pretty fun!"
Natalie was busy touring the US with the Women Of Faith circuit together with such acts as Point Of Grace, Nichole Nordeman and CeCe Winans. But Curb and Natalie recognised that she needed to deliver a breakthrough album. And that's exactly what she did with the release in 2005 of 'Awaken'. On its release she told Christian Retailing magazine, "For the first time in my career I feel like I have a collection of songs that represent who I am artistically and spiritually. So we decided to name the record 'Awaken' because the project is an awakening of sorts for me. Going into the project I just wanted to find songs that really described where I was at in my spiritual journey. Instead of putting such a focus on my voice, I wanted to focus on having the best songs - songs stand the test of time. The artists that stand the test of time aren't necessarily the best singers."
One of the album's many standouts was "Held" which deals honestly with the subject of doubts about God. She said, "Sometimes we're afraid to ask why. 'What are you doing up there, God? I don't feel you are in control.' I think the song is so honest and so incredible. God never promised us life would be easy; faith doesn't protect us from pain. He did promise that when we fell, we would be held." Another powerful song on what was to become a CCM smash was "The Real Me" which was also the title of a book Natalie wrote. She explained, "'The Real Me' is an inside look at things I faced with depression and insecurity in my life."
In 2004
'Awaken' also featured a duet with country music star Wynonna Judd. Considering their conflicting vocal styles "Bring It All Together" worked surprisingly well. From the off 'Awaken' became a US Christian radio favourite and was instrumental in winning her the Female Vocalist Of The Year Dove Award. Not that Natalie was obsessed with the Nashville scene's glittering prizes. In the preceding year Natalie spent a considerable time raising funds for a new humanitarian effort she'd become involved with. Haunted by the subject of human trafficking on an episode of the television show Law & Order, the singer took the initiative to become involved. She travelled to India, saw the problem firsthand and was then inspired to write the song "Home", which appeared on 'Awaken'.
Also in 2005 Curb released 'Believe', a Christmas album produced by husband Bernie Herms containing the usual Yuletide suspects like "O Come All Ye Faithful", "Santa Claus Is Coming To Town" and "Joy To The World". If 'Believe' was a bit of a stop gap release, her next album, released in the US in February 2008, was a Christian music classic. Described (a little unfairly considering the freshness of the production) by Christian Retailing as "a Kelly Clarkson-like collection of driving pop influenced by her growing up years in Seattle." 'Relentless' was, in anybody's book, a creative tour de force. On its release Natalie explained the title. "Relentless means ambitious to the point of doing anything to make [your goal] happen, which is sort of a negative connotation, but I want that to describe my spiritual life. The Lord has relentlessly pursued me, no matter what I've done."
A 2006 conference in England also influenced 'Relentless'. "Sometimes I feel like I was raised with this sense of having to be bold. In Seattle, you were either a Christian or you weren't. And then last year, I went to a conference in England. I'd never felt more alive. There was no cultural Christianity there; no 'I'm from the South so I'm Baptist'. [Christians there] were desperate for God."
Grant said a British pastor at the conference came up with the word "relentless" to describe how he wanted his congregation to pursue God. The word led Grant to make an album that sounds mainstream enough for Seattle, yet unapologetically Christian. "I wanted this record to sound like a mainstream record. Some Christian records just have a certain sound to them. I also wanted the songs to have a boldness to them. Sometimes we candy-coat the message and it sounds like psychobabble. I wanted to be very clear. What distinguishes Christian music from other music is the message. I prayed very hard that God would give me songs that would be anchors in people's lives."
In 2008
Recording 'Relentless' certainly had its challenges. She was pregnant with what were to be twin daughters, Grace Ana and Isabella Noelle. "Though I recorded a lot of this album while I was still pregnant, that actually motivated me to be more aggressive and make an 'anti-lullaby' record. When someone starts to have children, a lot of times people assume, 'Now they're going to sing about fluffiness and happiness and warm fuzzies and they'll probably slow down and stay home.' Motherhood has definitely changed me, but it's actually given me a greater passion to not slow down in any way. If anything, it's fuelled me to do the opposite. Now I have two precious little girls who will grow up in a crazy culture, and I have the opportunity to not only speak into that culture, but help steer a generation. The girls I speak to now at Revolve are going to be the role models for my daughters!"
As a strikingly beautiful young lady, Grant admits to having struggled long and hard about packaging of image which is all part of the CCM industry. She asserted, "I'm not the girl on those CD covers - I was actually pregnant on the cover for 'Relentless', but you can't even see my bump! I've struggled with outward appearance so much, and the additional pressure as 'the pretty voice with the pretty songs' who has to have all the right spiritual answers to all of life's problems. I feel like such a fraud so often because I'm still the doubter and the insecure one, but I think that's where I'm actually finding the greatest connection. I don't have to have all the answers anymore. I can be real, honest and transparent. Throughout those early years, I would always put on a plastic smile, but always felt some sort of disconnect. Now that I'm honest and transparent, I can talk about what I'm going through in life and there's a much closer connection point happening."

The opinions expressed in this article are not necessarily those held by Cross Rhythms. Any expressed views were accurate at the time of publishing but may or may not reflect the views of the individuals concerned at a later date.
About Tony Cummings

Tony Cummings
is the music editor for Cross Rhythms website and attends Grace Church in Stoke-on-Trent.
Reader Comments
We welcome your opinions but libellous and abusive comments are not allowed.