Tony Cummings talked to '90s CCM hitmakers OUT OF THE GREY about their decision to return to the scene
Out Of The Grey
For lovers of finely crafted, articulate pop music the news that Out Of The Grey are returning to the CD racks will no doubt be met with considerable joy. Since the husband-and-wife duo of Scott & Christine Dente went into semi-retirement in 2001 many fans have been pining for the group's particular brand of haunting art pop. Now the duo are back gigging again and have just cut an album that will be released independently. Scott Dente spoke on Mike Rimmer's Rimmerama programme about their first album for eight years. "It's something that Christine has been working on for the last four years. She wrote a collection of songs based on a collection of prayers called the Valley Of Vision prayers. So it is very different for us but at the same time even though it might sound a bit churchy, the music is very cool, there is actually some electronica and we are just throwing a whole lot of stuff at the canvas. It's turned out really well; I'm really excited about it."
The Valley Of Vision book is a spiritual classic, a timeless collection of Puritan prayers and devotions from the likes of giants of the faith like Bunyan, Watts and Spurgeon. It will be intriguing indeed to hear Christine's haunting, delicate voice applied to such powerful spiritual insights. Since Out Of The Grey stopped touring in 2001 Christine has released one solo album, the fine but sadly neglected 'Becoming' (2004) and, also in 2004, the 'Kisses From Heaven' project with Michelle Tumes and Susan Ashton, a follow up to the near-classic 'Along The Road' by Susan Ashton, Margaret Becker and Christine. Asked what she's been doing the last few years Christine replied, "As well as songwriting, I've spent a lot of time teaching my kids who are homeschooled. Our oldest is going to be a senior this year in High School so we will find out if we've ruined him or done great things. So that's exciting. But I see as our kids get older I will have more time and space for creativity and music."
Virtuoso guitarist Scott Dente has also been busy since Out Of The Grey went into a hiatus. He explained, "Doing sessions on guitar is something that I've done all along, ever since I got into the studio with Charlie Peacock for Out Of The Grey. He was always working on so many different kinds of projects and he was kind enough to throw me on so many projects including his own. Really if it wasn't for Charlie, I don't think I would know how to play in the studio as he was very patient with me early on, almost 20 years ago. I really love working on other people's projects, I get to feel like I'm on a team of specialists who go in for the day and operate on the patient and sometimes the patient lives and sometimes they die and then we move onto the next patient. So it's a lot of fun and it doesn't have all the pressures of being an artist. I get to work on a project and then those people have to go and do the interviews and all the touring with it. I've always enjoyed it and I still enjoy doing it a great deal but I'm also enjoying producing quite a bit as well."
Scott's deft guitar work on the recordings of acts like Sarah Groves has kept him in demand as a sessioner. Christine and Scott met at the Berklee School of Music in Boston where both were studying. They married in 1987 and moved to Nashville to pursue a career in Christian music. There they met Charlie Peacock and after signing with Sparrow Records they recorded their debut, self-titled album. Released in 1991 it produced a number one Christian radio hit with "Wishes" as well as several other success songs. In 2001 a poll of critics sponsored by CCM magazine put 'Out Of The Grey' at 47 on their list of the 100 Great Albums Of Christian Music. Such an accolade was rather ironic as their subsequent albums 'The Shape Of Grace' (1992) and 'Diamond Days' (1994) were even better than their debut, containing such CCM gems as "Nothing's Gonna Keep Me From You", "The Door Of Heaven", "Steady Me" and "Feels Like Real Life". 'Gravity' (1995) was another gem of poetically-tinged, thought provoking pop which the Encyclopedia Of Christian Music described as "a near perfect balance between earthy realism and spiritual rapture." By the time the 'See Inside' album was released in 1997, Brown Bannister had taken over production from Charlie Peacock. It moved the group away from the art pop sound of old to a more rock direction but again produced number one radio hits in "Disappear" and "Not A Chance". But then mystifyingly the duo were dropped by Sparrow Records. Out Of The Grey took a three year hiatus before returning in 2001 with the '6.1' album for Rocketown. But the duo's comeback album didn't click with US Christian radio and the duo slipped from view. . .until now.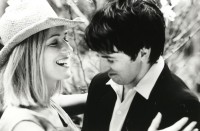 Earlier this year Christine and Scott began playing small gigs again. Scott has thoroughly enjoyed the experience. "We were out this past weekend and got to do a concert and I was really struck again by Christine's artistry and how beautiful some of the songs are and how much time she spends crafting lyrics. It was a lot of fun; it was just the two of us like it was back in the early days, just guitar and vocals which is quite terrifying by the way, trying to recreate those early songs just with the two of us. But also it was a great deal of fun and took a great deal out of me physically, strangely enough!"
So what have Out Of The Grey learnt over the last few years? Said Scott, "When we came off the road, it was both a combination of desire and lack of interest in the marketplace. In the last five or six years one of the things we have learnt is just how much we need to be part of community. We spent a lot of years on the road taking care of each other, in survival mode, raising small children and making records so we had to keep it pretty tight. Since we've come home we have really had a chance to dig into our church, into our community and have real friendships where people need us. If there is any message that sounds a little bit different coming from the stage when we get to speak it's telling people that they really need to dig in where they are and not have their eyes on a prize which is either 100 miles or a million miles away. The prize is all around them, being a blessing in their community."
After years of working with the CCM labels Out Of The Grey are happy to be "independent artists". Said Christine, "If people are interested to find us on Facebook we can let people know when 'Valley Of Vision' comes out and where to find it." Added Scott, "It's very grassroots at the moment, we don't have any 'people', no label and we don't have much of anything going on in that regards. But we are going to release the record and as soon as we have finished it I'm going to get on my horse and start to figure out how to pedal it as well. We will have some presence on the web and will try to figure out how to re-enter the arena. We are so used to being 'label-brats' that we don't know how to do much for ourselves!"
Such is the consummate singing and songwriting talent of this extraordinary musical marriage that even without Nashville CCM's marketing muscle I feel certain we'll be hearing a lot more from Out Of The Grey in the future.

The opinions expressed in this article are not necessarily those held by Cross Rhythms. Any expressed views were accurate at the time of publishing but may or may not reflect the views of the individuals concerned at a later date.
About Tony Cummings

Tony Cummings
is the music editor for Cross Rhythms website and attends Grace Church in Stoke-on-Trent.
Reader Comments
We welcome your opinions but libellous and abusive comments are not allowed.