In our ongoing series well known artists run through their recordings. This time, Phil Baggaley reminisces on his days as part of PHIL AND JOHN.
Phil And John, 1983
In the '80s and '90s one of the most popular acts on Britain's Christian music circuit were Phil And John. Phil Baggaley and John Hartley toured ceaselessly, recorded a stream of albums and even picked up a Gospel Music Association Dove Award as International Artist Of The Year. In 1995 the much loved act finally went their separate ways, Phil going on to establish Gold Records with a major hit album 'City Of Gold' and a subsequent stream of similar various artists concept projects featuring favourites like Mal Pope, Adrian Plass and Julie Costello while John relocated to Nashville, Tennessee where as a producer he has worked on a string of albums by such acts as Kelly Minter, Stuart Townend, Geraldine Latty and Andy Bromley. Phil Baggaley recently took the opportunity to run through the recorded output of Phil And John.
On The Line, Independent, cassette, 1976
John and I began working together when we were 13 or 14 years old, something like that. We used to play in two separate folk groups and then we did a joint concert. Neither band had enough songs to fill their set, so we said we'll learn a few songs. We learnt a couple of Simon & Garfunkel covers and a Malcolm & Alwyn song. That was the beginning of what we did really. We used to live in Mansfield in those days. 'On The Line' was recorded live on two-track reel-to-reel. We did a version of "Oh Happy Day" but with our own tune. We did "Teenage Millionaire", the song that was later to appear on our 'Count Me Out' album and as the b-side of a single we did - "You Wouldn't Let Me Go". The song "On The Line" starts off with a telephone conversation - the girl who did it is now my wife of 25 years. I designed the covers of the cassette which were absolutely awful.
You Wouldn't Let Me Go, Kingsway, 7" vinyl, 1982
We started to get more and more invitations to go and play at different churches after we did the first cassette. It might have been '77 or '78 that a guy called Dave Pope came to Mansfield to do a mission. Because we lived in Mansfield, we got asked if we could play anything. He invited us to play at Filey Bible Week. We went there, and people from Kingsway were there and liked what we did. Finally, in 1982 we turned professional. Basically, we'd been doing concerts round and about the place and we'd been invited to do a schools week for Derby Youth For Christ. This guy called Gary Gibbs really liked what we did. He recommended to their committee that they offer us employment as musicians. I was working as a draughtsman and John was a joiner. We both took about two thirds pay reduction to go and do it. We were both 19-20, so we thought it sounded like a lot of fun for a start. That was really good in a way, although we didn't get paid much money, it gave us a chance to establish what we did - not just to the Mansfield/Derby area but further afield as well. We recorded a single with Kingsway. We stayed with Dave Roberts (journalist and part time consultant for Kingsway) in his house while we were recording it. I say 'house', but I think he lived in a glorified caravan. Kingsway decided to do the single and see how it went. I think the thing is that we were really cheeky in them days and used to get everyone to buy it. I think we sold a couple of thousand copies in the end.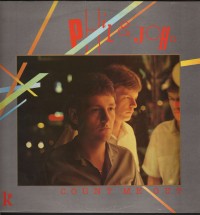 Count Me Out, Kingsway, 12" vinyl, 1983
Because a lot of what we did was comedy in between the songs, Kingsway thought it would be a good idea to record a live side and a studio side. I think they used two songs from the single that we'd done, and we did four more new tracks for the studio side. Then, we went to a place called Rugeley Priory, to an event called Solid Ground. Neil Costello and Les Moir came up and recorded us playing live. I don't think we ever took ourselves that seriously, as musicians, to be honest. I suppose 'entertainers' is quite a good word, with singing and quite a lot of talking. People seemed to like it. 'Count Me Out' was recorded in a few days because it was on a miniscule budget. The song on there which became a fixture of our live gigs was "The Gnome Song". My lad was at school the other day, just by his locker, when one of his school friends came up and said, "Is your dad called Phil?" and Will says, "Yeah." The friend said, "My mum's got all his records" and spoke about "The Gnome Song" and the other silly song we used to do called "Tommy The Tortoise" (released on their 'Live' album). They're the songs that people remember.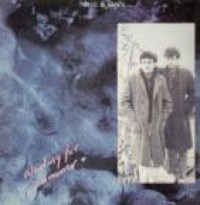 Waiting For Summer, Kingsway, 12" vinyl, 1985
Kingsway asked us to do another one, which was 'Waiting For Summer'. We spent a whole week at ICC Studios. I remember just working hard at the songwriting side of it, trying to develop things. There was a song called "Feels Like The Summer" which was always a favourite when we used to do gigs. Another song, called "Free", was on there, and when we started as a band that became a very popular song as well. Neil Costello engineered and Les Moir produced again.
Lonely Dancer, What?, 12" vinyl and cassette, 1987
There was definitely a step up again, in terms of the production values. After the 'Waiting For Summer' album, there was some interest from American record companies. At the time, there was a company called Starsong. Before we did 'Lonely Dancer', we were doing song demos with a guy called Chris Eaton. We basically had to present all the songs we were going to do to this label in America. Starsong sent us an eight-cassette box set on how to write a good song. I listened to all this stuff. It's funny how things stick. Basically, there's a certain formula for writing songs. One of the things was to always put the hook line - the strongest part of the melody - of your song at the beginning, or at the very last line of the song - how I did it, and I've continued to do that ever since. If you go back through the stuff, you will find 99% of the time, that will always happen. It's something that's become engrained in the way I think about music. Anyway, literally about 2 or 3 weeks before we were due to record 'Lonely Dancer', we had a phone call one night saying, 'I'm sorry, but the deal's off'. I'm not quite sure what had happened at Starsong, but something wasn't right. At that point, Word Records had heard about the project. They contacted us and said, 'Would you be interested in signing for us?' Then came a bit of a painful changeover from Kingsway. We eventually got in the studio. It was Chris Eaton and Les Moir who co-produced the album and it was recorded and mixed by Neil Costello at ICC. There was a lot of reverb on it, really '80s. Our musical identity was two lads who sang with two guitars, a bit like Simon & Garfunkel. The industry dictates that you go one way or the other. We ended up making every album really different. It wasn't until we did 'Carnival Of Clowns' that we'd actually made a record that sounded like us.
Don't Look Now...It's The Hallelujah Brothers, What?, 12" vinyl and cassette, 1989
When we did 'Lonely Dancer' we went to America to do some touring. A guy called Norman Miller started to manage us - he's also managed Phil Keaggy and Sheila Walsh. Steve Taylor was looking to produce. We were in Denver when we met him. Norman basically sorted it out with the record company back in England. Looking back, 'Don't Look Now.It's The Hallelujah Brothers' was a really interesting album though the ironic title kind of backfired. It was meant to be tongue-in-cheek. With Steve Taylor and Lynn Nicholls producing we did the first tracking sessions in some studio in the mountains of Los Angeles. It was fantastic. Mark Heard was playing rhythm guitar. Looking back now, it was quite an amazing experience. But it probably didn't recoup the money spent on it. The thing was, it was really pitched at the mainstream but it fell between two stools. The thing was, in our day-to-day or week-to-week gigging, we weren't playing in clubs, we were playing in church halls. It's very hard to make the crossover from that position.
Live, What?, 12" vinyl and cassette, 1990
We were on a really long tour. We'd never done anything like it before. We just decided to take some recording gear and record everything from the desk. We got to the end of the tour and had a listen back. In terms of recording quality it was absolutely awful. It was nowhere near the mark. So, I rang Neil Costello up in a real panic and said, "Look, we've got literally one more day next week in Leeds University. We've got one more stab at this. What can we do?" Neil got a mobile thing together and came up. The gig was part of a J John thing actually. We used to do a lot of stuff where we worked with preachers like J John and Eric Delve. Our purpose was to get people relaxed. I think people who haven't got anything to do with church, even still nowadays, come into Christian concerts or churches with preconceptions. We used to get booked a lot for that sort of thing, especially in universities, which was great. For the recording, we realised we would only be able to have one stab at it. There was no going back for a second go. That really was what it was, just recorded properly. It turned out to be quite a funny night. It went down well. The quips that we made started off spontaneously and got longer and longer. The spontaneous bit became part of the routine. I suppose it's the same for any comedian. Some nights we'd do something else funny and we'd think, Oh, we'll keep that in. Some nights we'd do it and people wouldn't think it was funny at all. That was something I used to pray about.
Shine Like America, What?, CD and 12" vinyl, 1991
Chris Eaton got involved to produce again. "Shine Like America" was just a song that was on the album. Also on there was "April Rain" which we did a lot in concerts. That used to go down very well. We also did a cover of a Mal Pope song, "Reunion Of The Heart" - a brilliant song, Cliff's done it, the Hollies have done it.
Carnival Of Clowns, R, CD and cassette, 1992
The record deal we had signed with Word was a three or four album deal. We got to the end of that and just decided to go on our own with the label R Records. We got a licensing deal with Kingsway, via John Pac. Out of all the albums we ever did, that was the one I liked the most. It was more our kind of sound. The songs were quite strong on there. "When Genevieve Calls" was a favourite. There was a song called "Heaven's Blue Smile", right near the end of the album, which was one of my favourite songs that we ever recorded. There were some great musicians on there - Terl Bryant on drums; Tim Harries, bass; Dave Clifton, guitars and mandolins; Neil Costello, guitars; Jeff Hammer, keyboards; Chris Haigh, violin, accordion; Carl McGregor, percussion; Dave Fitzgerald, sax.
Goodbye Yesterday: The Very Best Of Phil And John, What?, cassette, 1992
Word compiled some tracks from the albums we did for them.
As The Wood Thieves, The Day The North Left Town, Rumour, CD single, 1992
After the 'Carnival Of Clowns' album we had booked a stupidly long tour - 40 or 50 dates or something like that. So we got started on it. We were brought up in Mansfield where basically all the surrounding area were coal pits. Most of them were closing. Our song "The Day The North Left Town" was our attempt at saying something about that. We knew about the situation from people we knew, friends in Mansfield, who used to work down the pits. I saw a thing on the news about Grimethorpe, because that was one of the collieries that was closing down. They also have one of the best brass bands in the world. We decided to ask the Grimethorpe Colliery Band whether they would be interested in recording with us. We got in the car and drove up to Grimethorpe, which is past Barnsley. We waited 'til the end of the band practise, because they used to rehearse most mornings. We talked to the band secretary and said, 'Look, we've got this song'. We'd already recorded our bits and also got a brass arrangement done by a guy called Chris Norton. He played it on keyboard - it didn't sound like what it would sound like, but at least you could get an idea of where we were going with it. Anyway, the band secretary said something like, "Oh, I'll have a word with the lads and see if they're interested. We've had a couple more people call us this week about recording with them." One was The Beautiful South and another might have been Sting. We thought, We haven't got a chance. A few days later, he phones back and says, "I've had a chat. We've played the song. If you come to practise next week, we'll record it." There's a guy called Brian Hillson, who does a lot of PA stuff. He also records Salvation Army bands and is an expert at it. He came up and recorded us inside this small hut with egg boxes on the ceiling. We got it back and listened to it, and the standard, and also the spirit with which they play is just fantastic.
The band invited us up to play on the show that they do every year at the Town Hall in Barnsley - the whole town turns out (thousands of people come to watch it). They said, 'Would you like to come and play?' We turned up and said, 'Can we have a run through?' They said, 'No, it'll be fine'. There was myself, John and Dave Clifton playing mandolin. We started to play and we're thinking, In a minute, the band's going to play, and that'll be the last we'd ever hear of the night because they're going to be so loud. When it came to their bit, they came in and it was the most perfect sound - talk about goosebumps on the back of your neck! It is just the most amazing sound that they produce. The single made number 125 in the charts. We were on BBC News At Ten, Sky News and Radio 1. We got quite a lot of good coverage for it. We called ourselves The Wood Thieves because we thought it sounded a bit better than Phil And John really.
Live, What?, VHS video, 1992
It wasn't the same show as the 'Live' album. The video was filmed at Greenbelt. I never watched it until about five years ago. We went round to a friend's house and they'd got it. It was very funny. Everyone who turned up to watch the video were Phil And John fans. Everybody knew all the punch lines! You get halfway through and people start shouting out the next line. You had to be there really. It was a good afternoon.
Breakfast At Ruby's, Kingsway, CD, 1994
By that time, we were doing a fair bit in America, mainly with Phil Keaggy. Pretty lengthy tours - a couple of months at a time, with a break in the middle. We just took the recording gear with us and said, "Could you record what we do every night and we'll see what's there. There wasn't a song called "Breakfast At Ruby's". The reason it was called that was because when we've toured before, we ended up in California for a bit. There was a place called Balboa Beach, which used to have a pier. On the end of the pier was a place called Ruby's, which was an old '50s diner. We used to go for breakfast there. We thought it would make quite a nice title. All the songs on there have slipped my mind as it happens.
Providence, Phoenix, CD, 1997
This was our final studio project and was recorded partly here and partly in America. We had three different producers. We had Andy Piercy (the After The Fire man who went on to produce Delirious?). He's a great producer. Also Lynn Nichols, who we'd worked with on 'Don't Look Now.It's The Hallelujah Brothers' - again, really good to work with him - and Dave Perkins, who had a bus in his back garden which was his studio. There was a basement with retro amps and that type of thing. We took quite a while to record it all. It was an independent company called Phoenix, based in Sheffield, who had signed us. It came out, but unfortunately the record company folded. It was the last thing we did. We did a Best Of at the same time.
Old, New, Borrowed, Blue, Phoenix, CD, 1997
An interesting footnote about that was that, during that time, we did a tour with Adrian Plass. It was the first time we got to know him well. That's when Adrian and I started talking about the possibility of us doing a project together. So, 'City Of Gold' came out a couple of years later. That conversation was the beginning of it - one thing leads to another. For John, a lot of 'Old, New, Borrowed, Blue' was done in America, where we had made some good friends. John ended up going to live and work there. In some ways, I'm sad I don't see more of the lad today, but in other ways, a lot of things came out of it.
Simply Phil And John, Kingsway, CD box set, 2005
Kingsway reissued three albums 'Breakfast At Ruby's', 'Carnival Of Clowns' and 'Waiting For Summer' in this box set. I wouldn't have thought there would have been that much call for it really. They obviously thought that there was.
I don't think there's anybody more surprised than us at the bit of success we had. I don't think we regarded ourselves as musicians in the strictest sense. For me, the most beneficial time would have been after the 'Waiting For Summer' album, before the 'Lonely Dancer' album, when, daft as it sounds, we got given the cassette about songwriting. We started to take it seriously to try and craft better songs. You never stop learning. You're never quite sure of what people are going to embrace and what people aren't. All you can do is follow your nose.

The opinions expressed in this article are not necessarily those held by Cross Rhythms. Any expressed views were accurate at the time of publishing but may or may not reflect the views of the individuals concerned at a later date.
Reader Comments
We welcome your opinions but libellous and abusive comments are not allowed.