Friday 18th December 2015
Chris Mountford talked to Resound Media's pop talent PHILIPPA HANNA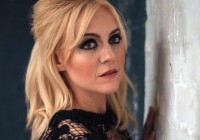 Philippa Hanna
Philippa Hanna has risen to her prominent position as the UK Church's favourite singer. In recent times her tours with acts like Lionel Richie and Rebecca Ferguson have taken her to the next level and she has now set her sights on breaking the US market having received £30,000 support from fans on crowdfunding site Rocketfuel and last year securing a grant from UK Trade & Investment/BPI to help her US development. She has now been in the States and her first single "Even Now" is currently getting heavy play on Cross Rhythms. She spoke to Chris Mountford about the exciting new developments in her ministry.
Chris: "Even Now" is the title track of your eagerly awaited new album. Tell me about it.

Philippa: I've been going backwards and forwards to Nashville for about a year and a half - making connections, making friends, and planning the new record. I did some writing sessions round and about with Kyle Lee and Tony Wood, who have got a bunch of hits between them; they're fantastic writers. The start of the day was a bit awkward. I didn't know whether it was nerves or I just wasn't on form, but everything I was saying didn't seem to connect. I thought, 'This is not going to come out with anything good'. Kyle said, 'I have to be honest, this is tough for me because I was at a funeral last night. A couple at my church lost a child. I can't pretend to write any song today other than a song about their courage.' They've chosen as Christian to worship and to have faith even in this awful time. He was inspired and humbled by it, and I was inspired and humbled. That's where the writing came from, and within a few hours we had this song. I came back from Nashville a few weeks later; Joel and I had some difficult news. I found myself thinking about this song. 'This is a song for me right now.' It's about worshipping in the toughest times of your life.
Chris: Is it a stylistic departure?
Philippa: Good question. I think it kind of us, but if you listen back through all of the stuff that I've done, the thread is uplifting songwriting, and that's basically what I consider my corner to be. When I write a song I'm always thinking about the people who are going to listen to it - will they get a blessing from it? When I sat down to talk with Kyle about what the sound should be, we both said, 'Let's be open-minded. Let's just find something that sounds great. The things we want to include are uplifting lyrics, and hopefully themes and language that will embrace all people.' It matters to me a great deal that people outside church could listen to this and enjoy it.
Chris: So it's not a move towards a congregational worship style?
Philippa: I think in the last year or so I've definitely opened up to that because of my own personal journey. The last 18 months have been ups and downs. I've found myself worshipping more, so I think there will be a worship aspect to this record that perhaps there wasn't to the others.
Chris: How important is that to you in your own life, going through those down moments and being able to connect with God?
Philippa: It's like - a totally un-Christian word, but like a magic: it can miraculously turn around your mood and your perspective. I lead music at my home church, for no other reason than to just pitch in with the team. And also because I enjoy it. Every time I do that I feel like I'm being lifted out of whatever I'm experiencing, taken up into a different sphere. It's the best thing there is.
Chris: Do you want to expand on the difficult circumstances?
Philippa: There have been a few things, and some of those things have been connected to our personal life as a couple, ministry-wise. We've moved house this year, so we've got our own place - a big risk financially, a big step of faith. Also my dad went through chemotherapy this year. Watching that - having to be on the road and take phone calls about dad not being well - those things were scary and challenging. But dad is now in remission; he's doing really, really well. You have the good days and the bad days - the days that don't feel good, shall we say. It's been a colourful year for me.
Chris: Does Tony Wood have a studio in his house?
Philippa: Yeah, it's a really common thing in Nashville and in Franklin, where Kyle is. These fantastic writers live next door to their studio - or it's in their garage or under their house. But it's far from a little basement studio: it's amazing. That's what they tend to do.
Chris: Are you trying to work more in the United States, or just trying to develop your sound?
Philippa: It's a little bit of both. I've noticed that part of the Christian world's epicentre is in the US, it's the heartbeat of what's going on. It's not necessarily that it would be me moving to the US, but it's easier to go other places from the US. Even the UK: it's easier to reach the UK if you've been in the US. I've noticed that a lot of UK artists go out to come back, because it means they're able to have more influence. My objective is just to reach more people with what I'm doing, so it seems to make sense. In one city the amount of fantastic writers and people who have got incredible ministries, it's just mind-blowing.
Chris: Where are you up to in recording your new album?
Philippa: We've done three trips this year. The first was just mind-blowing because it was meeting all these new people. The second trip was writing. This trip was knuckling down to decide what this album is going to be. We were amazed we were so far forward at the end of that trip. We could have an album done by the end of the year, but we want to make sure we have the right songs. We hope it will be ready early next year, then we'll be looking for a release around spring - maybe before.
Chris: Who have you been writing with?
Philippa: Kyle has had a lot of input. So many great people. Tony Wood's got a bunch of Dove Awards, all these fantastic number ones under his belt. There's people like Jeff Pardo, who's worked with Francesca Battistelli. One of my favourite songs from the record is with Brian Fowler and Benji Cowart.
Chris: I hear you've worked with Kevin Max.
Philippa: Yes. He's awesome. The reason I got in contact with him is because of this radio station. He was on Cross Rhythms several years ago; we were sitting in our office and started to text in. Mike Rimmer connected us up; he said, 'Have you heard of Philippa Hanna?' We've been in touch ever since, and when I went out there he said, 'Yeah, I'd love to write'. The song we've done together is probably the most exciting song on the album. He's definitely fresh. That's what I like about him: I've got a soft spot for anyone outside of the lines and doesn't fit, because that's what I am. His voice is unmistakable. We had a really good time. We all did a double-take, pinching ourselves, when he started singing; we were like, 'That's Kevin Max! That's his voice!'
Chris: I understand you're touring with your dad.
Philippa: My dad, yeah - Pat Hanna. As we speak, his debut CD is on its way from the manufacturers to our office. Like I said, dad has had some health issues in the last few years; he's pulled through and he's doing so well. He became a Christian about four years ago. He followed me onto the Alpha course and got to know God in his own way. It's fantastic, because he is the reason I ever opened my mouth to sing: he's a fantastic singer, he dragged me up on stage from when I was 18 months old, so it's nice to be dragging him up on stage now he's in his 60s.
Chris: What was his musical background?
Philippa: He's very interesting, my dad. He was born on tour: his parents were both show people. His mum was a singer and dancer, his dad was a comedian, an escapologist, a mime-artist; they had a travelling show. They got married, and dad was born one of nine in a caravan. They weren't Travellers, but they were on a non-stop tour most of his childhood. As soon as he was able to lift a guitar he was in the show.
Chris: But this is his first recorded work?
Philippa: He's done other things, but this is his first project in about 15 years. He's never released a CD, but he used to do stuff on tape - mainly covers, but this is the first album where he's got original material. It's basically a country-gospel album with a bit of rock and roll. I think it's so cool; I can't believe how cool it is.
Chris: You're doing a Christmas tour with Chris Eaton and his wife Abby. Chris is Mr Christmas in terms of his songwriting.
Philippa: Definitely. He's the author of "Savior's Day". Actually, he's one of my favourite people to write with. I wrote the song "I Am Amazing" with those guys, and "New For Old"; those two are probably my most sentimental - they're loaded with meaning. We have a good thing going; they're just fantastic people to collaborate with. Whenever we meet up to write, we always talk about how we'd like to play together. We both had a bit of a window in December, so we thought, 'Why don't we put the feelers out and see if anyone wants to have us?' So we've got a few dates lined up and it's going to be great. He's a fantastic pianist, Abby has the voice of an angel, so I think we're going to have a good time.

The opinions expressed in this article are not necessarily those held by Cross Rhythms. Any expressed views were accurate at the time of publishing but may or may not reflect the views of the individuals concerned at a later date.
About Chris Mountford
Chris Mountford
is Programme Controller and Production Manager for the Cross Rhythms radio station in Stoke-on-Trent.
We welcome your opinions but libellous and abusive comments are not allowed.