Saturday 8th December 2007
Tony Cummings reflects on the career of Minnesota singer/songwriter SARA GROVES
Sara Groves
With the minimum of fuss Sara Groves, the singer/songwriter from Burnsville, Minnesota has risen and risen to become in 2007 one of the best selling artists in American CCM. Since her emergence in 1998 critics have struggled to pigeonhole Sara's wistful acoustic-based and at times truly haunting music. The Encyclopedia of Contemporary Christian Music suggested this one-time high school English and History teacher sounded like Shawn Colvin, the Cross Rhythms reviewer who wrote about Sara's 'Conversations' breakthrough album suggested Tanika Tikaram while the CR journo commenting on Groves' 'The Other Side Of Something' (2004) plumped for Susan Ashton. But since the release of 2005's 'Add To The Beauty', named by CCM magazine as Album Of The Year, maybe critics have realised that such comparisons don't do justice to one of the most thought-provoking and challenging songsmiths of her generation.
2005 was a pivotal year for the singer. In September Sara, along with her husband Troy, her father-in-law, a neighbour and a doctor, delivered a tour bus and trailer load of baby supplies to the victims of Hurricane Katrina. Footage of this effort, and a subsequent trip to Rwanda with pastor Rick Warren and a group from Saddlebank Church, were featured in the film, launched in August 2006, Sara Groves: Just Showed Up For My Own Life, produced by Fearless Films. In July this year Sara gave birth to her third child, Ruby. Now her latest album 'Tell Me What You Know' has reached the shops. Sara spoke about it recently to singer/songwriter Carolyn Arends in a Christianity Today article. "Probably half of the songs are about people I've met over the past two or three years, people who made me wake up and realise that most of the world operates on a whole different playing field. I met people in Rwanda who had survived the genocide and who are now forgiving the perpetrators, and that was unbelievable to me - very difficult to comprehend, and yet so biblical. And I got to meet Elizabeth, who was trafficked [as a sex slave] at 15 and was a believer. She wrote Scripture on the walls of brothels to help her survive this horrific experience, and is now an incredible woman of faith.
"I realised that the common denominator in all these people that have suffered so much is that they knew God in a way that I did not know him. And I want to know what they know. So a line in the song 'In The Girl There's A Room' says, 'Tell me what you know about God in the world in the human soul,' because they've been stretched and pressed in ways that I can't even comprehend. The Bible says we'll know Christ by his suffering and that he cast his lot with the oppressed. So there's something they know about God, my God, that I don't even understand."
One of the most powerful songs on 'Tell Me What You Know' is the opener "Song For My Sons". Said Sara, "The song was inspired by an index card my great grandfather wrote. He was a pastor and he travelled abroad to speak in England, and he suffered a heart attack there. My grandmother and her sisters were young women here in the States. When he passed away, his wife, who was with him, wrote on an index card his final words - an exhortation to his kids to be faithful and true to Jesus always. The last time I was with my grandmother she showed me that card, and I got to see, in my great grandmother's handwriting, what Great Grandpa Wesley wanted to say to his kids at that last hour of his life.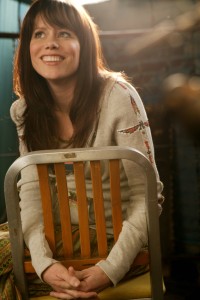 "I wondered how my kids would finish the statement, 'My mother always said. . .' What would they say? Besides 'You get what you get,' 'Don't throw a fit,' and 'That doesn't fit in your nose.' I would hope there was something that stood out as the message of my life.
"Song For My Sons" is based on Matthew 24:12-13, where Jesus tells the disciples that in the end times there will be an increase of evil. He says, 'The love of most will grow cold, but some will stand firm to the end and they'll be saved.' I think my sons will face things that I can't even comprehend. And that evil, that darkness, that hurt will make them want to shut their hearts. Even now believers are shutting up their hearts and they're closing the windows and locking the doors. But Jesus says, 'I want you to keep your door open in the face of terrorism, in the face of all the ills that the world has to offer. I want you to keep your heart open and love your God and love your neighbour.'"
The powerful call to social justice permeating 'Tell Me What You Know' reaches a climax in the song "I Saw What I Saw". Sara spoke about it with candour. "I have a hard time even talking about it, and I had to go gather myself many times when I was trying to do the vocals. I heard the story of Nagaraj, a man who with his wife was enslaved in Southeast Asia. He was working 16 hours a day, seven days a week. They had three young sons, and as they began to get older, they were being groomed to be slaves themselves. They were beaten. They had to work in the hot sun. They were not allowed to go to school. Nagaraj watched the abuse of his family every single day, and he started to say, 'This just can't be their future. I can't live with that.' And so God made a way for him - through a miraculous set of circumstances - to connect with IJM. IJM conducted an investigation and ended up freeing all 80 people that were in that compound.
"They applied for a grant, and now Nagaraj and these other 80 people own a brick co-op. Now the imprint on the brick is Nagaraj's initials, where it used to be the slave owner's initials. And he holds up this brick and he says, 'This is my sons' legacy - it's freedom.' In that second verse of 'I Saw What I Saw', I am singing about Nagaraj's young son. I was thinking about this little boy, and asking always the question in my heart: What was heavier that whole time - the weight of those bricks as he was being groomed to carry more and more weight? Or the weight of glory on that little boy's life as an image-bearer of God, not a mere mortal? When you start seeing human beings like that, it changes the whole scenery."

The opinions expressed in this article are not necessarily those held by Cross Rhythms. Any expressed views were accurate at the time of publishing but may or may not reflect the views of the individuals concerned at a later date.
About Tony Cummings

Tony Cummings
is the music editor for Cross Rhythms website and attends Grace Church in Stoke-on-Trent.
Reader Comments
We welcome your opinions but libellous and abusive comments are not allowed.