Saturday 22nd September 2018
Lins Honeyman spoke to the London-based singer with Nigerian roots, SARAH TEIBO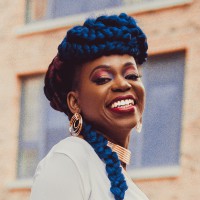 Sarah Teibo
The trajectory of London-based gospel artist and singer/songwriter Sarah Teibo's career has been on the up ever since the release of her debut single "Steal My Joy" in 2015. In the relatively short period of time since its release, Teibo has issued two full length albums - 'Walk With Me' (2016) and 'Keep Walking' (2018) - whilst bagging a MOBO nomination and a brace of Premier Gospel awards not to mention becoming the highest charting independent female artist to register on Britain's Official Christian & Gospel Charts in the process.
In addition, recent years have seen the singer perform across the UK, Africa and Europe at conferences and festivals whilst two sell-out appearances at London's Hard Rock Café in 2017 and a further packed out performance at the city's Pizza Express Live music venue earlier this year have seen Teibo cement her position as one of the most exciting new acts on the UK gospel scene. Add to the mix collaborations with fellow UK gospel artists Triple O, Volney Morgan and Lurine Cato and the appearance of the likes of American big guns Fred Hammond and Lisa McClendon on her most recent album and it's clear that Teibo's own brand of inventive gospel soul is causing ripples not only on these shores but across the pond as well.
Born in London, Sarah and her family relocated to her parents' home country of Nigeria in the early '80s and her upbringing there would garner in the kind of Afrobeat influences heard on songs like "Blessed" - one of the many standout tracks on her latest album. Whilst growing up in Nigeria, Teibo became a member of her church youth choir and gave her life to Jesus at the age of 10 before finding her faith in God being put to the test and ultimately strengthened in her early teens on account of a period of eviction and homelessness. At that time, Teibo started writing songs to express her feelings and her relationship with God before moving back to London in 2007.
The intervening years would see Teibo serve as a worship leader in her local church before a leading from God prompted her to set about recording her debut single "Steal My Joy" which saw the light of day in 2015. The following year, Teibo launched her first full length album 'Walk With Me' at London's 606 Jazz Club before receiving a MOBO nomination and the prize for best album at the following year's Premier Gospel Awards. This year saw the release of Sarah's second album 'Keep Walking' which, shortly after its launch at a packed London's Pizza Express Live music venue, would enter the Official UK Christian & Gospel Charts at a groundbreaking number three.
I caught up with Sarah shortly before a band practise for her upcoming appearance at an event put on by gospel label Central Streets Of Soul. I asked her if she was happy with the response to her latest album. "The reaction's been fantastic," she confirmed. "I always like to get better at what I'm doing and, for me, the album has demonstrated growth and I'm glad that people have picked up on that. I'm very self-critical - I never do well enough in my own eyes - so it's great to know people have enjoyed 'Keep Walking' and it means that at least I know I've done something good."
Whilst achieving her aim to progress artistically, it seems that 'Keep Walking' has a deeper purpose. "When I started planning 'Keep Walking', I was really just thinking about moving on from the previous album," advised Sarah, "but I also wanted to use the new album to talk about things that don't really get talked about in our Christian circles. I'm a worship leader in church but what I find is that we Christians can fall foul of not singing about the everyday things that happen in life and how we can cope with certain experiences. At the end of the day, Christians are still human beings who might be losing our jobs, getting divorced, having miscarriages or going through break-ups as well as all the positive things that happen.
"I like to write about everything - the good and the bad - and we need to have an arsenal of music that can help us to cope in life," Sarah continues. "Whenever I'm down or even when I'm up, music is my companion more than any book or person so we need to have Christian music that addresses all these themes. I remember one time at church, there was someone who was leaving us and we wanted to sing them a goodbye song and we couldn't think of a single Christian song that had that theme! We just need to write songs about all the phases of our lives and the different experiences we've had and that's what I was trying to do with this album."
One such experience was the recent death of her mother which itself is reflected in the album's title track. "When I wrote the song 'Keep Walking' my mum was still alive. When I started writing it, it was initially just an interlude. When I'm writing, I tend to surround myself with a few good mentors - people who are very knowledgeable in the industry and in the arts - and I'll often send a new song to them to find out what they think and to get their opinion. When I started writing what turned out to be 'Keep Walking', I sent it to a friend - at this stage the song was still just an interlude and only about a minute long. He came back and told me that I needed to write a full song because of the powerful message he'd heard in what I'd written so far.
"I went away and wrote the verses and the bridge and then I went into the studio to record the song. Three days later, my mum passed away. My producer called me and I was lying in bed, eyes reddened and in despair and distress and he said, 'I have no words for you - the only thing I can say is go back and listen to the song you've just recorded because that is the message for you here and now.' It just goes to show that when you write a song that really speaks to you personally, it's all the more poignant. I was able to listen to the words I'd written and hear the message myself - I realised how powerful that was and how helpful it could be to someone else. I went back into the studio to fine tune the song and it became even more personal because I could literally relate to people wanting to give up because of a loss or a disappointment in their lives. I wanted to say 'keep going and keep pushing forward for what God has for you. There's more for you - don't let failures or disappointments stop you.'"
One example of Sarah not knowing what God had in store for her came with a cameo appearance from US gospel legend Fred Hammond on a remix of the Teibo-penned "Like A Child" which closes the 'Keep Walking' album. "With Fred, it wasn't something that I could even have prayed for or thought to go after," she admitted. "When I did the original version of 'Like A Child' back in January, I was trying to get as much Spotify presence as possible - Spotify is the way forward whether we like it or not - and I sent the song to a few friends of mine who knew some Spotify curators. A particular guy got hold of the song and suggested it would benefit from a collaboration with an American artist to get more exposure over in the US. I didn't know who he was going to send it to and lo and behold he sent it to Fred Hammond! It was insane - I've listened to Fred Hammond for all of my Christian life and his songs have helped me through every possible season of my life. To think that I would write a song that he would sing on was just unreal and I had to keep checking that I wasn't dreaming. Having Fred Hammond on that track has really helped because it's given the album as a whole a bit more credibility."
Aside from Sarah's vocal skills and Hammond's cameo, giving the album additional credibility is the involvement of producers Luke 'GKID' Grant and Shaun 'Hypertone' Barrett who give proceedings a slick, soulful but never overstated R&B feel. "Those guys are legends," enthused Sarah. "I've been blessed to work with perfectionists and I think that Luke and Shaun both know that I'm a perfectionist too. I'm the sort of person who thinks that average isn't good because I believe we should be aiming for excellence. If you're going to put God's name on anything, it has to be 150 per cent. I look at secular artists and I see how much excellence goes into what they produce and we have a much stronger and more powerful message so we need to package it just as good if not better. These guys came on board and their production was way above par and their work ethic and attention to detail was just exceptional. They pushed me as an artist as well which I liked a lot. They'd sometimes make me do a vocal 50 times until they got the sound they were looking for and they really brought out the best in me. It was fantastic working with them."
With the Afrobeat-tinged "Blessed" reflecting something of her Nigerian upbringing, I asked Sarah what part her African roots play in her music. "A lot of the time I feel a bit confused because I'm sort of stuck between the two countries," she confessed. "Sometimes it feels like I should do a whole Afrobeat album but then I think the better of it because that's only one aspect of me. I'm heavily influenced by European and American sounds and then you throw those Nigerian influences into the mix - it's a bit of a conundrum for me because I have to identify with all the parts that make me. What I've tried to do is bring all those sounds to the album but not allow one particular influence to overwhelm the others."
I asked Sarah to cast her mind back to where it all began for her musically. "I've been singing since I was about 10," she said. "However, in terms of my initial introduction to music, it was at about the age of four when I remember listening to the kind of classic soul and Motown music that my mum used to play from her record collection. My mum had a fantastic taste in music and that's probably why nowadays I lean more towards R&B and soul when I'm writing, singing and performing. At the age of 10, I became a Christian so I joined children's singing groups and youth choirs and sang in church as part of various praise and worship groups."
It seems that the progression from singing to writing songs was a natural one for Sarah. "I started writing when I lived in Nigeria," she advised. "As a youth choir, we decided that we would write our own songs around the different themes that our church was exploring and that was how I started out with songwriting. It wasn't anything special but at least it was the beginning of owning a concept and bringing it to life through music."
Before long, a period of hardship for her family would refine her songwriting skills as well as strengthen her trust in God. "When I was about 13 or 14, we got evicted from the place we were living," remembered Sarah. "Our belongings literally got thrown out onto the street and we had nowhere to go. It was a very hard time for us as a family. At that time, my father was not around and it was basically my mother and four children with nowhere to live. I'd only ever known God in church so the only place I could go to was to God and he definitely came through for us. It was such a hard and challenging time but, during that period, my faith in God really reignited and I just knew that, even if nothing happened, God would always be there for us and would always come through for us - and he did in the end. Through those painful experiences, I was writing music and it communicated my faith in God in a very personal way.
"After I'd returned to the UK as an adult, I started to do backing vocals for gospel singer Noel Robinson and he challenged me to take my music further," continued Sarah. "Noel came to our church one time to hear me lead the worship with the choir and he came to me afterwards and asked me what I was doing with the gift I'd been given - my voice. For me, that was the validation that I needed to really go for it. In 2014 I started working on my first single, 'Steal My Joy', which was released in 2015, and then I put out the 'Walk With Me' album a year later and now 'Keep Walking'. It's been a very short but eventful journey so far in terms of my professional music career but I'd been working away for a number of years beforehand."
Disarmingly modest when it comes to her own music, Sarah fails to make mention that her debut album received a well-earned nomination at the 2017 Music Of Black Origin Awards so I asked her how it felt to have her work recognised at such a prestigious level. "The MOBO nomination was the biggest surprise of my life because I only came up with the 'Walk With Me' album in the May of that year and the nominations were announced in the September," she enthused. "I was the only female in the gospel category and I think it goes to show that, if you try to put excellence into what you do and top that with the grace and favour of God, your work will get noticed.
"It's an encouragement to always put your best foot forward," she added. "Don't bother about who's looking or not looking - just put your best out there. I think the collaboration with Fred Hammond is testament to that because, when I wrote the song, I wasn't thinking to myself that Fred would listen to it and want to appear on the track. Instead, I was just writing the best song that I possibly could and putting it out there with the best standard of excellence that I could afford and it ended being picked up by a gospel legend who agreed to sing on it. For me, it's all about trying to make sure that, whatever I do, it's of the utmost excellence. The MOBO nomination was testimony to the fact that sometimes what you do does get noticed."
In closing, Sarah was keen to point out the real motivation behind her ever-upward musical career. "I don't do what I do to get awards because that's not the prize that a gospel artist should be chasing," she stated. "It's about the souls that get touched by your music. When we leave this world, God is not going to judge us in Heaven by how many plaques we had on our mantelpieces. He's going to look at how many souls we've blessed with the gift he gave us."

The opinions expressed in this article are not necessarily those held by Cross Rhythms. Any expressed views were accurate at the time of publishing but may or may not reflect the views of the individuals concerned at a later date.
About Lins Honeyman

Lins Honeyman
is a Perthshire-based singer/songwriter and currently presents The Gospel Blues Train on Cross Rhythms Radio on Saturday nights from 11pm and on Listen Again.
We welcome your opinions but libellous and abusive comments are not allowed.