Thursday 1st October 1992
Dance music's SCOTT BLACKWELL is one of the newest creative talents in Christian music. Gavin Drake spoke to Scott in his Californian home.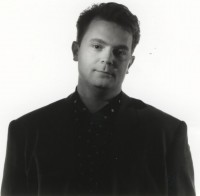 Scott Blackwell
Talk music with Scott Blackwell and his is a language few Christians, even few Christian musicians, would instantly relate to. He describes his new project as "kicking urban R&B and hitting edge grooves" while his desire to "slam into a jam" shows he's not exactly a typical church organist. Neither is California-based Scott Blackwell some American axe-wielding poodle head 'rocking with the Rock' to reach the kids. For Scott's music is dance - not the liturgical sweeps of Springs, certainly not the charismatic two-step of happy clappy fellowships, but the crunching house grooves that every night slam out from our cities' clubland.
Scott Blackwell is the pioneering figure determined to demonstrate that the awesome bass and sonic boom drums of fearsomely funky music can also be a vehicle to proclaim the Lordship of Christ. Last year the producer and mixer extraordinaire launched Myx Records, distributed in the USA through Frontline Records, with his own 'Walk On The Wild Side' album, a searing hardcore dance album offering Christendom its first genuine acid house track plus some of the sassiest rap and crunching funk mixed mean and mighty for a dance-til-you-drop urban generation transfixed on C&C Music Factory and Technotronic. But the lyrics of 'Walk On The Wild Side' aren't clubland's standard call to pump-it-up hedonism. For as 'Walk On The Wild Side's astonishing black-preacher-with-house-beat track "My King" demonstrates, Scott Blackwell is out to boldly proclaim the gospel as the beat goes on and on.
There are now new Myx albums (sadly, as yet unreleased in Europe) 'A Myx'd Trip To A Gospel House', 'Jyradelix' by Invinceable and a sizzling Myx sampler "1,800 Seconds Of Motion'. So how does the church relate to a ministry as radical as any in contemporary culture? There has already been criticism (decades of unbiblical theology teaching dancing is tantamount to attending a coven is hardly likely to die out overnight). But Scott Blackwell is not too concerned by conservative churchmen's condemnation of the concept of sanctified dance.
"I can't get hung up in worrying about criticism", he told Cross Rhythms, "because I know I am doing what the Lord wants me to do. He's confirmed that to me and to several other people. I know there are a lot of people who don't understand what I'm doing but that fine. I can only respond to that by sharing my heart on why I'm doing this. I know how damaging it is for kids to suck-up secular music six or seven hours a day. And I know that a lot of these kids really enjoy dance music in all its different types of forms - house, rock, swing, hip hop, rave and all that. What the church needs to understand is that when there is a particular type of lifestyle adhered to a type of music in the world; it does not mean that the two are totally fused. Because I like hip-hop or Christian gangster-rap doesn't mean I have to follow the lifestyle associated with the secular variety. If people can get hold of that it will help them enormously in understanding the dance thing. I hope they do for the doors are opening up for the Christian dance thing."
They certainly are. In September Scott is playing at the largest rave in southern California called 'Great Ape 2'. "The promoter knows I'm full-on, born again, and that I've produced this gospel house. He's totally given me one of the rooms in the rave with KC & The Sunshine Band and underground rave acts. We're calling it Scott Blackwell's Gospel Rave House and every kid that comes in gets a tract which says 'Jesus: Liar, Lord or Lunatic?' We'll be playing all gospel music. The Bible says the Lord's word does not come back void. If I can go in that environment and not fall pray to the flesh. there is tons of fruit there."
Scott's entrance into dance music began in Texas when after starting as a bar-boy in a Texas nightclub he landed a job as deejay. After a few years he moved to Florida after being asked to deejay in a Miami nightspot. "While I was in Florida, I started to get an interest in recording and editing", explained Scott. "I bought a reel-to-reel and started editing and did a few re-mixes on a little 8-track set-up in my house. Then, I started fiddling with drum machines and keyboards."
Scott also got married in Florida. Almost a year later he and Gloria moved to New York. Scott had been offered a job by a club owner who had heard him spinning records. "At New York I went to work at Visage, a brand new five million dollar club. Four days after the club opened, on our first wedding anniversary, he fired me. He'd had too many complaints about the music and he felt he needed to do something about it. He reckoned it was a mistake bringing me to New York."
While the crowds at Visage were unhappy at the phenomenon that was Scott Blackwell, other people were not. Scott was soon working all over New York establishing himself as the hottest deejay in the Big Apple. His appearances at hot spots such as the Palladium brought him a clamorous following, while pulling pay cheques of between $1,200 to $1,300 per night. Scott Blackwell's fame and reputation had not escaped a certain Jellybean Benitez, one of the seminal figures on the soul/funk scene. "Jellybean had been made musical director of Visage. It was now called Four Deep, but was owned by the same person who had originally fired me. He hired me to work on Saturday nights, but after just three weeks he had me working Thursday through Saturday." New York radio station Hot 103 (now Hot 97 - renowned as the local power/dance format CHR (Contemporary Hits Radio) began live broadcasts of Scott's dance-show in 1986. "I would work on re-mixes in the week with artists such as Debbie Gibson, Z Z Top, Booker Love and Tommy Page, and would invite the studio session musicians into the club on the weekends and do live remixes. The sessioners would play over the records. This sound was the original Acid Jazz that everybody's making such a big thing of now. We were doing it then. The guys that we got in to the club made most of the records we were spinning, so it wasn't as if they didn't know what the chord changes were," said Scott.
Scott was spending huge amounts of time in the studio and in the club just surrounding himself in the music. The result was a marriage breakdown. Gloria, a life-long Roman Catholic who had never experienced the grace of the Lord, moved to California, where a person brought her to a relationship with Jesus Christ. She started going to a little Catholic Four Square church and the congregation joined with her in praying for Scott. Over on the East Coast, Scott was busy with his non-stop musical merry-go-round but despite the money, the fame, women and drugs Scott was not enjoying his fast lane lifestyle. "I was totally miserable. I couldn't figure out why I couldn't enjoy any of this. I guess it was my marriage. I never agreed to divorce Gloria, because I was convinced that God wouldn't want that. I wasn't prepared to give my whole life to God; I wanted to keep a foot in the world and one in the church. But that wasn't working. Then I heard that Gloria had got saved and that a whole Church were praying for me. I agreed to fly to California to see her. While I was there I went to the church on the Sunday night. At the church I put all my promiscuous relationships, drinking and drugs away and answered an altar call. I totally gave my life back to the Lord."
Scott had a lot of commitments in New York, so went back to make arrangements for a complete move back to Gloria. "The club arranged a big going away party for me. It was my last radio show and I said 'Y'know you guys are probably all wondering why I'm moving to the West Coast. Well, er, my wife and I have been separated for about two years, we've just got back together - isn't that great?'. You should have seen all those jaws drop. The way that I had been living my life, no-one knew that I was married. I said, 'If anyone out there's got a problem that you don't see any light for, just reach out to God'"
Resettled in California Scott was at a loss to know what to do with his extraordinary deejaying and mixing talents. Slammin' dance music and the church didn't appear to go together. Eventually Scott set up a small production company with songwriter Dennis Biffen and Shirley Escotto. But after four to five months they began to run out of money. "I was just about ready to try and get a job in Burger King" remembers Scott. "A woman from the church asked me what it was I did best, I told her that I make records. 'Why don't you make records then?' she asked. I started praying about it. A lot of L.A. companies were asking me to do re-mixes and stuff. Then God told me that light shines brightest in the darkness that you can be a Christian and work in the secular arena, as long as you don't compromise your faith. I was still a baby in the Lord at that stage so I didn't really understand it. But the Lord gave me more understanding."
Scott built a small 8-track studio in his house. "I decided that I wanted to provide the Christian recording community with a midi/demo room. While I was building the studio I heard a radio talk-in programme which featured Roger Martinez from Vengeance and Toby M McKeehan from DC Talk. The subject was apologetics for contemporary Christian music. Roger gave out his number and invited people who wanted to get some projects together to give him a call. It took about a month for us to get together" said Scott. "I took a bunch of studio flyers, a discography of all the albums that I have worked on and a demo-tape. I knew that I wanted to work in Christian music, but I didn't know how or what God was going to do with it. Roger passed on the stuff I gave him to Jim Kempner, head at Frontline Records." Scott was currently working 7:00am to 2:30pm on construction work and 5:00pm to 12:00 midnight on demos. Scott's demo work kept him in contact with Frontline, who eventually wanted to sign him as a dance music artist/producer, wasn't really comfortable with our initial discussions. I couldn't see how God could use that. The Bible says that by their fruits ye shall know them and I had not seen any fruits of this type of music. Then I went to a concert and saw SFC. The way the kids at that concert were shouting out the Scriptures was great. Everything they were rapping to was totally biblical. It just totally opened my eyes.
"But that was rap, not dance. There was no way that I could see dance edifying the Lord. Then I went to another concert, this time by Tim Miner. He had dancers there that were really going crazy just doing it for the Lord. I said 'OK Lord, this CAN work.' That is how Myx Records was formed."
'Walk On The Wild Side' was the debut album for Scott on Myx. It caused an immediate stir in the safe, insular world of American contemporary Christian music. "I hesitate to use the word legitimate, but there's never been a street credible Christian dance record. I kinda wanted to put a little bit of everything in: R&B, Techno, Rave." After its initial release the album's title track received national media coverage in the States after Scott re-mixed it, integrating it with TV news coverage of the LA Riots. Scott remembers, "When I was in Florida in 1981 I got caught up in the McDuffey Riots. I drove my car into this block and all of a sudden I was surrounded by kids who were smashing my car to bits. The glass was knocked out with metal bars. The car was totally destroyed. It is a miracle how I got out of that one alive.
"This really struck a chord in me and I felt I had to do something. I sampled news coverage on the television of various Christian and political leaders calling for peace. I mixed this onto 'Walk On The Wild Side' and called it 'Voices For Peace'. We sent copies to the local stations and our hope was really to diffuse the situation a bit. Hopefully, we have done more than that. We set up a free-phone service so people could dial and give money to the American Red Cross. Anyone who gave over $5.00 received a free cassette copy of 'Voices Of Peace'. The nation's number one rave station, Mars FM, had "Voices For Peace" as their number one for three weeks."
At the moment Scott Blackwell is a name known in Britain only by the hip cognoscente of the growing sanctified dance movement. Intrigued readers wanting to get hold of a copy of 'Walk On The Wild Side' had better get a move on. Frontline's distribution deal with Word (UK) comes to an end in December, after which Word will not be selling that or any other Frontline album. So, for the moment, European enthusiasts will have to search out import copies of Myx's stunning releases. Latest of these is the funkiest Christmas album of all time, 'A Myx Christmas'.
Now Scott is working on demos with Sandra and Allegra, the female vocalists on "Not Goin' Back", "Day By Day" and "Far Away" from 'Walk On The Wild Side'. The producer hopes to attract a mainstream deal for the singers. Scott is also planning a States-wide tour of a Christian Dance Music Party.
Scott is a dance music genius. But more than that he is a visionary burning to see the church catch the vision of gospel rave music as a vehicle to proclaim the words of the Rev Dr S M Lockbridge that our God "is a mighty God".
Scott has the final word: "People have been de-sensitised and there has been so much Christian-bashing going on. But God will not be mocked. I think he is taking that and he is totally turning it around for people like me who are involved in left-wing Cutting Edge ministries to go into nightclubs and raves in the name of Christ. I'm sure there are people thinking, 'oh, Scott Blackwell, he just CALLS himself a Christian.' But I am totally, totally serious about what I'm doing."

The opinions expressed in this article are not necessarily those held by Cross Rhythms. Any expressed views were accurate at the time of publishing but may or may not reflect the views of the individuals concerned at a later date.
About Gavin Drake
Gavin Drake lives in the Midlands and is the assistant editor of Cross Rhythms.



Reader Comments
We welcome your opinions but libellous and abusive comments are not allowed.