Wednesday 29th December 2010
Author of the book Saturday Night Believer Scott Fellows recounts to Tony Cummings the history of grassroots ministry band FREEDOM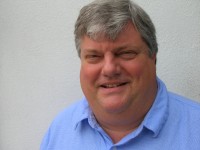 Scott Fellows
The publication this month of the thought provoking and thoroughly entertaining book Saturday Night Believer by Scott Fellows tells the no-holds-barred account of Fellows' band Freedom and their 20 years of frontline ministry in "the tough pubs and clubs of Northern England, with a few churches thrown in as well." Freedom, fronted by singer/pianist Fellows, never made it to mainstage Greenbelt, never landed a record label deal and played their numerous gigs for free. Yet if you assess a band's success not by CD sales or Dove Awards but by their obedience to God's call on their lives, Freedom were highly successful. Scott, who today lives in Stockport, Cheshire and currently works as a chaplain in a large Manchester FE College, visited Cross Rhythms to tell me the long and fascinating tale of Freedom's lengthy grassroots ministry.
Even as a child music had always played a big part in Scott's life. He reminisced, "It started as a kid and I was learning piano. I always wanted to make music. When I went to university, in the '70s, you were nobody unless you'd just been in a rock opera, or had written one! So with a couple of friends I was busily scribbling away these huge rock operas that we thought would change the world forever. I certainly wasn't a Christian at that time. As far as I was concerned, Christianity was basically for people who were a little bit odd and really should know better, and who would find out when they 'grew up' that things weren't like that."
Scott's change of mind, and heart, came in 1983 and was later to be recounted in his book 'God's Great Mystery Trip'. Scott gave me a truncated version of his testimony. "I'd just gone through a really bad trauma, a divorce, and I was feeling very low and down and out. A friend of mine who was a Christian phoned me up one day and said, 'Scott, we're going to this music gig, would you like to come?' So I said, 'Yeah, right, what is it?' And he said, 'It's Greenbelt.' I'd never heard of it. So I said, 'What's that about?' And he said, 'Well, it's really great music, fantastic music, and it's, er, Christian.' He sort of added that at the end and I thought, oh no, the God squad are trying to get me here. But then he added, 'Well it's free and we're going to take care of all the transport,' and I thought, fine, why not? I've got nothing else to do. So off we went and, to cut a long story short, I found when I got there, what amazed me about this place was that everybody seemed quite happy. And they weren't on drugs, as far as I could tell. They weren't drunk, so what was it? What was it that they were smiling about? I was fascinated with this. I'd been to rock concerts before but happiness had always been chemically induced. So I wanted to find out, I was curious, and I was asking lots of questions.
"It came to the last night and a fantastic gospel singer called Jessy Dixon was playing. I'd always loved gospel music even though I wasn't a Christian, I'd just loved the music. And this really hit me, and I loved the music, I thought it was fantastic. At the end he did a simple call and said: 'If anybody here has heard something which has touched them, then maybe God is speaking to you.' And I thought, oh, here we go, here's the big 'come on'. I was very cynical about it. Then he said, 'Just say this prayer with me.' He said this simple prayer about giving up yourself to God and saying sorry for your sins and so on. And to my amazement, I actually found myself saying this prayer (under my breath, 'cos I was too embarrassed to say it out loud). And I saw that all the people I'd come with were all praying as well. So I said this prayer and there was no fanfare, the skies didn't open, but I must confess that I started to feel a bit different. And then he started saying the Lord's prayer. And as he started saying the Lord's prayer, I suddenly became overwhelmed, completely overwhelmed with a feeling of release, that's the best way that I can put it. It's an old cliché isn't it, 'the weight lifted from your shoulders', but it really was true for me. And I actually broke down, I can remember just breaking down and falling to my knees, sobbing uncontrollably and then being gently lifted up by the guys around me, who kind of looked after me. Because they knew what had happened. I'd been kind of hit between the eyes by the Holy Spirit. And my life, from that moment on, from that exact moment on, began to change in the most amazing ways. And that's why I suppose, all these years later, 25 years, I felt I just had to write down how that had changed my life as a witness to other people. And that's how my first book came about."
After his dramatic conversion Scott joined a local Anglican church. Then in 1987 he felt a nudge from God to use his considerable musical gifts to start a band. He took up the story. "First of all we were called Full Support. This was a sneaky thing on my part because I thought lots of posters have the name of the artist 'plus full support'. So I thought, if we call ourselves Full Support, we'll get all this free publicity! But it went badly wrong because the next year, some bra company brought out a new bra called Full Support! And there was a terrible moment at a gig we were doing for young people when we were announced as Full Support and there was mass hilarity and I thought, no, we've got to change the name. So it became Freedom, basically because one of my favourite verses in the Bible was 'if the Son sets you free, you are free indeed.' So that's where the name came from. That was back in the late '80s, about 1988."
Most of Freedom's band members were from the same church that Scott attended. But there were problems brewing for Freedom. Said Scott, "The big mistake that I was making, because I was still a young Christian, was I was still allowing too much ego to come out. It was very much an ego thing, it was 'my' music, I was writing the music, I was playing the keyboard, I was singing the songs. And there wasn't enough prayer going on either. The two things together started to cause trouble because some of the people in the church spotted this and weren't particularly happy about it. It all came to a head at a famous PCC meeting, you know, these meetings that churches have. It was all supposed to be discussed. So we all went away and loaded up ourselves with Bible verses to justify our various positions."
What happened at that PCC meeting is described in 'Saturday Night Believer'. "I gathered verse after verse, passage after passage, to justify my position. What I didn't know was that others were doing exactly the same thing. Thus, on the appointed evening, the two sides entered the room as Roman gladiators must have entered the arena. But instead of wielding swords and tridents, we were armed to the teeth with Bible quotations. Behind the scenes, the church gossip machinery had gone into overdrive. I soon realised that against this backdrop, the band's position was untenable. It was time to move on. Only one person stayed in the band when I left the church, and he, like me, was a relative newcomer. The others had been members for years and were not prepared to give up their investments of time and service. I had lots of time to lick my wounds and reflect on what had happened. For a long time I was convinced that I was the wronged party. After all, didn't Jesus himself say 'a prophet is never accepted in his own country?'
"As time went on, however, I thought back to our rehearsals, our performances, the way we had made decisions about where we would play and saw one thing missing - prayer. Yes, we had prayed alright, the kind of cursory prayer such as grace before dinner, which to so many people is paying lip service without any real meaning. But we had never consulted God, we had informed him of our plans and asked him to bless them. No wonder things went wrong. God had become tired of being taken for granted. To paraphrase a famous line from the movie Dirty Dancing, "nobody puts God in the corner". We had charged ahead with our plans, like the proverbial bull in the china shop, treading on people's feelings, completely blind to God's will for us. It's a measure of God's grace that we managed to achieve anything at all in those days, that he would still bless us until even he had had enough. On top of this, I was still a very young Christian and some of the issues I had been suffering from before my conversion had still not been fully dealt with. One of these was an over-supply of ego. Thinking back to when we had led services, I realised to my horror that to an observer, it must indeed have looked like the Scott Fellows show. I was the only one playing an instrument. I was the one doing all the talking. I was even the one, on some occasions, delivering the sermon. Nobody else had got a look in, including God."
After a year or so of reflection Scott felt "God was ready to give me another go at getting it right." He advertised for band members at Manchester's Christian World and a new Freedom were formed consisting of Scott (vocals, keyboards), Alan Mellor (guitar) and Joy Hewlett (vocals). Gigs began to come in. Explained Scott, "From the word go I made a decision that we would never charge for what we did. That's not to say that people who did charge were wrong; it was just our own decision. And the result was that we were very much dependent on God for our resources, for things like the production of tapes, publicity materials, not to mention the musical equipment. Obviously some of it came from our own pockets; some of us were working, some of us weren't. But none of us were particularly rich. What we found out very quickly was that once we covered everything in prayer, then when funds were needed, they appeared. For example, I vividly remember one particular occasion when we'd had a bill for something, I think it was for some equipment we'd bought. It wasn't a huge amount of money, I think it was just under £100. But we're talking the early '90s now, when £100 was more than it is now. We went to this church in Liverpool and played there. At the end, the minister came up and said: 'I don't know why this is but I felt moved to write you this cheque.' And he gave me a cheque for £100. He confessed to me afterwards that they normally only gave £20 - £25! But something had said to him (and I think we know what it was) 'they need a bit more this time.' And things like that happened all the time. It was incredible. Almost to the stage - but thank God not - that we almost got blasé about it; 'oh yes, God will provide.' But we always covered it in prayer and asked God for what we needed. And I can honestly say that in the 22 - 23 years, there wasn't once a situation that we didn't have the money that we needed."
Although Freedom, prior to the PCC debacle, had made a demo cassette, the group's first serious recording was in 1991 when they recorded the 'Freedom' cassette. Explained Scott, "It contained a real mixture of songs, from ballads to a reggae song. I was trying to write in a lot of different styles because my attitude was taking the 'blunderbuss' approach, where you fire out a lot of different styles to get one that connected. And because we were playing in pubs I was never concerned about being known for a particular style of music. Making your name as a rock band or a reggae band or whatever, that was all vanity to me. What I was interested in was, would they listen to the song, whether it was reggae or a ballad or even rap? - we did rap as well. Joy was and is a very good singer so we did a lot of duets together. She took the lead on some songs, I took the lead on others. And we had a decent sound. Certainly in pubs it worked well. When you have a guitar it makes a very big difference to the sound, and Alan was a very good rock guitarist and could do some great technical leads.
"The 'Freedom' tape was actually recorded at the church that Alan went to at that time, which was in Ashton-under-Lyne. It was a very well equipped church and they had a recording deck. They allowed us to set up in the church. So if you listen to the stuff we did, it's got a little bit of built-in echo because it was in the church itself! And it was cheap, they let us do it for nothing. And this time there was a point to it. We weren't just playing in pubs and clubs now, we were playing in churches and all kinds of different venues, fetes and festivals and stuff. We'd also started to be invited to do Christian meetings, for example one in Merseyside called Crossfire.. That went on for some time. I got quite heavily involved with that. We also got involved in Greenbelt - the Fringe, I might add, they never let us near the main stage. And this time there was an audience that might actually be buying these cassettes, so it was worth doing at that stage."
In 1992 Freedom released another cassette, 'Follow Me'. Recalled Scott, "The title track is about the passing of time and how it's important to sort yourself out before time runs out, which is not a particularly happy subject I know. It had come about because the previous year my aunt, to whom I was very close and had brought me up like a second mother, had passed away. I was very touched by that and moved to write this particular song. So the theme of this cassette was about needing God, whereas the previous cassette had been about taking God and hitting people over the head with him. Now it was about having God for yourself and nurturing the relationship you have inside yourself. It was a more thoughtful cassette I think. It had some ballads on it as well. It was recorded in the same church portastudio though one or two of the tracks were recorded live at concerts because at this stage we'd got quite cocky with our technical know-how and had discovered how to rig up our amplifier with a deck, which meant we could record directly. And also encourage people to clap at the end so we got a bit of applause on the tracks as well!"
By 1994 there were personnel changes for Freedom. Joy and Alan moved on and in their place Scott brought in guitarist Alastair Innis and Austrian vocalist Ursula Pabisch. They were soon hard at work recording another Freedom album. Said Scott, "By this time we were getting a bit more technical with our recordings and this one was recorded in a portastudio which I had purchased and had now learnt how to use. It was a fairly expensive portastudio and we got a fairly decent result. This cassette was called 'On My Way' and, because Alastair was a great guitarist, I wrote for the people in the band. If you've got a good guitarist you want something where they can show off their licks. And that's exactly what we did. There were a couple of rock songs in there as well. Alastair came and went fairly quickly because he was an MSc student at Manchester. He moved on, leaving me and Ursula behind, so we carried on as a duo. Because our vocals mixed quite well I started writing sets that would play to that. Our next cassette, 'New Street', had quite a lot of stuff which showed off Ursula's voice, which was quite a husky, Sade-type voice. I was also writing stuff that was more poppy. By this time we were playing almost exclusively in pubs and they didn't want anything that sounded churchy. The minute you started playing anything that sounded remotely like a chorus or a hymn, the landlord would come and have a quiet word. So it had to be stuff which sounded up-tempo, poppy. We always made sure that the lyrics had a strong message. And as the saying goes, 'Let those who have ears to hear, hear.' That's the way it worked. I can remember one occasion in a pub where a guy came up to us after the gig. We'd been playing for two hours straight, all Christian material. He'd had a few to drink. This was in Wigan. And he said: 'You don't mind me asking this do you? But I've got a feeling that you're religious!' So I thought, ok, maybe we're a bit too subtle!" Two hours of Christian songs, you'd have thought the penny would have dropped. I went away quite depressed by that!"
A year after their 'New Street' cassette Freedom released an album with an eyebrow-raising title, 'Jesus Loves Frank Sinatra'. Scott explained the thinking behind the title track. "All I was trying to say in that one was that Frank Sinatra was well known as being a powerful guy that everybody kow-towed to, who allegedly had links to the Mob and all the rest of it. And to many people he was a kind of hero figure, 'I did it my way'. So he was the great example of someone saying, 'I don't need God, I've got it all sorted.' So by saying that Jesus loves Frank Sinatra, it was a simple way of saying that Jesus loves him anyway, whether he likes it or not. And 'Frankie boy wants to be everything to all men', which is a line from the song, but he can't be because even he can't beat death. It goes back to the 'Always' song which I talked about before. No matter who you are, where you are, what you are, Jesus loves you always. That includes everybody. And what we have to do is recognise that and respond to that. Even you Frank, but then he died the next year so he would have found out for sure wouldn't he? After his death that song was quietly dropped because people considered it was in rather bad taste. It was rather like many years before, when the band was just starting out, we were asked to play at an old people's home. And they asked us to go and think of some songs that the old people would like. So I was thinking of things like 'It's A Long Way To Tipperary' and stuff like that. And this guy from the band came back and said he'd found a great song for us called 'My Grandfather's Clock'. So we were going through it and we got to the lyrics and it said: 'And the clock stopped, never to go again when the old man died.' That was the chorus. I said, 'Do you really think this is going to go down well in an old people's home?' So it was the same thing with the Frankie song really, it was a non-starter."
Ursula and Scott continued on as a duo until in 1997 Ursula left Freedom to be replaced by another female singer, this time from Nigeria, Dorike Ali. Said Scott, "We started making songs about places I'd travelled to, for example Stanley Park. Not the Stanley Park in Blackpool, the one in Vancouver; memories about visiting there. Also I started getting a little more tongue-in-cheek about what I was writing, there was a little more humour in there. So you had things like the 'Church-goers Cha Cha' and the 'Middle Of The Road March' and so on. By this stage we'd flipped back into doing more churches as I was convinced that my ministry now was going back into churches, having gone and done the pubs, and share with the churches what I had learnt from being in the pubs. Because what I'd found in the pubs was that the vast majority of people had two clear ideas about church people; one, that they were all a little bit odd. And second, that they were completely out of touch with reality. And the more I went back to churches, not all churches obviously, but in some churches, I thought, they might have a bit of a point here actually. There was this Christian bubble that people inhabited and they never moved out of it. If you suggested to a minister that they might like to do some kind of outreach event, there was almost horror at the thought of it, because they just felt they weren't up to it. But then you put their mind at rest by saying the magic phrase 'hot pot'. In the north of England you say 'hot pot supper' and they all know what you mean. So if you say, 'Put on a hot pot supper and invite people in,' they think oh, we can do that.
"So I was trying to tell people in churches that if they only got out there and talked to people about the Lord, there's a very receptive audience. We found that in the pubs a lot of people were asking a lot of questions and they were quite open-minded, it wasn't abusive. People in the church used to say, 'Oh you play in pubs, it must be dreadful. Don't you get a lot of abuse?' No we didn't. The landlords and the concert secretaries, who were a separate branch of the evolutionary tree completely, they were saying things like 'how much?' And that was another thing with not charging, because if you're free that opens the door to start with. They were hard-bitten characters but even they would be saying at the end of the evening, 'I thought you were going to be a load of. . .but actually you weren't too bad.' And they'd invite us back. So I was saying to people in churches, 'Let's set up some events out there, let's not stay behind church walls waiting for them all to pile in, because it isn't going to happen.' Jesus didn't operate like that so why should we? So our songs became, at this stage in the late '90s, targeted to that kind of audience, trying to write songs that would get church people to sit up and take notice about what they might be doing."
The CD Freedom released in 2001, 'A Prayer For You', sold very well to church goers. A year later another CD emerged. "The second CD was 'A Journey'. It was the last one that we did before Dorike moved on because she got married and started a family and that was that. So that was our swansong if you like. I put some songs on there that I'd always wanted to record. After 20 odd years I finally recorded a couple of songs which we'd always done in live performance but never actually put down. One of them was a praise and worship song based on Psalm 23 and another was a humorous song about how much I hate country and western music. I was pleased about that because we'd always had those highly requested and never got round to recording them and I'd got fed up with telling people that those ones weren't recorded. So I got great pleasure in posting these CDs to these folks that had given me their names and addresses over the years."
Sometimes the response to Freedom's music was very encouraging. In "Saturday Night Believer" Scott recalled a concert Freedom played at Britain's notorious Strangeways Prison. "We'd gone to this prison to speak to the remand prisoners. These are mainly young men who are waiting for their cases to be heard, more minor crimes really, not major stuff, but nevertheless guys who were on the wrong side of the tracks at that time. We played for them and it was a rather odd affair, they all marched in, sat down for half an hour, we played and they all marched out again. No talk afterwards, no nothing. And to be honest we wondered whether we'd had any affect at all. But we played one particular song, which I'd written especially for this gig, called 'Always'. And that's the introduction to this little section from my book here: 'It wasn't until nearly two weeks later that I got an answer to my question of whether we'd had any affect at all. Towards the end of the concert we'd played a song called 'Always', which I'd written especially for the visit. It was a slow, gentle ballad in which I'd tried to capture what I imagined some of the prisoners might be feeling, and to include a message of hope.' And then there's just a few of the lyrics here, I'll just read part of them: 'You know this world can be a cold, cold place/It takes your hopes and throws them in your face/And sometimes you never get a chance to make a proper start/Sometimes life can break your heart/And people always let you down/When you give your trust and you're left playing the clown/And so you get hard inside, there's nothing left to believe/And you get no place wearing your heart on your sleeve/But ain't it good to know when you've got no place left to go/That he still loves you when you're right out in the cold/No matter where you are, no matter what you are/No matter who you are, he loves you as you are. Always.'
"We didn't know it at the time but those lyrics had found a home in at least one heart. A week or so later a letter arrived for me, forwarded by our chaplain friend, from David, one of the lads we'd sung to that day. In the letter he told us that at the age of just 21 he had been in and out of remand homes and prisons for as long as he could remember, mainly for petty crime. His parents were both committed Christians but he'd always regarded them as a bit 'touched'. Now things had changed dramatically. Something, he wrote, had happened during our 'Always' song, something which he couldn't explain but he now knew that Jesus was real. And he had, with the chaplain's guidance, made a firm commitment to the Lord. Here's a very brief extract from his letter: 'You made me realise that Christianity isn't just doom and gloom, which is what I thought it was. You helped re-create my faith in life to show me how to be full of joy and peace and love. The lines that really spoke to me were in your song 'Always', which said that no matter who or what or where I am, even in this place, God accepts me as I am. And I think that's great.'"
With the publication of Saturday Night Believer by O Books (impressively, a publisher that handles a wide range of books, by no means all Christian), the highs and lows of Freedom's lengthy spell at the music ministry coalface have been brought into sharp relief. Scott concluded our chat by speaking about the raison d'etre for his book. "The intent of the book is very simple. It's to encourage anybody who is considering, or is even in the process of doing music ministry, especially in what you might call more difficult surroundings. For 20 odd years we plugged away at this with God's blessing and it was the most rewarding thing ever. Yes there were difficult times, it didn't always go smoothly, but the rewards were fantastic and we saw people coming to Christ in the most amazing ways. And yet, we never troubled the charts, we never got a record contract, not even with a Christian record company! We were never a big name, Freedom was known in small circles in the North West of the UK. But nevertheless it was still worth doing and I feel that in this book, hopefully by recounting some of the difficulties we went through - and some of the funny stuff too - that people will read this and realise that you don't have to be a fantastic preacher or a fantastic this or that. God can use anybody, even people who may have a modicum of talent. You add God into the equation and it becomes something different. It's the power of God that does it, we're just the vessels."

The opinions expressed in this article are not necessarily those held by Cross Rhythms. Any expressed views were accurate at the time of publishing but may or may not reflect the views of the individuals concerned at a later date.
About Tony Cummings

Tony Cummings
is the music editor for Cross Rhythms website and attends Grace Church in Stoke-on-Trent.
We welcome your opinions but libellous and abusive comments are not allowed.