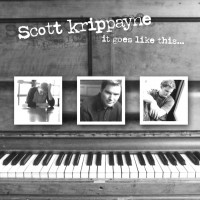 Scott Krippayne
Mike: How would you describe what you do?
Scott: I do a lot of writing and I'm grateful to still have the platform as an artist to record some of those songs, at least every couple of years or so, the way I hear them and the way I like to do them. What does it say on my passport? Ha ha! "Schizophrenic"! No, it either says "Self-Employed" or "Entertainer" or something. Although "Entertainer" wouldn't be entirely accurate.
Mike: Didn't you used to be a really cool artist in your early days when Charlie Peacock was producing you?
Scott: I've never been cool! Charlie was cool but I've never been cool! Just being around Charlie, I think people got fooled that they thought I might be! A lot of people say, "Man we love those records Charlie did!" I'm like, "Me too.but I like the other ones too!" With the first record, as much as I love how it sounded, that to me was a collection of songs of a songwriter. Now, I think I fit the shoes more of an artist and go, "Okay, this is what I want to say on this record" rather than, "These are 10 songs I wrote last year, let me put 'em on a record!" So I'm not saying it's any better or worse but now I think I'm more intent on saying, "This is the record I want to put out. This is kind of what I'm going through, this is what I'd like to say" .still with the prayer that God would use it as he sees fit.
Mike: You've always been an artist who has written about things that you're going through. What has God been teaching you lately?
Scott: What I'm wrestling with and learning right now are two things I wish I weren't.motivation and ambition. Where my ambitions lie and where my motivations are. Two tough things to be convicted about but two good things to be wrestling with. I wish I could say, "Hey, I've got it together! My motivations are great and my ambitions are all for Christ!" I hope that one day when I'm made perfect, maybe that will occur but it is good to wrestle with those things because I want my ambitions, not to be for my own gain but to be for God's Kingdom. So he's working on those things. Again the motivations behind doing what I do, there are a lot of times when they're good but there are other times when other things creep in there. So God's working on those things."
Mike: What's your approach to songwriting?
Scott: I think life is full of fodder for songs. But I still take the approach, even as a writer, that I'm going to work hard as a writer and write a lot of things that may never get heard and some that probably should never be heard by anybody else. But for those things, I schedule some appointments, write with people. not that you can schedule inspiration but you can schedule and work hard as a songwriter. then hopefully those times will prepare me for the days when inspiration hits. Sometimes there are songs that are born in 15 minutes, there are songs that sometimes take a year to write and you just write a part of it and set it aside, write another part, set it aside. Not all my songs come out of personal experience but at some point I have to connect with them personally to be able to pour it out on paper.

The opinions expressed in this article are not necessarily those held by Cross Rhythms. Any expressed views were accurate at the time of publishing but may or may not reflect the views of the individuals concerned at a later date.
About Mike Rimmer

Mike Rimmer
is a broadcaster and journalist based in Birmingham.
We welcome your opinions but libellous and abusive comments are not allowed.