Friday 27th February 2004
Tony Cummings reports on the rise and rise of US singer/songwriter SHAUN GROVES.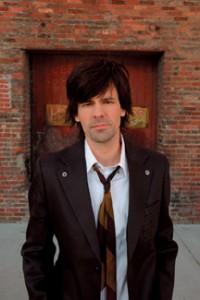 Shaun Groves
One of the most impressive debuts in recent CCM history is that of American singer/songwriter Shaun Groves. His 'Invitation To Eavesdrop' was a haunting release full of winsome songwriting artistry. Since then he's gone from strength to strength. The 'Welcome Home EP' has been followed by his latest album 'Twilight' and with a push in the UK by Fierce! Distribution and a couple of UK concerts with Michael W Smith the Nashville-based songsmith seems likely to establish an international reputation.
In 1997 Groves made the big move from his Texas hometown to Nashville. With a degree in music composition from Baylor University, he was proficient on multiple instruments and honed his skills doing the praise band gig, playing percussion and saxophone with guys like Sixsteps recording artist David Crowder at University Baptist Church in Waco. After being encouraged to write and perform his own material for the group and "hating it" after his first solo experience, Groves decided the best route for him would be to pursue a career in writing songs for other people.
He settled into Music City and soon landed an internship at Brentwood-Benson Music Publishing with the help of studio manager Jeff Morgan. Groves says his time as an intern, despite the lack of salary, was worth the payoff of the invaluable education he received from the esteemed songwriters who hung around the office. While he struggled to land a writer's deal, Groves took a paying job as a worship associate ("It was really kind of a janitor thing.") with his home church. In the interim, a record exec offered Groves the opportunity to pitch a few of his songs to Caedmon's Call, who were in the studio at the time and looking for new material. Though the band didn't end up using any of Groves' songs - among them the would-be hits "Welcome Home", "Should I Tell Them" and "After The Music Fades" - Groves had the opportunity to record a few demos.
Two weeks after recording, Rocketown, among others, heard the unknown songwriter and offered Groves a place on its roster. In almost no time, Groves went from being another struggling Nashville musician to a six-time Dove Award-nominated artist. His self-penned radio gem "Welcome Home" claimed the number one spot on the AC chart for four weeks - the only new artist to accomplish such a feat in 2001. And though the success was sweet, Groves says, humble, he mostly remembers the pressure involved with notoriety. "I didn't feel spiritually qualified to do this for a living," Groves says. "You see all these people at the Dove Awards with perfect hair, perfect teeth, the perfect wife and kids, and you go, 'Wow, they really are perfect.' I thought all those people woke up, walked on water and had all the answers. Their songs were all happy and they looked like they had it all together. I felt like I had more loose ends than tied ends."
Groves says he struggled with maintaining an image comparable to the aforementioned stereotype until he went on tour with Bebo Norman in the fall of 2001. From Norman's example, along with guys like Andrew Peterson and the late Rich Mullins, Groves says he found peace in learning that he could be honest with his audience. "I had to say, 'Okay, I don't have it all together, but I'm not going to sit here and act like I don't have some answers either. Here's the honest truth of who I am.' I felt like people really related to that. God took what I felt was a negative and turned it into a positive."

The opinions expressed in this article are not necessarily those held by Cross Rhythms. Any expressed views were accurate at the time of publishing but may or may not reflect the views of the individuals concerned at a later date.
About Tony Cummings

Tony Cummings
is the music editor for Cross Rhythms website and attends Grace Church in Stoke-on-Trent.
We welcome your opinions but libellous and abusive comments are not allowed.