A hot track on the Soul Stirrings compilation introduced the public to SIGN OF THE TIMES. The band's founder Carlton Smith spoke to George Luke.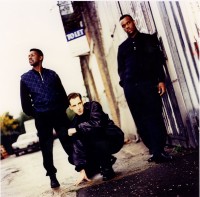 Sign of the Times
After a few false starts, 1994 looks like being the year Sign Of The Times finally make it big, with recordings, gigs and a trip to Barbados having got the year off to a good start. Carlton Smith, keyboardist/songwriter/producer and founder of the group, talked me through the process of metamorphosis the group had gone through over the last six years.
"The concept for Sign Of The Times originally came about in 1988, when Commissioned came over to tour the first time," Carlton explained. "I was asked to be part of the promotional package and accompanied them around the UK - it was a wonderful experience. The guys, especially Mitch (Jones), Fred (Hammond) and Mike Brooks, were very influential to me and I admired their sound and the way they did things. I recorded a couple of songs with Mitch on vocals and Mike teaching me about the use of keyboard sounds. We even did a track on my little Portastudio in their hotel room, which ended up on one of their albums - can't remember which.
"From then on, I went away feeling inspired, thinking, 'I must do something like this myself." To help him get his initial ideas together, Carlton enlisted the services of a few friends of his from the UK black gospel circuit, in particular Leo Thomas, a guitarist ("He's very talented -I can't understand why he won't go into music full time," said Carlton) and Sandra Escoffery, with whom he formed a very good writing partnership. From then on, Carlton went on to work with other gospel songwriters and stage manage a number of artists, including a few lesser-known reggae artists, one of whom won a recording deal with Motown on the strength of one of Carlton's productions.
In 1992, Sign Of The Times' first line-up was put together, consisting of Carlton, Xavier Barnett and Nathan Prime. They performed extensively on the college circuit and a few of their early demos were played on South London's Choice FM station, where they were well received by critics. One person who liked what he heard was BBC DEF2 programme maker and record producer Terry Jervis, who was setting up a label called Down To Jam (a British subsidiary of Motown Records) at the time. They did a massive showcase and were on the verge of signing a deal but due to a number of reasons, which Carlton tactfully referred to as 'polities', it fell through, and Down To Jam went down the pan shortly afterwards. Later that year, the group suffered another setback. They were due to support rude soul singer Millie Jackson, but her tour ended up being cancelled.
By the end of last year the group had disbanded. Xavier and Nathan had left to form 4Real, and to do backing vocals for Bryan Powell. However, despite the fact that they weren't together, a song that they had recorded, "Thank You", was chosen for the 'Soul Stirrings' compilation album, along with Sandra Escoffery. Being included on the 'Soul Stirrings' album has been quite beneficial to the group, Carlton explained. "Although there was no great financial reward, it opened up a lot of doors and created awareness of us on a national level. Once, I went into a shop in Nottingham to buy an LP and while I was getting the money out of my bag, I pulled out a DAT with our name on and rested it on the counter. The shop assistant saw it and said, 'Sign Of The Times? I know you! You're on 'Soul Stirrings' - we sell it here!' He told me about how he liked the group and the track, he was singing all the words - it was then that I realised what sort of an impact we'd actually made, even though as I've said before, we didn't get any great financial reward out of it."
As a result of the 'Soul Stirrings' track, Carlton signed a publishing deal with Swanyard Music (the people who gave us 'Pump Up The Jam' a few years ago) for his songs and now spends a lot of time in their studios, writing material for the group. "I think it's very important for artists to get the business side of the industry right and not just concentrate solely in the creative side," Carlton said. "Swanyard have I helped a tremendous deal, with resources and use of their studios."
Nathan has returned to the group and completing the line-up is singer Brendan Guyatt, or 'the original country man' as the others call him. Carlton calls him 'a powerhouse of a personality'. "I've always been a person to overlook someone's talents and look at them as human beings and he has a great personality as well as being a talented vocalist. I'm glad he's with us." The group also has a fourth member, Ian, from the New Testament Church Of God in Deptford, South London. "We're currently training him and helping him build up his confidence," said Carlton.
After a warm reception at the Choir Of The Year contest in January, Sign Of The Times travelled to Barbados in May to perform at the island's annual Godfest, together with the winners, the Inspirational Choir. Before that, however, they appeared on Radio 2's 'Gospel Train' series, and supporting Freddie Kofi on a tour of the North of England. In addition, their Soul Stirrings track was nominated for the DMI awards' 'Best Contemporary Song' award. Probably most exciting of all, the group are negotiating with a TV production company who are planning to do a fly-on-the-wall documentary on their progress, from working on their material to signing a record deal and having their first Number One single. Let's hope everything goes to plan - especially the last bit!

The opinions expressed in this article are not necessarily those held by Cross Rhythms. Any expressed views were accurate at the time of publishing but may or may not reflect the views of the individuals concerned at a later date.
About George Luke
George Luke is music editor for the black arts magazine Artrage and lives in London



We welcome your opinions but libellous and abusive comments are not allowed.