TAKE 6 were in Britain this month and have a third album in the racks. James Attlee and Tony Cummings examine the rise and rise of the acapella gospel sextet, voted best Jazz Vocal Group in America.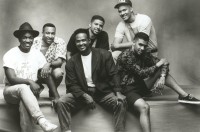 Take 6
"A lot of people have been surprised that we should choose to do an album of Christmas carols. But why not? Christmas is when people are most loving, most giving and maybe most receptive to the message of Jesus. But any way, we believe we've done things to the songs on 'He Is Christmas' which will make people want to listen to the album all the year round."
Speaking to Cross Rhythms less than an hour before he's due to climb on stage at a Dutch jazz festival is Mark Kibble, one of the founding members on what many consider the greatest vocal group in the world today, and possibly the greatest group ever. Take 6 have collected awards and superlatives enough to fill a filing cabinet.
"We are grateful to people for the awards and the nice things everyone's said", admits Mark. 'It's kind of surprising too. We're believers and we sing about our Lord. Yet the public seems prepared to listen because they like our sound."
Is there any chance that Take 6 might step down to road dozens of other black believers have trod before them and leave the songs about Christ out of their act in favour of more 'commercial' material?
"As far as we're concerned we've no intention of moving from our religious material.' Says Kibble. 'It has to be said that the less religious a song is the more inclined it is to get airplay. But we're going to carry on the way we've been doing it so far..."
It was 1988 when 'Take 6'was released, an album so different, so fresh and original in sound that it blew through musical circles like a hurricane. Stevie Wonder reputedly scoured record shops, buying 200 copies to hand out to his friends. Kenny Rogers was so impressed with his advance copy that he forwarded it to friend Quincy Jones, who promptly hired the group responsible to play on his next album (possibly the ultimate accolade in contemporary black music). Within weeks of release 'Take 6' was heading towards gold status. Who were the musicians that were causing all the fuss? An acapella gospel group, of six young Adventists of Take 6. Hardly fulfilling everyone's stereotypes of street cred.
"A lot of the public domain songs we have chosen to do have been negro spirituals, meaning that they were slave work songs,' Mark explains. 'It's good to let younger kids hear those songs because a lot of them have been swept under the rug, especially in the black community. A lot of those songs were sung by our parents and grandparents, but a lot of kids don't know about them. So by singing them and bringing them up to date, so to speak, we are preserving a part of their history, a part of their heritage."
Take 6's debut was unique in many ways. Not only did they dispense entirely with instrumentation; (the album opened with the sound of an orchestra tuning up and a conductor tapping his baton on the rostrum, but after that all the sounds on the album were generated by the human voice). Perhaps even more importantly
Take 6 breathed new life into classic black musical styles, mixing traditional gospel quartet singing with jazz-style harmonies and contemporary soul sensibilities, resurrecting spirituals and work songs and making them relevant to a new generation.
The earliest line-up of the group came together in 1980 when Claude V McKnight III was a freshman at Oakwood College in Huntsville, Alabama. Then known as The Gentleman's Estate Quartet, after the college student accommodation block, the group practised in the dorm bathrooms and performed at campus events. Mark Kibble, a childhood friend of McKnight's from Buffalo, New York, was drafted in to come up with harmony arrangements that would give the group a distinct sound.
"I'd always liked big band harmonies and I wanted to try something different that would grab the ear and the heart and set us apart from other groups on campus", remembers Kibble.
"I grew up listening to the Swingle Singers and I was familiar with acapella acts in the contemporary sense of The Bobs or The Nylons but this was simply the most inventive, most imaginative approach to acapella music that I had ever heard in my life/ he recalls. "Beyond that it was the most soulful approach to acapella I'd ever heard. Technical perfection didn't get in the way of the real heartfelt spirit and the soulful character of the music. So many times with a musical aggregation of this capacity things become so perfection-orientated. The effort and aspiration to achieve perfection overcomes any feeling, but that wasn't happening in their music. It still had as much soul as the Aretha Franklin and Teddy Prendergrass records I grew up listening to."
Precisely how Mark Kibble, Claude V. McKnight III, Cedric Dent, David Thomas and Alvin Chea came to sign to Warner Brothers is already the stuff of legends. The sextet; who was then known as Alliance, hired a Christian bookstore in Nashville to put on a showcase for 30 invited record executives - 10 showed up. In the sparse audience however was one uninvited guest, Jim Ed Norman of Warner's Nashville Division. He'd been lured to the showcase by a tape passed onto him by a songwriter which featured Alliance performing their unique arrangement of 'David And Goliath'. The first 16 bars had been erased, but Norman was intrigued enough to make the journey downtown and he is doubtless grateful that he did.
With such an influential admirer, the re-christened Take 6 were on their way. Unlike many gospel artists signed to major labels, they found themselves under no pressure to dilute their message or compromise their beliefs. As it is the group believe that their light-hearted music-based attitude allows their message to reach parts more heavily 'righteous' performers might fail to reach.
"We want to reach people, but human nature says if you hit me over the head with something, I don't care how good it is, more than likely I'm not going to want to hear it", explains McKnight. 'When Jesus walked on the earth He didn't go in and make people listen to him or hit them over the head with the Bible. He offered them His good words and His love and they either accepted or rejected it."
"Religion is automatically something that turns people off," elaborates Mark Kibble. 'Pop music deals with a lot of issues, but religion is definitely shunned. The main focus of a lot of artists now is to put positive ideas into the public's head without being religious. We wanted to provide those same positive ideas, but also expose people to the fact that religion is something that brings forth those positive ideas. We don't want people to forget the roots of where the best ideas come from, where kindness comes from. You go to the source and you won't run dry."
Some gospel purists have been upset by the almost playful approach the group has taken to much-loved gospel standards like 'Get Away Jordan", 'If We Ever' and 'Something In Me'. McKnight believes that it's only by being open to and making use of contemporary stylings like jazz, funk and even rap elements that the group can bring the old songs alive to the youth of the 90s. Like the stylistically very different Sounds Of Blackness, Take 6 see themselves as guardians of black culture.
Their astonishing vocal prowess and uniquely adventurous approach to harmony soon saw them much in demand. Between their first and second albums Take 6 opened for artists as diverse as Andy Williams and Al Jarreau, contributed to albums by Quincy Jones, Joe Sample and Dianne Reeves, sang the theme tunes to TV shows 'Murphy Brown' and 'Brewsters Place' and contributed to the soundtracks of 'Do The Right Thing' and 'Dick Tracey'. Sound-alike groups sprang up on TV commercials, hired by ad agencies eager to capitalise on the new musical craze; Take 6 were forced to print a disclaimer on the sleeve of their second album pointing out that they 'do not participate in the use or advertising of alcohol, tobacco products or illicit drugs.' Putting a distance between themselves and the indulgent and immoral side of popular music is something Take 6 have also continued to do. Although they don't care to list the stars on whose albums they've refused to sing, Mark Kibble clearly says that 'Take 6 won't sing on anything we consider degrading. We want to sing uplifting song.'
Mervyn Warren produced Take 6's 'So Much 2 Say', the band's stunning second album. He also co-wrote two of the outstanding songs on it, the title track and 'I L.O.V.E. U', and his innovative production saved the album from being a mere retread of the first. But earlier this year Warren left Take 6 to set up his own production company, Leap Year Productions.
'We were on the road so much and Mervyn had so many things he wanted to do in the studio,' explains Mark Kibble. 'It was a shock when he left. It's hard for any group when a member goes but for an acapella group it's particularly hard. But we've had people leave before, once we lost the entire bottom half! Still, Mervyn leaving was difficult and it took us to our knees in prayer. And the Lord had the perfect answer, my kid brother! Joey was a good singer, knew the group well and was able to pick up the parts.' The Christmas album was already planned before Mervyn Warren dropped his bombshell. 'The album was David and Cedric's idea and they decided the course of the project. We began recording in January. We were teaching Joey as we were going along. It was a blessing doing songs like 'Silent Night' and 'Away In A Manger' and bring a whole new musical angle on them.' Another surprise was a mind-boggling soulification of 'God Rest Ye Merry Gentlemen' which features Take 6's second recording (of their own) featuring instrumentalists, this time the band critics have called 'the Weather Report of the 90s', the Yellow Jackets. We're fairly good friends of the Yellow Jackets and they fitted in really well on the track.' comments Mark Kribble 'But we're not leaving acapella! Take 6 will be back to our acapella sound on our next album. But there will be one or two surprises. There's going to be one or two very special guests singing on it.' Judging from the number of stars Take 6 can count as their fans they won't be hard up for choice.

The opinions expressed in this article are not necessarily those held by Cross Rhythms. Any expressed views were accurate at the time of publishing but may or may not reflect the views of the individuals concerned at a later date.
About James Attlee
James Attlee is the assistant editor of Cross Rhythms and lives in the midlands.



Reader Comments
We welcome your opinions but libellous and abusive comments are not allowed.