Wednesday 19th October 2011
Tony Cummings remembers one of gospel music's greatest acts THE DAVIS SISTERS
The Davis Sisters with Curtis Dublin
The recent release of the 'Golden Gospel Gals' box set will hopefully bring new admirers to one of the finest and most exciting groups of any era. For alongside the Clara Ward Singers and The Caravans JSP's 'Golden Gospel Gals' offered a whole CD of The Davis Sisters, a group who in the '50s, in the words of Uncloudy Days: The Gospel Music Encyclopedia, "kept churning out uptempo, scream and shout, pew-jumping hits such as a cover of Alex Bradford's "Too Close To Heaven", "Twelve Gates To The City" and "He Understands, He'll Say Well Done".
Long before Philadelphia became synonymous with teenage dance crazes in the '50s and sophisticated soul music in the '70s the City of Brotherly Love was a hotbed of gospel talent. In the late '40s and '50s The Angelic Gospel Singers, the Spiritual Echoes, Mary Johnson Davis and the Famous Ward Singers all rose to prominence in Philly. And it was there that Ruth 'Baby Sis' Davis (born 1927), Thelma Davis (1930), Audrey Davis (1932) and Alfreda Davis (1935) were raised in the Fire Baptized Pentecostal/Holiness denomination, known for its fire-and-brimstone messages and athletic worship services where the congregation tarried until the Holy Ghost came. At there home church in Philadelphia, Mount Zion, the pastor often called the Davis Sisters to sing before the congregation as children. Even during their teens, the Davis Sisters' stage presence was so assured and their vocals so mature and powerful that they developed a reputation throughout the city as "house rockers".
Gertrude Ward, Clara's mother, took the Davis Sisters under hew wing, guided them, taught them courage and instilled performance skills. During the spring of 1949, she also introduced the group to Ivin Ballen of Gotham Records and he signed them to a three year contract. But the Davis Sisters' first two known records were issued on Ballen's Apex subsidiary label in 1949. They were accompanied by their cousin, Curtis Dublin, whose piano style was between the sanctified church and the nightclub, with occasional jazz riffs.
The following session, in 1950, took place in the Gotham studios in Philadelphia, and alto singer Imogene Greene, an outsider from Chicago, joined the group to add depth and excitement to the group's performance. Imogene had been discovered singing in a church choir by the Reverend James Cleveland. Imogene's voice was described by Tony Heilbut as having "simultaneously moody, smoky and sometimes seductive colourings." She certainly added depth and excitement to the group's overall performance. Unfortunately, she never stepped forward to assume lead in the Gotham studios until the summer of 1952 when she headed up "Bye And Bye" which became the group's first hit record.
Ruth Davis
Before that, in 1951 the Gay Sisters had organised a concert package at the Atlanta Auditorium to promote their own hit ("God Will Take Care Of You") and the Davis Sisters, who were a part of the programme, tore up the place and stole the show. They did it again in New York in 1953, when they appeared before a full capacity audience on Joe Bostic's Fourth Annual Negro Gospel And Religious Musical Festival at Carnegie Hall.
All in all, some 30 sides were issued on Gotham between 1950 and 1953, some with organist Herman Stevens. Many songs of the Davis Sisters were taken directly from the church services they attended and experienced while growing up, but they were familiar with other music (Ruth was inspired by Dinah Washington) and with famous gospel composers such as Lucie Campbell and Kenneth Morris and gospel artists such as Ira Tucker and Alex Bradford, whose "Too Close To Heaven" was the Davis Sisters' second big hit in 1953. Baby Sis' lead vocal on "Too Close To Heaven" was described by one writer as "a huge, wide ranging metallic contralto of great beauty and extraordinary power and force in squalling."
With Baby Sister as the fiery lead the Davis Sisters emerged as the first female group to sing "hard" gospel. Gospel authority Horace Clarence Boyer defined The Davis Sisters' hard gospel style. "Hard gospel, which made its appearance in the early 1950s, was totally different from the Baptist style of singing, which emphasized beauty of tone, precise rhythm and occasional ornamentation. Hard gospel, first introduced by the saints of the sanctified church, is characterised by straining the voice during periods of spiritual ecstasy for spiritual and dramatic expression, singing t the extremes of the range, delivering perpetual text, in some cases repeating words or syllables or developing the text through the employment of wandering couplets or quatrains or stock interjections ("Yes Lord," "Don't you know," "Listen to me" and so on) and "acting out" songs with scrubbing motions for washing, stooping shoulders for "bearing the cross" and a military-like precision march for "walking up the King's highway." This style would soon be adopted by Dorothy Love Coates and Shirley Caesar and make another distinction between Baptist and Pentecostal gospel."
In 1955 changes took place at Gotham Record Company and Ballen Enterprises, which had their own record pressing plant in Philadelphia. Their continued existence was threatened by a copyright lawsuit over a rock and roll song. Mother Ward had met with great success on New Jersey's Savoy label where her group was awarded a gold record for "Surely God Is Able" and it was not long before she convinced Ruth and the Sisters to sign with Savoy. The Davis Sisters' perpetual hit and theme song "Twelve Gates To The City", the title of their first album issued on Savoy in 1956.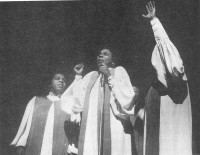 That year had begun with tragedy. Thelma Davis, who'd been an original member since the age of 15 and who had sung the lead on the popular "Jesus Is A Waymaker" died suddenly at the age of 26. She left behind three children and husband James Blassingame. A post mortem revealed that Thelma had developed pneumonia and, anxious to support the group's performances, had begun touring too soon after delivery of her third child. Her funeral was held at Cornerstone Baptist Church in Philadelphia. For a replacement 15 year old Jackie Verdell from Camden, New Jersey, was brought in. As a child she had witnessed her father kill her mother and this left her with a degree of symptoms of post traumatic stress disorder. The Davis Sisters supported her emotionally and treated her as a blood-sibling. Originally she was singing with Rev C L Franklin's travelling evangelistic troupe. The Davis Sisters were touring with Rev Franklin and heard Jackie sing and were amazed at her powerful voice and delivery. At a programme in Detroit they asked Rev Franklin to release Jackie so they could hire her. At first the famed Rev refused but the group persisted and the teenage Jackie Verdell became a Davis Sister.
In her memoirs, Aretha Franklin wrote, "I also considered Jackie Verdell of the Davis Sisters one of the best and most underrated female soul singers of all time. It was through Jackie that I learned the expression 'Girl, you peed tonight,' meaning you were dynamite. Several nights Jackie sang so hard she literally had a spot or two on her robe from peeing. Singing far too hard, I also peed here and there in the early days; I quickly realised no one should sing that hard."
Savoy issued a stream of Davis Sisters albums such as 'He That Believeth' (1957), 'Shine On Me' (1957) and 'Plant My Feet On Higher Ground' (1958). By 1959 they were being billed The Famous Davis Sisters and the albums 'Jesus Gave Me Water' (1959), 'The Famous Davis Sisters' (1961) and 'Somewhere In Glory' (1962) kept coming. In 1962 Baby Sis surprised some fans with the Davis Sisters cover of a big pop and R&B hit by Bobby Lewis, "Tossin' And Turnin'". With new lyrics the song became "Earnestly Praying".
1962 was a difficult year for the group. The Sisters got into some disagreements with each other and Baby Sis decided she needed more breathing space. She left Philadelphia and moved to New York City, got her own apartment and formed her own singing group called The Ruth Davis Specials Of New York City. Savoy Records' notorious Herman Lubinsky signed the New York group to a recording contract and on Savoy issued the album as 'Ruth Davis And The Davis Sisters - On The Right Road', thinking the record-buying public would not notice the discrepancy in the lineup. However, this little bit of sharp practice did not endear Lubinsky to the Sisters and they all left Savoy the next year.
In 1963 their brilliant pianist Curtis Dublin died in an automobile accident. Ruth made up with her sisters and they began touring together again as a family. In 1964 their concert in Hot Springs, Arkansas was recorded by the prestigious RCA label, which had only recorded a few Afro American gospel artists before, like Doris Akers and Clara Ward. The RCA album was their first recording in stereo, 'The Davis Sisters Sing Authentic Southern Style Gospel: Recorded In Live Performance' being issued on RCA Victor.
In 1970 the focal point of the Davis Sisters, Ruth 'Baby Sis' Davis passed away. In his book The Gospel Sound, Anthony Heilbut recounted, "When she died, a victim of high blood pressure, diabetes, liver and kidney trouble, she was as small as the young Shirley Caesar. Typically, this epitome of the hard gospel life died in the bosom of hr family. 'Ruth took sick around Christmas,' her sister Alfreda recalls. 'We asked her to go to the hospital but she said, "Let me stay with you and the children for New Year, cause I know when I go to that place, I won't be coming back."' The Davis Sisters had not worked much during those months and Mary Mason, the local DJ who spoke at Ruth's high profile funeral, observed that Ruth hadn't seen such a packed church in years. Said one gospel singer, 'If Baby Sis, strong as she was, couldn't stand it, I know this life will kill me; I'm staying home.'"
Bravely, the other Davis Sisters carried on. With personnel changes the group continued to do occasional concerts and recorded spasmodically but now for regional labels. But Audrey Davis died in 1982, Imogene Greene in 1986 and by the time Alfreda Davis went to be with the Lord in 1989 the Davis Sisters had finally retired. They are survived by a number of blistering performances which can be seen in YouTube and by fulsome praise from their contemporaries. "They lit up the East Cost," said Brother Joe May's daughter Annette May Thomas while Sam Cooke associate J W Alexander commented simply, "They were awesome."

The opinions expressed in this article are not necessarily those held by Cross Rhythms. Any expressed views were accurate at the time of publishing but may or may not reflect the views of the individuals concerned at a later date.
About Tony Cummings

Tony Cummings
is the music editor for Cross Rhythms website and attends Grace Church in Stoke-on-Trent.
Reader Comments
We welcome your opinions but libellous and abusive comments are not allowed.