Maxwell Hall, Salford, Saturday 16th October 2010 concert review by Mike Rimmer.
The Life Association is a charity set up by Simon Hawthorne to build orphanages, schools and health centres to help some of the poorest people in India. I am guessing that amongst those who have worked with Simon, few would know that in the late '70s he was the incendiary guitarist with seminal Christian punk rockers The Bill Mason Band. Well, I guess they will now! Reformed after 30 years for a one off gig to raise awareness and funds for the charity, Si thought he was organising an evening of nostalgic rock when he invited the other two acts to do the gig, until he discovered that After The Fire have been active for the past six years, but more of that later. . .
In 1986, the Smiths had famously rocked the crowd so hard that the road crew had been forced to tie the speaker stacks with rope and hold on to them for dear life lest they fell on the crowd. The lasting damage meant that the venue had to reinforce the floor and banned rock concerts for a number of years.
I'd been to this venue before back in the '80s when Larry Norman played there a couple of times. So there was some nostalgia for me when The Movement Family Band opened their set with Larry's "Why Don't You Look Into Jesus". The band were formed in 1966 and were stalwarts of the live scene all the way through to their demise in 1977. Band leader Mike Huck is now 70 years old but you'd never know it from the sound of his powerful voice. He made a dramatic entrance, blessed with plenty of stage presence and backed by no less than three guitarists! One of those guitarists, Mick Spratt, played the gig sitting in a chair having injured his knee.
More cover versions followed including "Bartimaus" and Dylan's "Serve Somebody" before they closed the short set with a cover of a track featured on the new Tom Jones gospel set, "If I Give My Soul". With a combined age of Methuselah and only a few weeks' rehearsal, The Movement Family band acquitted themselves pretty well. Occasionally Huck might have been served well by an autocue but he did a good job making up a few lines to cover when he'd forgotten the words!
There was a presentation by Si Hawthorne about the work of Life Association as he shared some of the stories of people who have been helped already. Guest singer Hannah Atkins performed a song which she had specifically written for the charity while a slide show played images of the people in India that the charity helps. Hannah later appeared during the Bill Mason Band set to add some backing vocals to some songs.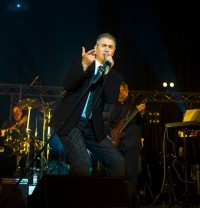 Bill Mason Band
The last time I saw the Bill Mason Band was in 1979 at Leeds University so a lot of water has flowed under the bridge since these four last played on a stage together. These days Bill lives in America and he quipped that no one has travelled further to play one gig, except maybe Paul McCartney. Considering how long it's been the band sounded pretty tight and opened with an instrumental before Si Hawthorne announced Bill's arrival on stage and there he was, looking dapper in jacket and tie. The band launched into their signature opening song "Billy & The Rotas" and it all kicked off and soon they were into "Detectives".
Middle aged Billy didn't fling himself around like in the olden days but instead maintained a more dignified statesmanlike vibe, his stillness adding to the menace of some of the songs. He looked fit and with a head of grey hair, the years have obviously treated him well. The band kicked into "Out On The Streets" which still had the same pace and fire and Hawthorne's gritty guitar.
It must have been very different from their youth. Instead of an audience pogo-ing and gobbing, we sat more sedately in our seats and occasionally Bill managed to coax us onto our feet. His wife and some Liverpool relatives were in the audience and I wondered what they must have thought of Uncle Billy performing with his old band mates.
Bravely, the band even played a new song called "You're The One" which had a more moody atmosphere and Bill made up words when he forgot them! Songs like "Mr G", "Radio" and "I Got The Answers" still sounded really good, the latter sounding like something The Cars might have done. "Lost Years" allowed the band to stretch out and Hawthorne showed off his guitar skills once again. Tribute should be paid to drummer Dave Rawding who did not miss a beat all night and bassist Iain Beeston whose rock solid and accomplished work anchored the whole set.
Closing with a slightly slowed but still anthemic "Stand Up And Be Counted", this was still a radical rallying call. Brought back on for an encore, the band played a cover of Led Zep's "Rock'n'Roll" which somewhat spoiled the band's new wave credentials but what the heck, they Masonised it and after 30 years, I'm glad to have caught the band on this very special evening.
After The Fire
After The Fire have slowly reformed in recent years, tried out a singer or two and are finally settling into a line up which features original members Pete Banks on keyboards and John Russell on guitar. Early gigs at Greenbelt have been somewhat shambolic and have led to unfavourable responses compared to the work of the classic line up and beyond pushing nostalgic buttons I've not been inclined to make an effort to see them live for fear of further disappointment. Without singer Andy Piercy it's felt like the band have been firing on only two cylinders while they regroup and decide on a direction.
However I am pleased to say that all that has changed. New singer Rob Halligan has more than filled the boots of Piercy and is making the front man role all his own. The band roared onto stage with "Sometimes" and were immediately firing on all four! And they looked great! Halligan in cowboy hat and shades and bassist Ian Niblo in a classic new romantic jacket added to the visual impact of the band as they aptly kicked into "High Fashion".
It was mainly older material with a couple of new songs from Halligan's solo career adding some fresh material to the set. "One Rule For You" became an anthem of fairness for the Dalit people, reflecting the theme of the night. "Dancing In The Shadows" saw Halligan change into a seedy mac which was apt for that song and for the one that followed, "Der Kommissar". It seems that Halligan has added a whole new dynamic to the band and he filled the stage with his presence and hyperactive stage antics. He is his own man, no copyist and the strengths that he added to the band meant that Russell and Banks could drop back into their earlier places on stage as powerful musical support to the whole sound of the band.
There was a slow acoustic opening to "Billy Billy" and Halligan joked that because of the old men in the band, they had to take it a bit slower these days. The song was dedicated to Bill Mason and then the band went at it full throttle. John Russell did his extended guitar solo proving he still had the chops. "Life In The City" was performed at its crunchy best. "Laser Love" began with the band leading the crowd in a call and response to warm them up to singing along with the song. Halligan was once more hyperactive, jumping off stage and running around in front of the crowd and finally leaping off his amp at the conclusion of the song not before he had a moment of pure Piercy - "WE ARE AFTER THE FIRE. . .AFTER THE FIYUR!" I guess old ghosts are hard to kill.
During the last few songs I was elated that this band were finally back on form and I felt like I was 20 again! I was even inspired to start the ATF chant for an encore which worked and brought the band back on. For the encore the band asked us what we wanted. I was dreading that it might be "Starflight" which I confess I've never liked even though it gave Banks a chance to demonstrate his legendary keyboard skills. Again the power of democracy, a group of us started chanting for "Check It Out". I was dejected when Banks started playing the opening atmospheric chords to "Starflight" but then suddenly the opening drum lick of "Check It Out" kicked in and the band were into an energetic final song.
"How many After The Fire fans does it take to change a light bulb?" riffed Halligan during the gig. "25. One to change the bulb and 24 to tell him that the original bulb was better." Zing! Long time fans might not believe me but this line up of ATF is getting stronger and stronger and now is the time to check them out once again. You'll be impressed!
Overall it was a great nostalgic gig and all for a good cause. Check out www.lifeassociation.org.uk for more information about the charity.

The opinions expressed in this article are not necessarily those held by Cross Rhythms. Any expressed views were accurate at the time of publishing but may or may not reflect the views of the individuals concerned at a later date.
About Mike Rimmer

Mike Rimmer
is a broadcaster and journalist based in Birmingham.
Reader Comments
We welcome your opinions but libellous and abusive comments are not allowed.