Tony Cummings reports on the veteran American hitmaker from Fort Worth, THE ROCKET SUMMER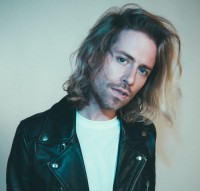 The Rocket Summer (photo by Braverijah Gregg)
The Rocket Summer, otherwise known as Bryce Avary, is a hit-making multi-instrumentalist, singer/songwriter and producer. He writes and produces every song on his albums and singles, and records every instrument on them. As well as touring every major city in the US, he's also played gigs in Canada, Australia, France, Japan and the UK, including such fests as Glastonbury and Soundwave.
Now The Rocket Summer is back with a new single, "Shatter Us", already picked for the Cross Rhythms playlist. The track is from Avary's next album, 'Sweet Shivers', due for release in late August. Amazingly, "Shatter Us" has more than a bit of the sound of the post-punk/goth icons the Cocteau Twins. He admitted as much to journalist Jason Pettigrew, "The bridge lyrics - 'Despite my head all wrong, you are all I want/Cherry-coloured love, on and on and on' - is a personal reference to the song 'Cherry-Coloured Funk' by the Cocteau Twins. 'Heaven Or Las Vegas' had been in my car CD player for the better part of a year: Every time I would start my car, it would start playing. I never got around to taking the CD out, so by default, the music became this background noise soundtrack of my life and my relationship."
Continuing to speak about "Shatter Us" Avary said, "When I close my eyes and hear this song, I envision it being night-time and buildings all around me seemingly crumbling yet refusing to allow the wreckage and debris take down what's most important in my life. I don't hear it as a 'woe is me' type of lyric, but rather more of a battle cry to refuse to slip when the rain is pummelling. Sonically, I wanted to paint a picture that was explosive and calm, soft and violent."
Avary was born in 1983 in Fort Worth, Texas. He first became interested in music around the age of 12 when his father bought him his first guitar which was an imitation brand from a pawn shop for 50 dollars. Avary subsequently began teaching himself other instruments including the drums and piano. He joined his first band at the age of 14 and later a punk rock band called Charlie 27. After the band broke up, Avary began performing local acoustic shows as a teenager in Dallas, Fort Worth and Denton.
In 2000, Avary self-released his first EP at the age of 17. The EP included songs he had written between the ages 14 to 16. He distributed the EP under the name The Rocket Summer, at the suggestion of a friend, to local stores to be sold on consignment; the name was inspired by Ray Bradbury's short story collection The Martian Chronicles, which his friend was reading at the time.
Avary recorded, produced and released his debut album, 'Calendar Days', in 2003. In November 2004, Avary began working on his second album, 'Hello, Good Friend', and he suddenly found himself with a project that national US radio picked up on. The album peaked at number 26 on the Billboard Heatseekers chart. To promote the album, The Rocket Summer toured the US and Japan. Avary signed with major record label Island Def Jam Records. 'Do You Feel' was released in July 2007; the album reached number 44 on the Billboard 200 and number 16 on the Billboard Top Rock Albums charts. The album's lead single, "So Much Love", was warmly received by critics for its uniqueness and use of horn section.
Avary recorded his fourth studio album, 'Of Men And Angels', in 2009. On its release, it immediately attracted major attention. Journalist Alyce Gilligan suggested that the themes of The Rocket Summer's albums were continually evolving, 'Calendar Days' and 'Hello, Good Friend' being very internal and soul-searching; 'Do You Feel' more outward and socially conscious; and 'Of Men And Angels' spiritually centred. Avary explained the change of focus, "I think that the shift is just natural, in growth and in spiritual growth. [On] 'Calendar Days', I'm writing songs about how I can't wait to quit working at Starbucks so I can sleep in! That's like the farthest thing from where I am at as a 27-year-old now. This album especially, it's a very hopeful album, but it touches on harder times. There's this common thread about giving yourself up and serving others, and that's just something that really weighed heavy on my heart during this season of my life and while I was writing this record."
(photo: Braverijah Gregg)
Gilligan suggested that his energetic on-stage personality were the source of 'Of Men And Angels''s positive vibe. Bryce didn't quite agree. "I think it's more just a testament of my relationship with God, and what he's done in my life and knowing that he's in control. There's this weird perception of me that I'm this crazy, happy-go-lucky, bubbly person. Those people that really know me, I think they'd say I'm a positive person. But the other day someone asked me, 'Have you ever had a bad day in your entire life?' And I'm just sitting there thinking that 2009 was full of many, many, many bad days. I'm not perfect by any means. I definitely get upset. It's just a journey, and just when I think that I'm achieving something, God shows me that I'm not there, but in a very loving way, and in a very refining way."
'Of Men And Angels' debuted at number one on iTunes. The Rocket Summer toured with OneRepublic and the Goo Goo Dolls, and the following year released an acoustic live album, 'Bryce Avary, His Instruments And Your Voices', for free via his website. By 2012, Bryce had taken the independent route and his fifth full-length studio album, 'Life Will Write The Words', debuted at 58 on Billboard's mainstream album chart. The following year, his label Aviate Records released a digital EP, 'Christmas Madness'.
It was his sixth full-length album release, 'Zoetic', in 2016 which received the most enthusiastic reviews. Wrote HM Magazine, "The intimacy of his performances is impossible to shake, and with a new record that will no doubt be labelled his boldest, 'Zoetic''s bravery will go down in history."
He told the magazine, "I'm really proud of ['Zoetic']. I'm proud of 'Do You Feel' and 'Of Men And Angels' and all the albums, but this one to me is the only one where it's just its own thing. There's nothing wrong with just trying to write good pop songs, but I was just trying to follow anything that was coming out and thinking, 'How can I make this interesting?'"
HM suggested that The Rocket Summer has always been known for his positivity. Bryce responded, "I think there are plenty of songs that aren't super positive. I feel like somehow a lot of the singles have been these really catchy happy songs, so I get pegged with this impossible and inaccurate positive person thing. It actually sucks because when you have that reputation but then you're normal, it almost carries more weight. I feel like I write plenty of honest songs."
The Rocket Summer has never been part of what could be called "the Christian marketplace". Bryce is, however, a committed believer and admits his faith is "the biggest thing in my life." He asserted, "I need to seek the Lord all the time. I do think that I search for that joy that I believe we have in Christ. I do think there is a point or obligation of just trying to make the right decisions. Not to say that I'm not a normal person and have bad days and say the wrong thing sometimes. I would never look down on someone swearing in their art. There's probably times where I think, 'If I could just say that. . .'."
Things continue to look bright for this most passionate of singer/songwriters. Wrote Jason Pettigrew only last month, "While many artists are seemingly struggling to stay either relevant or vibrant, Avary has seemingly figured it out. After extricating himself from the major-label system seven years ago, he began self-releasing his work. Armed with melodic sensibilities, polymath talent (Avary plays everything on the impending album) and a personal ambition to seek out new sonic outcomes, Avary has consistently engaged his die-hard fans and accessed new listeners. From the plains of rural Texas to your devices, the Rocket Summer returns. Welcome back, good friend."

The opinions expressed in this article are not necessarily those held by Cross Rhythms. Any expressed views were accurate at the time of publishing but may or may not reflect the views of the individuals concerned at a later date.
About Tony Cummings

Tony Cummings
is the music editor for Cross Rhythms website and attends Grace Church in Stoke-on-Trent.
We welcome your opinions but libellous and abusive comments are not allowed.