California's THE VIOLET BURNING have a new line up, a new album and a heap of controversy surrounding their use of a self-censored swear word. Lukas Willcocks spoke to the band's leader Mike Pritzl.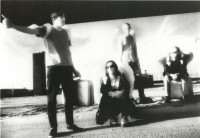 The Violet Burning
The appearance at Greenbelt '91 of California's the violet burning was a transcendent moment in Christian music history. Here was a band based at Anaheim's Vineyard Church who played brooding guitar rock rather than lush MOR praise. Their powerful anointing, their radical evangelism - they even made an altar call during a Greenbelt acoustic set -and their stated commitment to take the message into the dark environs of Californian clubland set them apart.
Some pundits predicted the violet burning to be the radical Christian rock band of the '90s. But then things began to go off course. The group's 'Strength' met with poor distribution and mainstays of the band, Scott and Shawn Tubbs, left. Finally, in a flurry of rumour and accusation Michael Pritzl left the Vineyard. For a while everything simmered uncomfortably until in 1995 the violet burning came bouncing back with a new line up. Michael Pritzl (vocals, guitar, bass), Andy Prickett (ex-Prayer Chain, guitar), Jason Pickersgill (bass) and Jeff Schroeder (guitar). The new band's album 'The Violet Burning' has been released on a new, mainstream independent Domo Records. But eyebrows were raised by the track "Fever" which included a beeped-out F-word.
Mike Pritzl, chief songwriter and longest standing member of the violet burning, picked me up from my digs in Long Beach, California one balmy May evening to see the band in action at the Dragonfly club on Santa Monica Blvd, LA. How did I get such honoured treatment? Well, after buying the latest vb CD at Tower Records, I wrote to his PO Box number in the sleeve and waited for a response. No, there was no cash in the envelope! A week later Mike called, I think to check if I was legit. Next thing I knew we were bumping along down LA's infamous earthquake cracked highways in a modest Honda compact.
At the gig my ears were bombarded by a most excellent mix of atmospheric electric guitar noise, sweet but occasionally very raw singing and a thumpingly tight rhythm section. Alas, there wasn't time to discuss much but I got a few snap shots and caught up with the news from ex-Prayer Chain members who explained why they were Prayer Chain no more. Some weeks later I met Mike again and we had a long chat. Here are the extracts.
Lukas: Why do you suppose that some people see a difference between so called secular and Christian music?
Mike: "I don't know. I don't believe in a division. I don't think the Scripture divides it. I think the Scripture just calls it music. I think that in the '70s with the whole Jesus movement in the US with hippy bands getting converted and starting to play in these big tents having evangelistic crusades, that they then decided to start labels rather than sell the records in regular stores. Like Tom Stype who's the pastor of Crossroads in Denver, he was actually offered a record deal back then with his band with Capitol Records and the pastors at that time told him not to do it, but to be separate from the world - "Come out from among them!" kinda thing. So what they did was they started these bookstores which we have in the US which personally I would say are ridiculous 'cause they tend to limit the audience and probably create the division."
Lukas: Tell me about how you see things now and how things developed with 'Chosen' and 'Strength' and the new release.
Mike: "I started the violet burning probably six years ago and we started playing clubs and colleges around Long Beach and Orange County in CA. We've had like revolving members - brother-in-law Mike Niche and myself initially and then another 12 or 13 guys have played in the vb since. 'Chosen' was a demo tape. We tried this as a demo tape to shot to regular labels - we thought there were plenty of other bands playing churches and we didn't feel called to that. Certain people at the church where we did the demo really believed in it and asked if they could release it to that market place in the US. So they did and it did well. Then we did 'Strength' knowing that we'd be leaving that record label and organisation at the time. It was a very needy time, looking around and thinking I would know the rejection that was about to come - but God was probably smiling down saying, 'You don't know the half of it Michael.' So 'Strength was written in two weeks with the exception of "No One Like You" and "As I Am" which I'd done before. It was released on Blue Stone in the US. Again numerous players came in and out of the band - Kurt Gentry, the Tubbs brothers. It's hard to keep the same players when some have new careers or are going through divorce."
Lukas: Wasn't one of the Tubbs brothers involved with Mesa Boogie amplifiers?
Mike: "Yeah. Scott was managing a store in Fountain Valley. He had that and some personal stuff to deal with - so people move on."
Lukas: How do you feel about the 'The Violet Burning' album?
Mike: "The new record is probably the most true to myself. Previously we tried to suit the songs to the band members. Like if you notice most of the songs on a violet burning record are kinda medium tempo -it's because the drummer who played with me for years only liked that speed. So if I brought in anything slower or faster he wouldn't go with that kind of feel. So I'd work with that - of course I wanted them to be into it. But after working with different producers in the past like Chris Wimber, Randy Rigby, I just felt it was time to step up and say these are the songs I want to play. The emotion and passion in the violet burning has been somewhat stifled on record. If you saw us live there'd be this passion that didn't cross over so well on the record."
Lukas: Sure, but it does come across in the lyrics. "The Killing" and "Song Of A Harlot" are very passionate songs. What kind of reaction were you getting from those songs?
Mike: "Live, we got great reactions. I think that from a record standpoint many people identified with the lyrics and that touched them. Bur for me it was the completion where I wanted the music to be. I didn't want the singer to be singing all passionately and the band sound all kinda safe - like one guy out of control with the rest all dressed in white lab suits - so precise! With the new stuff I try to get more feeling and emotion out of the band -Jeff Schroeder (the guitarist), he's young and he identifies with the songs- and the lyrics and we try to go for the feeling rather than the technical prowess, if the singer's screaming we want the guitars screaming. The same for the rhythm section."
Lukas: You've had quite a few drummers in the past - Lonnie Tubbs, even England's Ben Virgo! Who was playing at the gig the other night?
Mike: "Jeremy Wood - he's worked with us off and on the last couple of years. Lonnie's not playing nowadays."
Lukas: The guitar stuff is very atmospheric in parts with electronic bowing and effects. The only thing I've heard that's been similar is 'Mercury' by Prayer Chain.
Mike: "Yeah, I really liked that. I'm glad that they came to a place where they wanted to make a deeper record - kinda grown away from the upbeat grunge thing."
Lukas: Would you say your style has changed?
Mike: "No, for me it sounds more like the band sounded live over the years. Maybe it's a little more untamed than previously and hopefully I've grown as a songwriter."
Lukas: Looking at some of the new songs -"Goldmine" and "Feel" - they seem to have a lot in common with the past. Even like a, dare I say it, praise and worship style.
Mike: "I'm not sure what a worship style is, but I'd say they were quite moody, passionate songs. Those two and 'Underwater' and 'Blind' are the slower ones."
Lukas: What's the intro noise on "Underwater"?
Mike: "I have this old pedal that was made by this Russian company called Sovtek and before that, they made this pedal called the Red Army. The studio we recorded it at is a studio that Marvin Gaye and later Earth Wind And Fire once used to own. Dave Gerdon who produced Jane's Addiction now owns it. The guy who recorded their records, Brian Carlson, recorded our record. They had had this old pedal just sitting around and we saw it, and we were like, 'Oh, what's that?'. They had this Lesley amplifier and speaker cabinet. So I just set the Lesley setting and I just clicked on that distortion pedal, which kind of amplified all that watery kind of murky sound. If you listen hard you can actually hear the radio coming through it. It's weird because the record kinda has this all buried underneath, kind of feeling. You can.hear it on 'Arabic Tremolo Radio', which is why we called it that. Like the lady singing at the end of the song. That's coming through my guitar amp when I finished tracking it and there she was singing. I just left it on there."
Lukas: You don't know who it was?
Mike: "I have no idea. It was this Korean station that was coming through. It was so amazing. It was so cool, because that was what I actually wanted. When we used to rehearse that song at a rehearsal studio, there was a certain corner where I would set my amps up and every time I would turn on my wah wah pedal this Mexican radio station would come on! So I would sing a line of the verse and then I'd click on my wah pedal while I was resting, while the vocal is resting, and whatever random voice was coming through just to kinda add something different to the sound and then when we went to track the song in the studio I thought, 'Oh gosh, I'd like to try to do that.' It was weird, when I got to the studio it just kinda happened, I didn't have to do anything! The violins in the beginning of the song they're all tremoloed, those are just coming through my amp and I just turned on the tremolo and recorded it. And the guy who's speaking on verse two you kinda hear it coming in and out. Then the DJ came on right around my vocal and started talking in some foreign language. It was so supernatural because you couldn't have planned it better than the way it happened."
Lukas: I see that Steve Hinderlong of The Choir worked on 'The Violet Burning' with you.
Mike: "We brought him in to work with the drums and with my vocal production. You know, I didn't want to have to produce myself. It was good to have him around, 'cause he just brought a whole feeling to the record that we wouldn't have got without him."
Lukas: One of the outstanding tracks on the album is "Fever". But a lot of Christians will have a problem with it for you use the F-word, though it is bleeped out.
Mike: "'Fever' is a song that I wrote from just us talking and hanging out. From the time that we had left the church we faced a lot of rejection for our beliefs and for believing that God had led us in a certain direction. We face a lot of rejection for our vision, we lost our jobs, some guys lost their wives, I lost (it might as well have been my wife) a relationship of six years. And then on top of that the church took our reputation, accused us of being drunkards and fornicators which wasn't true. You know, we went through a lot of devastating things in our personal lives. We had close friends die, suicides happened, divorces and when you face those kind of things sometimes they seem like more than just the trials of life, they seem more like the onslaught of life. And through that whole time, I found a lot of comfort in the book of Lamentations and Jeremiah about being totally rejected. One minute Jeremiah's blaming God, the next he's blaming himself, he's totally confused. I found so much comfort in the Word of God through those times, knowing that God could relate to me in my sorrow. But 'Fever' kind of says, 'Hey, if I showed you what happened in my life, if I really showed you the inside of my heart and how broken it is, it would devastate you.' Some people have had a problem in the way that I've communicated that. And for me it was like in the culture that I live in and in the reality of where I live. It's the same thing when I look at the cross of Christ. I can't just say, 'Oh, they beat him up.' It just doesn't express it. Maybe the English language is so limited. The Bible says that he was marred beyond human likeness. But that still doesn't put the emphasis on what really happened and the horror of the cross. For me, I try to pick the words that would describe really where I was at. People have written me and said how can you say it that way and I've always written back and said I understand your feeling and I've said if you could give be a better way to say it, that could communicate the same thought, with as much power, then I would gladly change the lyric. But I have searched and I don't know how else to communicate it. So for the sake of my nephews and nieces who are younger, we put a little censorship to it, but for the adult audience, they'll know what it is and will be able to relate to it, hopefully."
Lukas: What was the idea behind the song 'Blind'?
Mike: The song is about when you've felt so much that you've nothing left to feel -your feelings are numb. So much has happened that you can't cry any more, it's frozen. Instead of saying I'm numb it's translated that into seeds and having hope. Your eyes are closed, there's nothing there. You're reaching out, but you don't see anything, all you see is black. But once again that same thing runs in - 'I came here looking for your love, reaching for your love and I can't reach you.' It's funny because 'Strength' was a precursor to what would happen, knowing that rejection was to come maybe knowing that a couple of relationships, marriages were going to fail - but not really being aware of the full devastation, but even back as far as 'Strength' - the last line - 'If I descended to the depths of Hell/If I go to that place/I know you'll find me/I know you'll be there.'

The opinions expressed in this article are not necessarily those held by Cross Rhythms. Any expressed views were accurate at the time of publishing but may or may not reflect the views of the individuals concerned at a later date.
About Lukas Wilcocks
Lukas Wilcocks is involved in the King's Arms church in Bedford where he plays an eight string bass in a worship band and gets involved in the church's "ministry to the poor" activities.



Reader Comments
We welcome your opinions but libellous and abusive comments are not allowed.