Tony Cummings quizzed Holy Trinity Brompton's TIM HUGHES about his latest album
Tim Hughes
The release on 21st March of the 'Love Shine Through' album by Tim Hughes is already causing a great deal of excited anticipation amongst UK churchgoers. Tim has, of course, become one of the premier figures in the modern worship movement and his songs like "Here I Am To Worship", "Beautiful One" and "Happy Day" are being sung around the world. It's actually been four years since Tim's last studio album 'Holding Nothing Back', five years since the launch of Worship Central, the organisation aimed at equipping a legion of local church worship leaders, and six years since Tim and his wife Rachel moved from Soul Survivor to take up the role of director of worship at Holy Trinity Brompton (HTB).
'Love Shine Through' is produced by Martin Smith and features collaborations with a bevy of well known songsmiths like Ben Cantelon, Kees Kraayenoord, Stu G and Martin Smith. There are some intriguing guest appearances on the album as well, including members of Rend Collective Experiment, Kim Walker-Smith of Jesus Culture, Marc James (Verra Cruz), Michael Guy Chislet (Hillsong United), Jerry Brown (Girls Aloud), David Grant and Fay Simpson. Tim took time out from is busy schedule to field a few questions.
Tony: It's a big gap - four years - between 'Holding Nothing Back' and 'Love Shine Through'. Why so long?
Tim: Well, I recorded a live album, 'Happy Day' and I've been working very hard developing Worship Central to train and equip worship leaders, so I think the focus has been a lot more on training others, developing, and doing lots of different events round the world. It's been a real investment over the last few years. It's been great to get back in the studio, really focusing and writing new songs and producing them and getting them out.
Tony: Would it be true to say that you are not a worship songwriter who writes a new song every week or so? You're not particularly prolific are you?
Tim: Well, I think my heart's always been to write songs out of the context of the local church. I've never got on too well with the idea of every year you produce an album, and you write 12 new songs. I just think you can end up feeling quite contrived. I'd rather get a collection of songs and say, "Hey, these are songs that work in the church, let's capture, let's record them." Also I've been doing a lot more co-writing, so writing a lot more with Ben Cantelon and others, and sort of helping with their projects and thinking more about a team collaboration rather than just my own thing.
Tony: Presumably working with Martin Smith in his home studio meant that you could take more time with this album?
Tim: Yes absolutely. The other albums have been recorded in America and there was a lot shorter period of time and a lot more pressure. Sometimes that can be good though. Sometimes having more time on a project doesn't necessarily lead to better results. I think what's been great for us is it's much more organic, there's much more time for the songs to breathe and develop and even just classically, hearing the songs coming back and thinking, wouldn't it be great to have a bit of brass, and, hey let's get a band over to do some brass and vocals, and, Kim Walker-Smith's in town, we're hanging out, why don't you sing a few bvs. It's all of those things and the ability to have a bit more collaboration and people involved and having more time made that possible, which has been great. Just allowing the songs to develop.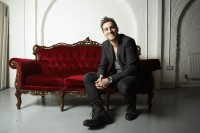 Tony: What other differences were there in working with Martin?
Tim: We're very good friends. Martin totally gets what I'm about, what I'm doing with Worship Central, but I think the thing that really struck me about working with Martin is obviously he's exceptionally creative, but he's always looking to catch emotion on record and in a song and that really came through with this album. Also, just really pushing against the predictable. We had talked before about being a bit more brave and bold and moving away from hundreds of electric guitar tracks stacked up on each other. Let's go for something a bit more authentic, let's see what people contribute. It just struck me that he's always looking for something a bit more emotive, rather than obvious, that really brings the best out of musicians.
Tony: You mentioned you worked with Kim Walker-Smith. What track was she singing on?
Tim: She was singing on a song called "Saviour's Song" which is a song I wrote with a worship leader from Holland called Kees Kraayenoord. He's been involved with some of our Worship Central events in the Netherlands and he's probably the most well-known worship leader there. He has a huge impact. That was quite fun getting together with him and developing the song. It's just been great to co-write with people who lead worship in very different contexts, to bring a very different viewpoint, and for me that's pushed me creatively.
Tony: Tell me about some of the other co-writes on the album.
Tim: There's a song called "At Your Name" which I wrote with a guy called Phil Wickham, he's a brilliant songwriter and we spent a day working together on a few things. I think what Phil does, he's a brilliant poet at capturing pictures and images of creation and worshiping God, so it's great getting some of that in the songs. Obviously I worked a lot with Martin Smith, we co-wrote a lot of the songs. He's brilliant. The interesting thing I found with Martin is, we're coming from two different places. I was much more from writing songs that the congregation could sing, very corporate, very big themes, and he was always wanting to write something much more intimate and personal, quite a vulnerable place. So it was almost two opposites. I think a lot of the songs it was back and forth and some of the songs like "God Is Coming" ended up being quite a grand theme with intercessional "God is coming, hear the heavens roar, hold on get ready." It's almost like there's beauty happening, let's stand, let's go for it. The verses are, "In this moment, here I stand/All I have is in your hands and you stole my heart." That's quite intimate, quite personal and then it opens up this broad theme. I think that's been quite healthy, to have people that you're not always on the same page with, you're wrestling with something that is more professional and more real.

We welcome your opinions but libellous and abusive comments are not allowed.