John Cheek met up with Cheshire-based singer, songwriter and worship leader TRACE TAYLOR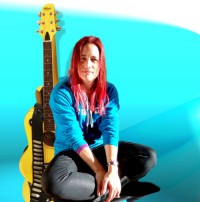 Trace Taylor
Congleton-based Trace Taylor has been a mainstay of the UK Christian music scene for quite a while. Her solo releases like the EP 'Trinity' in 2013 and the album 'It Is Finished' in 2015 and her recordings with the band she fronted, Tall Trees, have kept her in the public eye while her solo album 'The Yeshua Tree' brought forth an enthusiastic Cross Rhythms review which in part read, "'Access' has a UK garage-esque sound, not unlike Craig David, with a lyric all about Jesus giving us access to the throne of the Father. Haunting, spare, magnificent. Continuing on a similar trajectory is "The Flight", where we nearly rise up on wings like eagles, with possibly an Apollo 440 influence. "L-L-LOVE remix" and its instrumental (as the last track) is house as good as any heard in an Ibiza nightclub and a meditation on the opening words of 1 Corinthians 13. If things could possibly get any better, they do with "Speech Of The Silent Heavens", a gentle, exposed musing upon Psalms 49 and 118, featuring a beautiful guitar motif."
With the singer/songwriter playing gigs and festivals as Trace & The Resonators with husband and drummer Ween and bass and guitar player Pete Townsend, now seemed a good moment to catch up with this eclectic and versatile artist.
John: Did you have a background in music from the start?
Trace: I was brought up being forced to play the piano and didn't really like it, but actually, that was a good foundation which held me in good stead. When I was about 14, in 1991 - up until then I'd wanted to be a detective; an undercover detective, whilst plonking on the piano here-and-there. I went to Christian camp and got born again. I grew up having a faith [in God], I'd been taken to high church Church of England and so I had a knowledge of God, but it wasn't until I went to the New Wine camp in Somerset that I encountered the Lord. Then my desires started to change. My desire for the police went down and suddenly music started going up on the weighing scales. So I started getting interested in writing music. It's quite funny, during my GCSE years whilst I was studying, I'd call myself all sorts of 'names'. I'd called myself Oasis, before the Gallagher brothers came on the scene! Music, over time, hasn't left me, although on occasions I've run away from it because I found myself banging my head against a wall, because - 'How do I move forward with it? What do I do with it?' It's been something I've continued to cultivate and that the Lord's been able to progress.
John: What were your early years like and what form did your early, child-like faith take?
Trace: Home life in Bath was always pleasant. I was brought up going to church. It was quite conflicting to be hearing about the love of God, when you're not always experiencing that in your corner of the world. What I am grateful for is that my mother allowed me to do these booklets - Quest, by Scripture Union. I was 10 years old and I had these booklets coming through the post and I really enjoyed, every day, going through this kids' booklet, teaching me about Jesus before I made a commitment. I look back and there were seeds God was planting, he was watering, which brought me to a place where finally, at 14, I made a commitment to him. I didn't really register, 'Oh, this is Jesus!', with Quest. That wasn't going through my mind at the time, but what I was aware of, was that I was very stimulated: it touched me in positive way. The overriding thing, as I was learning about Jesus, was that he was a friend - friendship, that was the thing I recall from that.
John: What was the final journey into faith for your teenage self?
Trace: I went to New Wine in 1991 with my twin brother. We'd gone to the Glastonbury Festival the year before, with my mum and the church we were going to, amazingly! They were doing a mission and me and my brother had nothing better to do so we went along. Mike Pilavachi was there, and we were in a church nearby, with hardly anyone else there. A lady was being prayed for, and she was shaking and I said to Mike, "What's going on here?" He said, in a very calming way, "Don't worry, don't worry, it's just the Holy Spirit." He then prayed for me; I had a touch of the Holy Spirit; it was lovely. He told us later about New Wine the following year, and we decided to go.
A year on and I was walking around the New Wine site with a word just going around my head, almost like in a loop: "Commitment. . . commitment. . ." I went up to a couple of ladies on the door of one of the venues and said, "I want to make a commitment." Just prior I'd been to some of the worship there, and it was like nothing I'd experienced before, coming from the high church. There was a band on stage; there were people in the congregation waving their hands, dancing. I looked around and realised I liked this. In the venue, a preacher gave the Gospel message. For the first time I heard that Jesus is alive and that he can come and live in you, by his Holy Spirit. Hand-in-hand with the word "commitment", it was enough to finally lead me to inviting the Lord into my life. Immediately, the floodgates opened and I started to cry.
It was a very interesting time in my life. My parents had just split-up and God's world of love collided with mine. I started to cry. For the next eight years, I was generally crying. It took the lid off a lot of stuff - fears, I struggled with a lot of fears; angst over my identity, which stemmed from being told to be "like others"; I didn't have a strong sense of self, I found it hard to relax; paranoias of all kinds. I couldn't answer the phone because I'd have to talk to someone at the other end. I wouldn't go to parties, because I'd be amongst people and have to speak. I would struggle even walking down a street. If I saw a stranger walking towards me, I'd start panicking. I had panic attacks all the time. I'd look up at the sky and start saying, "JESUS. . . JESUS. . . JESUS" just to help me. This developed into a serious mental thing, I would say. I was reading a passage from Scripture, in Proverbs, not long before I completed my A Levels and it was, "Even fools are thought wise if they keep silent, and discerning if they hold their tongues."
Trace + The Resonators
The Enemy seemed to be able to immediately twist that and say, "Right, you can't talk," and so I went around the Sixth Form block, said hello to everyone - and then shut up. If I wanted to laugh at something I thought was funny, I'd hear this voice saying, "No, you can't laugh, you're not allowed to laugh." So I'd shut up. Any sense of self which I still had was really being suppressed by me listening to this voice that was going on. Thankfully, the Lord led me to my deliverance. He protected me from any thoughts of suicide coming in. I know that he did, because I got to such a state, I would've done anything. I thought, "Who am I? What am I? I'm just a speck of dust, floating in the universe." Mad stuff.
I had a friend who invited me to Bath City Church, which later became my home church. There was an American man, Jerry Savelle, preaching. I don't remember what the message was, though apparently it was very applicable to me and I do remember at the end he was calling people up to the front; they wanted God to touch their lives. He said, "If you've got low self-esteem problems, I want you to come to the front." I didn't, initially. I thought, "No, I always go up; I always cry."
He was saying, "Everyone else, keep praising God!" I couldn't do that - I was feeling this restlessness. I was "wrestling", but I eventually went up and received deliverance. I was crying, as I knew I would - the Holy Spirit was moving on me, and a lady led me up to the front and I looked down this line and this man, Jerry, was stopping at each person along the line and praying for them. He got to me. He placed his hand on my head and started praying. My crying increased significantly. Then, the power of God went through him like a bolt of lightning and hit me so that I almost got picked up and I was going back with a force and going down. My arms were flailing about and I was going "save me, save me". I ended up on the floor, aware of this noise - a droning noise, coming out of me - and then, crystal clear I heard him say, "Now, Satan, you've condemned her for long enough - now leave!" I felt this weight come out of me. I was delivered from evil entities. That was the beginning of a long, healing journey, including Christian counselling and prayer.
John: In all this, did the music continue for you?

Reader Comments
We welcome your opinions but libellous and abusive comments are not allowed.