WAXED are set to play the Cross Rhythms Festival and have been introduced to the wonderful world of media by Andy Long.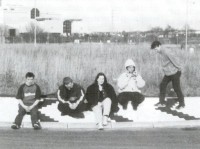 Waxed
"No; dodgy questions," warns Ivan Malin nervously at the outset of this interview. Ivan is lead vocalist and rhythm guitarist with the Stoke-based band Waxed, and I get the impression that he's not a veteran of magazine interviews. No problem, I'll go easy on him. Waxed have been building up a good following in their locality and have previously released three EPs under the name Dreamcoat, so the first obvious question is why the name change? "Certain members of the band were worried that the name Dreamcoat sounded a bit like a worship band and we had been asked to play worship music a couple of times, which we don't really do. So we thought we'd go for a name that didn't sound that way and emphasised the fact that we are a rock-oriented Christian band."
Ivan has been playing together with keyboard player Sarah Taylor and drummer Ben Haycock in church since 1989. A year or so ago they decided that they wanted to go a bit further. Bassist Simon Worrall, who knew Sarah through work, joined and brought with him lead guitarist Rob Ellis to complete the line-up, and they began to concentrate on writing original material. The band have seen a hole in the British CCM scene and are trying to fill it. They have not come across many Christian bands that play their sort of music. Ivan admits to a passing interest in Delirious?, but has not heard a great deal of their stuff. So who are the band's influences? "Travis, Stereophonies, a bit of Gomez, various stuff like that really."
This wave of new British rock acts is the one that Waxed are aiming to surf, whilst keeping their Christianity at the forefront. They play a lot of secular gigs, pub and clubs and the like. "I've got a lot of non-Christian friends," says Ivan. "They know we're a Christian band but they still come along because they think the music's excellent. We don't get any hassle for being a Christian band, the promoters know that we are but they think that we're a good band so they don't have a problem. We play Christian events too, we'll go anywhere really." Curious readers will be able to catch the latest Waxed set at this year's Cross Rhythms Festival. The band played there last year but Ivan described it as a bit of a nightmare with a power failure on stage, combined with their newness to it all. This year he thinks they are much better prepared. "In the last six months the songs have really moved on and we are much happier with them now. The first songs were a tentative step out into a new style of music and we've moved on a bit since then."
The band's second EP, 'Disciple Man1, was recorded at Appletree Studios with Phil Goss from As If.... handling the engineering. I asked Ivan how they came to contact him. " We were going to record it in the same little studio where we did the first one, cheap and cheerful. Then I saw Phil listed in the Cross Rhythms Directory and he had on there 'special rates for Christian bands' and I thought/That's handy,' so I rang him up. We had a great weekend recording with Phil, it was really good and he really liked our music. We are going to have a track on a compilation album that he's putting together."
Ivan is the band's main songwriter and tells me that his ideas just come from everyday life. "Watching people, watching Christian people and the way they act,' he expands. "I've been a Christian for a good few years and I've been in the same church for a few years. I've seen people come and go and I've seen the reasons why people have come and people have gone, or even gone away from being a Christian and often it's just the little things and the real life thoughts that I write about. "I usually write the music as well and usually it's quite quick: I'll get an idea and within a couple of hours I've got the words on paper and the music more or less sorted out. If it takes any longer than that I don't usually bother with them. I always keep the words that I write though. The songs are purposefully not Bible-bashing, obvious style because in my experience it just puts people off."
Ivan has played in secular bands in the past and is much happier to play in Waxed. He does want them to be seen as a Christian band but doesn't want to just play Christian events. "We wouldn't get to play to the sort of people that I want us to play to. The sort of people that I go to concerts with wouldn't necessarily come to a gig in a church, so we've got to play in secular events, there's just no two ways about it." The band want this year to be another building year, building up a reputation, building up new material and just opening up new opportunities and are content to sit back and see what happens. In the meantime if you get the chance, go and check them out because as Ivan says "We're absolutely brilliant!"


The opinions expressed in this article are not necessarily those held by Cross Rhythms. Any expressed views were accurate at the time of publishing but may or may not reflect the views of the individuals concerned at a later date.
About Andy Long
Andy Long writes regular music features for the European Christian Bookstore Journal and plays bass.



We welcome your opinions but libellous and abusive comments are not allowed.